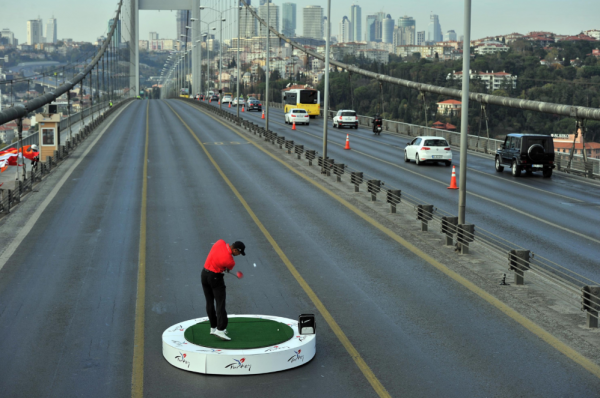 Woods teed it up on a platform set up on the Bosphorus Bridge, which spans the Bosphorus Strait separating Europe from Asia. Traffic was stopped on one side of the bridge as Woods hit two golf balls from one continent to the other.
The No. 1 player in the World Golf Rankings is in Turkey to play this week in the Turkish Airlines Open at Montgomerie Maxx Royal Golf Club in Antalya, Turkey, on the Mediterranean Sea.
The publicity stunt arranged by the Turkish government, which is a sponsor of the tournament, was criticized by many locals because to took place during one of the busiest traffic periods of the day, but thousands of people showed up to watch.
Woods reportedly is receiving receive a $3-million appearance fee for playing in the tournament, a European Tour event, and the "Tin Cup" moment, hitting the ball down the road, apparently was part of the deal.
The picture was tweeted by Chubby Chandler of International Sports Management.