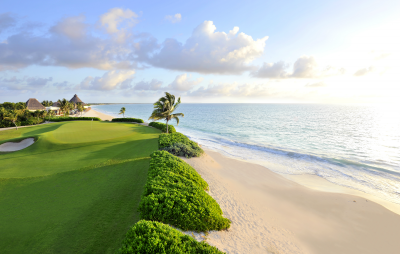 "Deluxe" doesn't begin to describe this golf getaway …
The golf trip of a lifetime awaits at a luxury resort south of Cancún this fall.
On November 12-19, three golfers can enjoy The Ultimate Golf Package offered by the Rosewood Mayakoba all-suites property in Riviera, Mexico. The package includes
seven nights in the 6,272 square foot Presidential Lagoon Suite, a private lesson from acclaimed instructor Jim McLean, three spots in the pro-am for the PGA Tour's $6 million OHL Classic at Mayakoba, a helicopter trip to Playa Mujeres for a private round with Greg Norman, and numerous VIP perks throughout the tournament week, including honorary observer positions, access to the Founders Club and a cocktail reception with the PGA players.
The OHL Classic at Mayakoba is played on the El Camaleón Golf Club course designed by Norman. In 2007, the OHL Classic made history as the the first PGA Tour event played outside of the U.S. or Canada. The tournament, where John Huh is the defending champions, also offers the largest purse in Latin America.
Cost for The Ultimate Golf Package is $175,000 for all three guests. Rosewood Mayakoba offered this description of the package:
"Rosewood Mayakoba, the 128 all-suite luxury resort also located within Mayakoba, is positioned along a mile-long arc of white Caribbean sand and will be at the heart of the excitement. In celebration of the high profile tournament, Riviera Maya's award winning resort is introducing The Ultimate Golf Package that will provide bragging rights and cocktail party conversation for years to come … It is sure to be a dream come true for any golf enthusiast and two close friends."
In addition, guests will receive VIP seating at the Pairings Party, have a meet and greet with the tournament champion at conclusion of the event, and finish the week with a private BBQ on Mayakoba beach featuring high end tequila tastings.
GOLF HAS $13 BILLION IMPACT ON CALIFORNIA
A recent economic and environmental impact report found that California's golf industry supports more than 128,000 jobs, creates more than $4.1 billion in wage income and more than $346 million in charitable giving anually.
Overall, the 52-page report commissioned by Golf 20/20 for the California Alliance for Golf showed the game as a $13.1 billion impact on the state overall. According to the 2013 study, with 921 unique golf facilities within the state, golf in California is an industry that generates more direct economic activity than movie theaters, fitness/recreational sports, greenhouse/nursery crops, and amusement/theme parks.
Almost unique among participatory sports, the report details how golf gives back through direct charitable activities and supports hundreds of non-profit organizations dedicated to youth, seniors, individuals with disabilities plus educational initiatives and other community-based endeavors. Also noted is the golf industry's environmental record with respect to water conservation, energy efficiency, and prudent environmental stewardship.
"Golf is more than a game; it is a business providing economic vitality for myriad California communities, jobs for thousands of residents, healthy outdoor recreation for families, necessary green space, and millions of dollars in charity to various local community causes," said California State Senator Ted Gaines (R-El Dorado Hills).
So, don't feel guilty about getting in a late nine after work.
EX-MLB PITCHER MULDER WINS CELEBRITY CHAMPIONSHIP
Former Major League Baseball pitcher Mark Mulder stepped out of the ESPN Analyst's chair he now occupies to win the Celebrity Golf Championship hosted by Marshall Faulk May 17-19 at La Costa Resort and Spa in Carlsbad.
Mulder finished +1 (145) over the two day competition, defeating former L.A. Kings player Bernie Nicholls by two shots. The tournament featured over 50 celebrities from the NFL, NHL, NBA, and MLB as well as Olympians and stars from television and motion pictures. Celebrities including Ray Romano, Brian Baumgartner, Marcus Allen, Jerry Rice, Rollie Fingers, and Jermaine Dye were among the competitors.
The event raised $125,000 for the Junior Seau Foundation and the Marshall Faulk Foundation.