By Garrett Johnston: Twitter: @JohnstonGarrett
During the week of St. Andrews' 150th Open Championship, I had the good fortune to bring the clubs along and play five courses north of the Home of Golf. Bringing your clubs to Scotland is a must any time you're in the U.K. Angus is the county to the north of St. Andrews and is referred to as Carnoustie Country because Carnoustie is its crown jewel of course. Though I didn't play that historic course, the five I did play were a lot of fun. These tracks will get you a taste of classic links golf at a much more affordable cost than the big courses we hear about in the Open-rota. Those are typically in the $300-325 range in summer and $225-$250 range in the off-season. Yes, it's important to get to those classics, but these courses allow you to taste some of the same enticing challenges of Scottish links golf, with heathland and parkland attributes on a few as well. Let's start with Arbroath, about 45 minutes north of St. Andrews.

Arbroath Golf Links: Arbroath, Scotland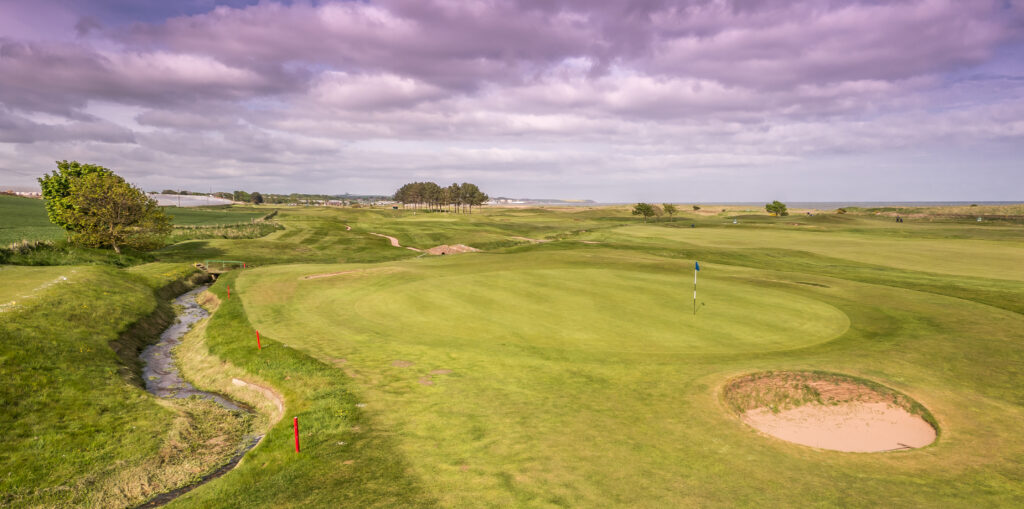 A classic Scottish links seaside course that will firm up in the summer and get you some major rollout on your drives. Play for the roll on your approach shots as well if you want to get creative. Pot bunkers and undulating greens protect the course primarily, but locals will tell you the weather-like most Scottish links courses-is its greatest defense.
The outward nine largely head away from the clubhouse as most links courses do, with farmland on your right side. The inward nine come back home to the clubhouse with the sea and many dunes on your right. You can play this course quickly because the first seven holes offer very short 10-15 yard walks from green to the next tee-always on your right- each time. The clubhouse has a great view of the finishing green and you can see 10-12 holes on the rest of the course as well. Bartenders have binoculars so they can keep an eye on when the next group's coming in. It's a small but fun 19th hole.
"If you're going to go to Scotland a few times in your lifetime, you want to get off the beaten track. Panmure, Monifieth or our course are really good golf courses at a fraction of the cost. and you'll enjoy them every bit as much, if not more because of how playable they are," Arbroath's head pro Craig Knowles says. "Yes you could play the championship rota courses, but here you may have more of a chance to make pars and I think that makes for a very enjoyable experience."
Forfar Golf Club: Forfar, Scotland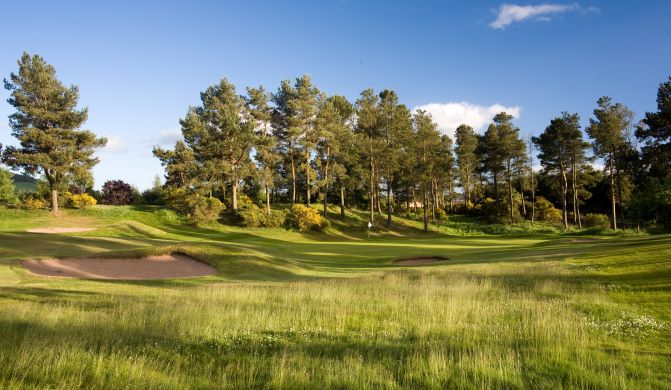 Want to play a golf course in Scotland designed over the years by two Scottish legends and Open Champions? Four-time Open Champion Old Tom Morris layed out the original design in 1871 and five-time Open champion James Braid made some alterations a few decades later. And according to Club Manager John Rankin, twelve of the greens remain where they originally were set. Unlike the traditional links tests you'll be used to in Scotland, Forfar is a Heathland golf course which means a lot more vegetation around the course, and at Forfar you'll find tree-lined fairways that shape your approach shots into small, narrow, undulating greens. So the variety in the type of golf you'll get at Forfar is quite interesting, touching on links, heathland and parkland. I haven't seen this in California.
The course's incredibly undulating fairways (for an inland course) are said to be that way because the ground was at one time utilized to dry long rows of flax. Boy is it bumpy, but that adds to the fun and lets you be creative with lower, punch shots into the large greens.
"One minute you could have a downhill lie, and then the next one's an uphill lie. There are some simply beautiful views and wonderful wildlife around the course with deer, red squirrels, pheasant," Rankin said. "As a true test of golf we have long par 3s, only one par 5 but it's very testy. It really is a challenge of golf. Peter Aliss once said it's a fantastic hidden gem. A lot of the people that come visit us say that it's a hidden gem in the middle of Angus. We think we're up there along with the best."
It's worth stopping and playing on your drive either south from Aberdeen down Scotland's east coast or north coming from St. Andrews.
Cost: 50-75 pounds (approx $58-88) during the summer.
30-50 pounds (approx $35-62) during the offseason.
Panmure Golf Club: Carnoustie, Scotland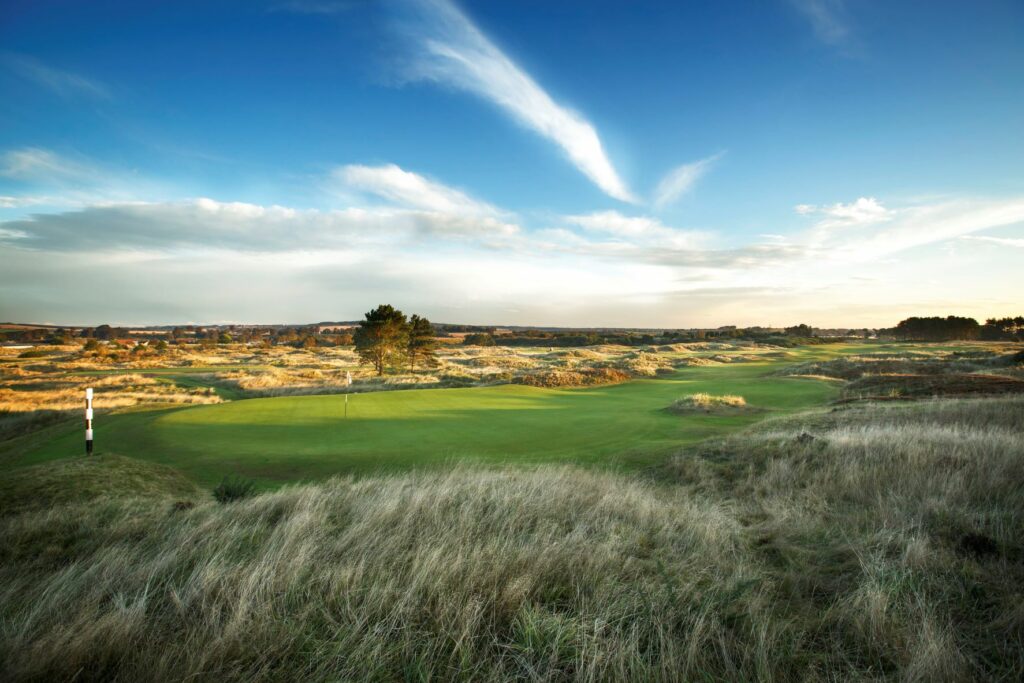 One of the oldest golf clubs in the world as it dates back to 1845. Panmure was designed around the dunes that were there on holes 5-14. Old Tom Morris and James Braid also had a hand in the design of this course at different stages. As if there needed more legend here, Hogan only played three courses in Scotland in his life and Panmure was one of there. He practiced on the grounds for two weeks in preparation for the Open at Carnoustie which he won that year. Enjoy a meal or pint at the Hogan Lounge in the clubhouse, which has a very old world feel to it, after your round. The lounge's entrance greets you with a photo of Mr. Hogan which describes his summer there at Panmure in 1953. No shorts or weatherproofs in the very proper lounge however.
As far as the course experience, you need to have all the shots. Narrow fairways, a lot of undulations, especially on the uphill par 4 sixth hole with a blind tee shot and approach over heather and rough. As if that's not enough of a test, the course added a pot bunker short and right of the green at Hogan's request back in the 1950s.
During the height of summer, the fairways will roll incredibly fast with all the mounds and slopes. I was getting at times 80-100 yards of roll. So, just another element you'll have to adapt to.
"You can play the course two days back to back and it can play completely different, depending on what the weather and wind is doing," Panmure Golf Club Manager David Brodie says. "It's a fun, true links test."
Cost: 145 pounds (approx $160) during the summer.
90 pounds (approx $112) during the off season.
Downfield Golf Club: Dundee, Scotland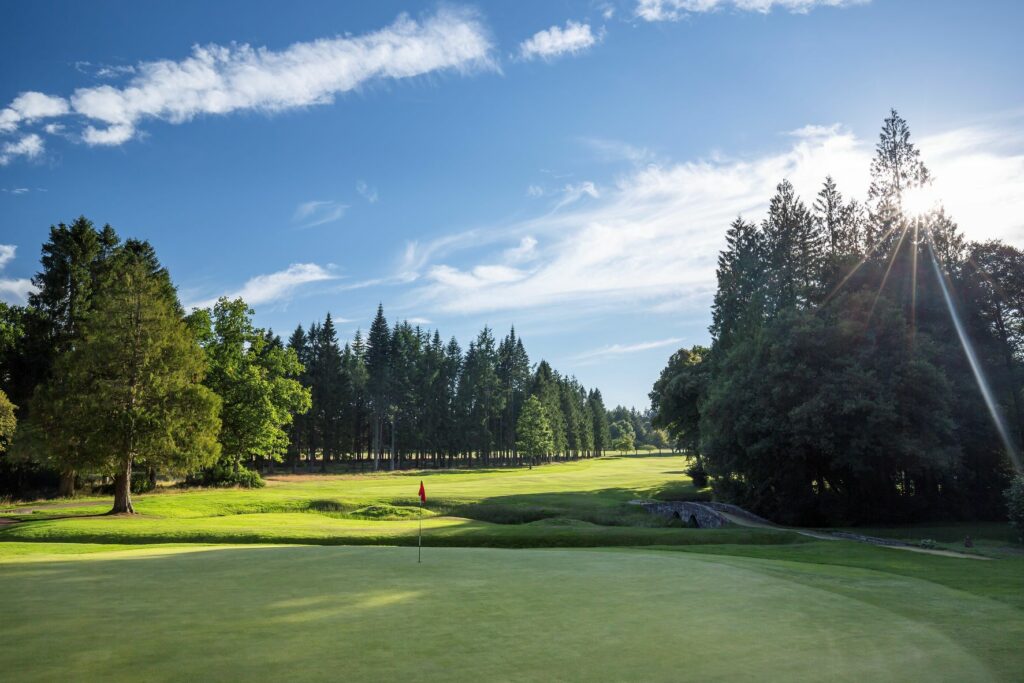 A pleasant parkland course in Dundee, Scotland. You heard that right. No links, but rather a refreshing change of pace, and the type of course that as Americans we're more used to. This course about 25 minutes north of St. Andrews in the town of Dundee has hosted
final qualifying venue for The Open. In fact, Paul Lawrie went through final qualifying at Downfield in 1999 before he won at Carnoustie. In the summertime, you can tee off at 730 pm and play until 1030pm at night which is just crazy for most of us Californians. As far as the experience, every hole is different. "When you stand on the tee you look down the fairway and you have dog-legs, you've got great par 3s, and it's a great walk. There are also times where there could be 250 people on the golf course, but you wouldn't see them, because it's tree-lined. It's quiet and peaceful," Head Pro Barry Smith says.
There are also times when the winds at St. Andrews just 15 miles south are whipping at 30-40 mph, but protected in the tall trees of Downfield, you barely feel a thing.
"One interesting aspect is we're a golf course that's on 300 acres of ground. Most golf courses are on around 100 acres of ground. We're only five minutes from central Dundee but we're in this oasis of peace and calm and tranquility. One of the words that I would use is majestic. Some of these holes you stand on, You have these massive teeing grounds and beautiful tall trees…It really takes your breath away."
And the clubhouse is a treat with gorgeous views overlooking the course and a solid selection of beers.
Cost: 60-80 pounds (approx $65-90) in the high season (summer).
Around 50 pounds (approx $55) in the off-season.
Montrose Golf Links: Montrose, Scotland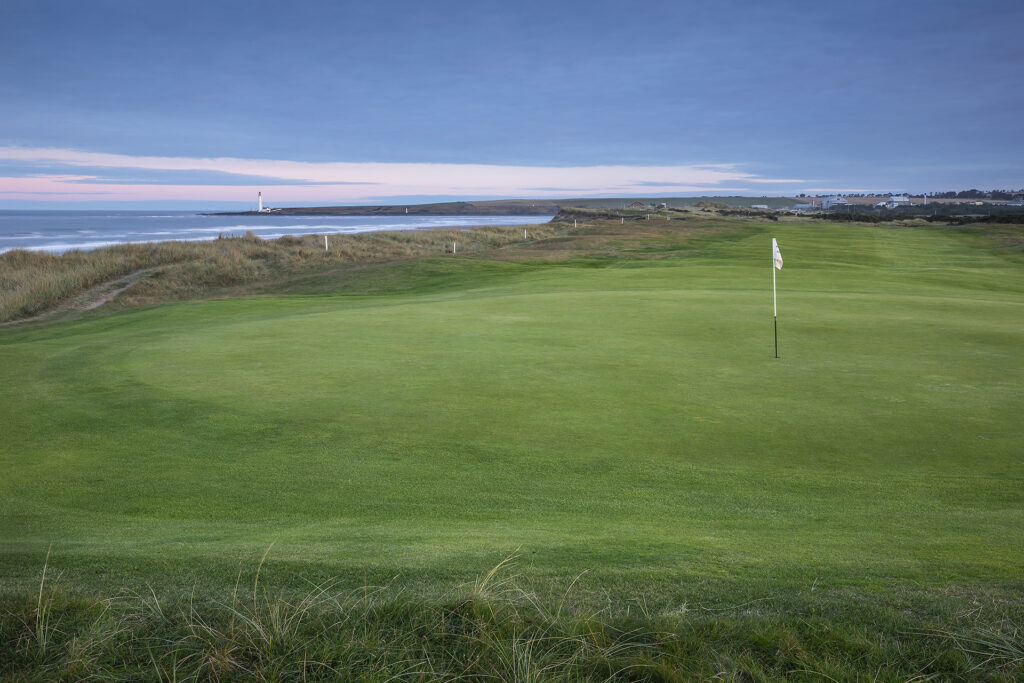 Montrose Golf Links is the fifth-oldest golf course in the world, going back to 1562. The views along the first seven holes of this sprawling Scottish links are spectacular. You'll see Montrose's lighthouse to the right of the second tee and you'll get a taste of the salty ocean breeze the next six holes, water all along the right.
You tee off in the town, just across the road from the old clubhouse, next to a hotel with a restaurant to your left. Back at home in the U.S., we might be used to having one foursome waiting behind us and watching our tee shots, but this is a completely different ballgame as far as potential audience. There's a park across the street as well along with other businesses within view. No pressure, everyone's seemingly watching.
Head Pro Jason Boyd touches on some of the exciting holes down the stretch:
"Thirteen you can't run it on because it's heavily guarded by bunkers. You have an infinity green at fourteen which is a Mackenzie style. Seventeen is tricky because the tee shot is tight with out of bounds all along the right and then good old fashioned Scottish gorse on the left. And you're raised up to that green so you've got to be careful to get the ball up all the way onto the green."
Montrose is just a real test of your control both tee to green and with your short game. The greens are subtle, but have plenty of movement. Montrose has also hosted some key events in the past including final qualifying for The Open twice; in 1999 and 2007 when The Open was at Carnoustie.
The 18th green finishes with a hotel only yards beyond it and a fence that protects it on the middle and right side, so it can get tricky to navigate. "That's one of the tricks of the trade here, you could hit it long and it might bounce off the fence or the wall and come back," Boyd says.
It's a real treat. There are two courses: The 1562 course and the shorter Broomfield which packs a stern Scottish links punch as well.
Cost:
100 pounds (approx $113) a round in summer.
35-50 (approx $40-56) pounds in the off season.
"Thanks to the nice folks at the Angus Council and Visit Scotland as well as Hotel Indigo in Dundee for the hospitality on this trip."