Extensive tour testing influenced every detail of TaylorMade Golf's new Ghost Spider S – one of the most stable putters the company has ever created. In addition to its new, tour-inspired shape, the Ghost Spider S is revolutionary in terms of control and feel.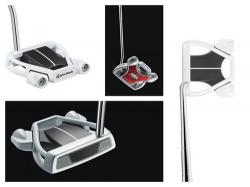 "Ghost Spider S isn't an evolution in mallet performance, it's a revolution," said Michael Fox, TaylorMade's Product Line Manager for Putters and Wedges. "To create it, we started with the DNA of our most successful putter franchise and applied more than a year of obsessive feedback from our toughest customers, our Tour Staff professionals. In terms of the two most critical aspects of putting – alignment and stability – Ghost Spider S is the complete package."
Ghost Spider S delivers an off-the-charts MOI measurement of 6,030, dramatically higher than previous TaylorMade mallets like the Ghost Manta (4,900) and Corza Ghost (3,830). The exceptionally high MOI makes Ghost Spider S extremely stable on off-center hits, and it also makes it easier to control the head and square the face to the ball at impact, a key benefit that has been consistently called out by the Tour pros who have put it in play.
Tour stars to play the Ghost Spider S this year include Jason Day, Y.E. Yang, Pat Perez, Rory Sabbatini, Spencer Levin and Peter Hanson, who recently won with it at the KLM Open.
Ghost Spider S's multi-material head (aluminum and steel) combines a white-colored steel-frame perimeter and top-line with a new, tour-inspired, non-transition black crown. The contrast between the white leading edge and black crown makes it easier to focus your eyes on the topline, making it easier to aim accurately.
In addition to the standard hosel, the Ghost Spider S will also be available in a Tour-inspired "short slant" hosel designed for the player who swings on an arc. Unlike the standard hosel, which promotes a straight back-straight thru swing path, the short-slant is toe-weighted to broaden the scope of players who can benefit from the performance characteristics of the Ghost Spider S.
"Mallet putter use on the PGA Tour has grown during the past decade to where, today, more than 30 percent of PGA Tour pros use a mallet," added Fox. "We're confident that Tour pros and amateurs who favor a mallet will want to explore Ghost Spider S because the performance benefits are impossible to ignore."
The Ghost Spider S standard model is available on November 1, 2012 for $179 in standard length and $199 in a belly model. The Ghost Spider S featuring the "short slant" hosel will hit the market a month later, on December 1, 2012.
For more information, visit www.taylormadegolf.com.