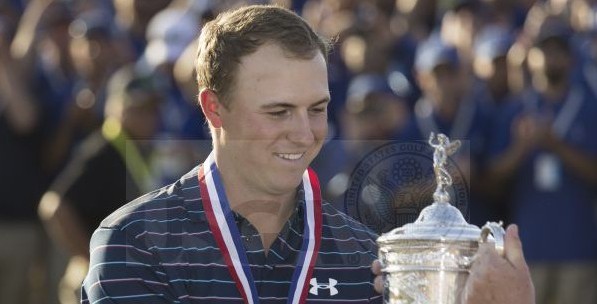 Jordan Spieth won his second straight major title with a two-putt birdie on the 18th hole, where Dustin Johnson had a chance to win but three-putted from 12 feet for a par in the 115th U.S. Open at Chambers Bay Golf Course in University Place, Wash.
Spieth, the 21-year-old Masters champion, took a three-stroke lead with a 25-foot birdie putt on the 16th hole, but left the door wide open for Johnson by hitting his tee shot on the 17th into the weeds, leading to a double bogey 5.
Then he responded like the champion he is by hitting two brilliant shots to set up his two-putt birdie on the par-5 18th hole to compete a 1-under-par 69.
"I'm in shock," said Spieth, who has won three times this season and five times around the world since late last year. "Wow. I watched (Johnson's finish) in there (on television) and I just wanted a fighting chance (in a playoff) tomorrow.
"I feel sorry for Dustin, but I felt the same way on 17. I'm just glad I was able to rebound on the last hole. … I'm happy 18 was a par 5, but I didn't think it was going to be enough. I'm really happy right now.
"I'll go to St. Andrews (for the Open Championship and the third leg of the Grand Slam), and that will be the sole focus. But you can't win them all unless you win the first two."
Spieth became the sixth player to win the Masters and the U.S. Open in the same year, joining Craig Wood (1941), Ben Hogan (1951 and 1953), Arnold Palmer (1960), Jack Nicklaus (1972) and Tiger Woods (2002).
He became the youngest winner of our national championship since Bobby Jones claimed the first of his four U.S. Open titles in 1923, also at the age of 21.
Johnson, who had a two-stroke lead before making three bogeys on the first four holes of the back nine, gave himself a final chance with a five-foot birdie putt on the 17th hole.
After DJ hit two brilliant shots of his own on the final hole, he ran his eagle putt five feet past the hole and missed the comebacker to extend his major agony.
Johnson had great chances to win the 2010 U.S. Open at Pebble Beach, the 2010 PGA Championship at Whistling Straits, and the 2011 Open Championship at Royal St. George's, but self-destructed each time.
By finishing with a 70, Johnson wound up one stroke back in a tie for second with Louis Oosthuizen of South Africa, the 2010 Open champion at St. Andrews, who birdied six of his last seven holes to finish off a 67. He tied a U.S. Open record by playing the back nine of the final round in 29.
Branden Grace of South Africa, who is 6-for-6 when holding at least a share of the 54-hole lead in European Tour events, was tied for the lead with Spieth before hitting his tee shot out of bounds taking a double bogey 6 on the 16th hole and shot 71.
Grace finished two shots back in a tie for third with two Australians–Adam Scott, who closed with a bogey-free 64, and Cameron Smith, who had a 68.
Charl Schwartzel of South Africa was another stroke back in solo seventh after a 66, followed by Brandt Snedeker, who birdied the last four holes of the front nine en route to a 68.
Top-ranked Rory McIlroy of Northern Ireland, who won the last two majors of 2014, played his best golf of the week to post a 66 and was five shots back in a tie for ninth with his pal Shane Lowry of Ireland, who totaled 71, and Jason Day of Australia, again fighting vertigo, who ran out of gas and finished at 74.
Phil Mickelson, who started the week in search of his first U.S. Open title and the Career Grand Slam, shot 73 and tied for 64th.
Brian Campbell of Irvine, who recently finished his senior season at the University of Illinois, finished as low amateur in a tie for 27th, opening with a 67, closing with a 68 and struggling only when he shot 78 in the third round.