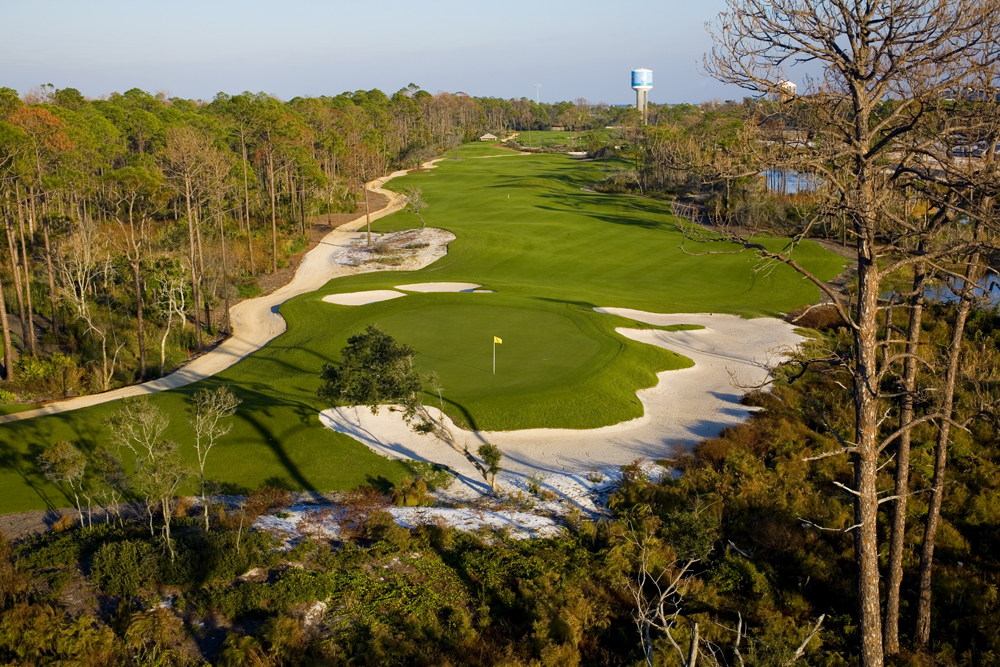 When it's time to tee it up in Alabama, don't just head to the nearest football stadium because there's good golf to tackle as well. Nine courses are associated with the Gulf Shores Golf Association that includes one across the state line in Florida, proving that even rivals on the gridiron can play nice on the links.
The eight facilities – one has 36 holes and three have 27 – are linked by a desire to showcase the eastern Gulf Coast as a cozy golf getaway.
"This is a great golf destination," said Duncan Millar, executive director of the Gulf Shores Golf Association. "Once people come and discover it, the repeat traffic is just through the roof. Our quality of courses in a relatively small area will stack up nicely with most areas of the country."
Seven of the courses are on a 30-mile stretch of beach that incorporates the Gulf of Mexico, Mobile Bay and Perdido Bay into the layouts. The two that aren't on the southern edge of Alabama are worth the short jaunt north because of the incredible topographical changes that come into play.
"Golf in the Gulf Shores area is very difficult to beat from the quality of the courses and the value you find here throughout the year," said Andy Roy, director of golf at TimberCreek Golf Club in Daphne, the course farthest north in the group. "Every facility is fantastic in its upkeep and all of the staffs understand what the business is all about and bring a genuine Southern hospitality to work each day."
The member courses, none of which has a triple-digit green fee even in high season, also have joined forces with lodging partners that include luxury beach homes, beachfront condos, hotel chains and on-course villas. It all adds up to something special in a region that, for the most part, has yet to be discovered on a national scale.
"I think this is as good as it gets and I don't think a lot of people expect that out of Alabama," said Chad Leonard, general manager at Cypress Bend and Cotton Creek at Craft Farms and Rock Creek Golf Club. "They underestimate how good the golf is at the beach, how pretty the beaches and woodlands are and how good the whole experience is."
Craft Farms
Cypress Bend and Cotton Creek
Gulf Shores, Alabama
(800) 327-2657 • craftfarms.com
Southern charm is abundant as soon as golfers make their approach to this stately 36-hole facility. Arnold Palmer did a nice job designing layouts that didn't disturb the wildlife and nicely incorporate the many oaks, pines, lakes and creeks on the property.
"Cotton Creek is a classic, traditional golf course while Cypress Bend is a bit more open and geared toward resort play, so we can accommodate anybody at Craft really well," said general manager Chad Leonard. "It's a very good one-two punch."
Adding punch to the more-open 6,840-yard Cypress Bend are the sloping green complexes. A large putting surface might tempt players to go for the 543-yard, par-5 13th hole in two, but a sharp dogleg to the right with water on both sides of the fairway make accuracy the first order of business.
One of the tougher holes at the 7,120-yard Cotton Creek is the 395-yard, par-4 sixth, where a dogleg right challenges golfers to cut off as much fairway as they can. A good tee shot that avoids water on the right leaves a short iron to a green protected by bunkers and the same lake that cuts in front of the putting surface and borders both sides.
GlenLakes Golf Club
Foley, Alabama
(251) 955-1220 • glenlakesgolf.com
With 27 holes, GlenLakes spices things up for golfers wanting a little variety.
"We really have three distinct nines that can be mixed and matched beautifully each day depending on the rotation," said general manager Tony Westervelt. "It's a very diverse piece of property."
Even though it's the shortest layout at 3,065 yards, the Lakes perhaps makes the biggest splash because water comes into play on all nine holes. The Dunes, which is the longest at 3,515 yards, could just as easily be called Moguls because of the moonscape fairways and dramatic mounding that greet players from every tee box. For players who want to bang the driver, the Vista offers the best option. Water is in sight on six holes of the 3,420-yard layout but the fairways are wide enough to let it rip.
Gulf Shores Golf Club
Gulf Shores, Alabama
(251) 968-7366 • gulfshoresgolfclub.com
As befitting a course with a club-toting squirrel as its logo, Gulf Shores Golf Club is a casual place to tee it up. The father-son team of Jay and Carter Morrish gave the 6,810-yard, par-71 course a makeover in 2005 that added water features and bunkers. The result is a cozy walk in the park between trees and among wildlife that might include an alligator peeking over the edge of a pond.
"We're very casual but have some challenge, too," said general manager Ernie Smith. "We have a very woodsy, parkland feel that makes this a comfortable place to play."
Kiva Dunes Golf Club
Gulf Shores, Alabama
(800) 833-5482 • kivadunes.com
Everything about this coastal masterpiece is slick, as in fast fairways and lightning-quick greens. The top-rated golf course in Alabama also has gotten national recognition over the years as one of the best places to play in the country.
"Having Kiva Dunes in the (Gulf Shores Golf) Association is a pretty big draw," said GSCA executive director Duncan Millar. "All of our golf courses are top-notch but as far as national publicity goes, Kiva Dunes seems to get that every year, and deservedly so."
The 7,092-yard layout designed by Jerry Pate stretches over a peninsula between Mobile Bay and the Gulf of Mexico. The mounds in the fairways and bunkers can be steep, but nothing can prepare first-time players for the slopes on many of the putting surfaces. Nowhere is that more diabolically beautiful than at the 13th hole, a 175-yard par-3 with a roller-coaster green surrounded by six bunkers, one with a depth of 9 feet. A pine tree stands about 15 yards in front of the putting surface to protect any left-side pin placements and – drum roll, please – the tee shot is a complete carry over wasteland.
Lost Key Golf Club
Perdido Key, Florida
(888) 256-7853 • lostkey.com
The Sunshine State's lone representative in the Gulf Shores Golf Association was the first course in Florida to be certified as an Audubon International Silver Signature Sanctuary. A renovation project by the Arnold Palmer Design Group in 2006 enhanced the fairways and greens, reshaped bunkers and added more than 2,000 native trees and 13,000 wetland plantings. It all makes for a scenic trip around the course, but don't lose focus because precise tee shots are necessary on most holes because of thin fairways bordered mostly by marshes, wetlands, lakes and sandy waste areas. Many of the greens are undulated and range from tiny to gargantuan, such as the 65-yard-long putting surface that will definitely affect club selection on No. 2, the course's first par-3 adventure.
"At first it can be intimidating in appearance," head pro Roger Willoughby said of the 6,800-yard, par-71 layout, "but once people get accustomed to the nuances they want to play it again."
Peninsula Golf & Racquet Club
Gulf Shores, Alabama
(800) 391-8009 • peninsulagolfclub.com
This aptly named club on a strip of land between Mobile Bay and Little Lagoon has three distinct nine-hole layouts – Marsh, Lakes and Cypress. The course, which encompasses 820 acres, winds through mature trees and vegetation that border some of the 30 lakes that are visible or come into play. Many of the water hazards are on the 3,450-yard Lakes layout with a few holes having two or three lakes to negotiate. If you're a little wide with your tee shots, chances are it won't get wet because the course has some of the largest bunkers and waste areas in the region.
Rock Creek Golf Club
Fairhope, Alabama
(800) 458-8815 • rockcreekgolf.com
For a roller-coaster ride of a layout, Rock Creek is flat-out fun to play. The 6,920-yard course makes players feel like they've been airlifted into a national forest because of the towering trees, elevation changes, curves and ever-present Rock Creek that snakes through the property. One of the more spectacular holes is No. 2, a 434-yard par-4 that requires a precise shot from the elevated tee to the elbow of a dogleg about 75 yards below. Hit your spot and you're then faced with a 175-yard approach shot over a deep and wide wetlands area to a green guarded in front by bunkers and to the rear by one of the tallest and widest wooden bulkhead backdrops you'll ever see.
"This is really a fan favorite," said Chad Leonard, the general manager here and at Craft Farms. "This property is phenomenal – the rolling hills, the undulations, you just don't see that in this area. It's just a great golf course."
TimberCreek Golf Club
Daphne, Alabama
(877) 621-9900 • golftimbercreek.com
The differences between the three nine-hole layouts at TimberCreek are subtle enough to make any rotation feel like you're playing two different courses. The 3,640-yard Magnolia, 3,450-yard Dogwood and 3,470-yard Pines on the eastern shore of Mobile Bay all live up to their names because of the towering trees that line each fairway. But lost balls shouldn't be a recurring theme because of the playability throughout the 27 holes.
"The course is challenging, but the fairways and greens are generous enough to allow players to get around and enjoy the golf course and shoot some good scores," said director of golf Andy Ray. "The Dogwood and Magnolia courses have some undulations and dramatic elevation changes that you typically don't see this close to the beach, and the Pines has a lot of mounding with much of it funneling balls back toward the middle."
For more information on the Gulf Shores Golf Association, visit golf.gulfshores.com.
– BY AL PETERSEN