Trade old clubs for a new SkyCaddie? We all love something for nothing. That's now possible with SkyGolf's new trade-in program, where golfers can exchange old or unwanted golf clubs or distance measuring devices for its award-winning SGX and SGXw (wireless) rangefinders. In addition, the company is offering a $50 instant rebate. Even sweeter: you don't have to be a SkyCaddie owner to take advantage of this incredible offer.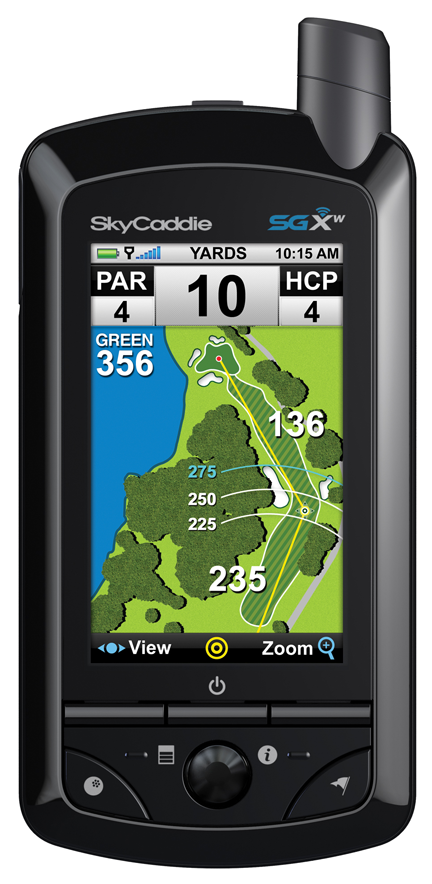 SkyGolf pioneered the category of distance-measuring devices and as the dominant player; there are hundreds of thousands of older SkyCaddie models still in use. A number of golfers have capitalized and actually received their SkyCaddie for free! Barbara Leonhardt of Gaithersburg, MD, declared, "We especially liked the trade-in allowance for old clubs and for our old SkyCaddie. It was this trade-in deal that led us to trade in our old one – we wouldn't have done it without the trade offer."
Ranked No. 1 by Golf Datatech + Golf Digest Hot List Gold Medal
In a 2011 Golf Datatech survey, the industry's leading research firm, SkyCaddie ranked No. 1 in accuracy among all distance-measuring devices (DMD). It revealed that 94 percent of all serious golfers believe "exact yardage" is important to their game and more golfers use SkyCaddie than all other GPS rangefinders combined. SkyCaddie was clearly perceived the most accurate DMD, with Bushnell's laser a distant second. SkyCaddie was named the most accurate distance-measuring device twice as often as the other 14 DMD's combined!
Recently, Golf Digest honored SkyCaddie as the only DMD to receive its prestigious Hot List Gold rating. Since the inclusion of DMD's in the Hot List, SkyCaddie has been the only product to receive this distinction. Using survey grade equipment that delivers pinpoint accuracy within a yard or less, highly trained SkyCaddie mappers walk every course to record thousands of points on each hole to verify the exact locations of targets, hazards, fairway run outs, major green contours, false fronts and the perimeter of every green with critical front, carry and back numbers.
How the Program Works
Purchase a SkyCaddie SGXw or SGX from a qualified retailer or directly from SkyGolf.com. Go to SkyGolf.com, print the rebate/trade-in form and fill it out. Send it in with your new purchase receipt and products you are trading in. The site includes a menu with realistic pricing on trade-in items. Tommy Fields of Sharpsburg, GA, has owned a Bushnell for about five years. He said, "I like knowing the yardage to all sections of the green, not just the center or flag. Plus, it's very difficult to measure the trap in front of a flag or green. You can with SkyCaddie. Bushnell cannot do this. Additionally, you can do the same if you are hitting over water using the SkyCaddie. You know exactly the distance to avoid the water."
Some might wonder whether they'll receive the trade-in value they deserve. Bill Manget of Newnan, GA, relating his experience revealed, "When I sent my form in, I predicted I would get $216.75 and that's exactly what I got," he said. "I was thrilled to get the new SkyCaddie SGX. It's a great unit. I was absolutely satisfied with the process."
John Murphy of North Attleboro, MA, went through a local retailer and said, "I bought the SkyCaddie SGX and I sent my SG5 in. I also had about three clubs to trade in, so I felt like I was getting it more or less for free. For me it was pretty simple and painless."
Purchase a New SkyCaddie SGXW or SGX between August 1, 2012 and October 15, 2012 and receive an instant $50 rebate. Buyers also receive $250 in Hotel Savings Bucks at activation, saving up to 40 percent off the guaranteed lowest rate available from over 15,000 hotel properties worldwide. This trade-in and instant rebate program is available at www.skygolf.com as well as participating green grass shops and retailers. (Code for free shipping: CANEWS.)
– BY LEONARD FINKEL