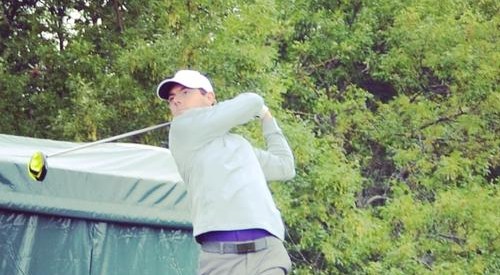 Rory McIlroy of Northern Ireland, coming off a left ankle injury, played a practice round on Saturday at Whistling Straits in Kohler, Wis., where he hopes to defend his title beginning Thursday in the 97th PGA Championship.
McIlroy, who sustained ligament damage in the ankle while playing soccer with friends on July 4, has not played since — missing his title defenses in the Open Championship at St. Andrews and in the WGC-Bridgestone Invitational at Firestone.
"@McIlroyRory on site for a practice round at #Whistling Straits," the PGA Championship's twitter handle announced along with a picture of the No. 1 player in the World Golf Rankings hitting a shot on the course.
McIlroy showed up at a little after 8:30 a.m. local title and went through a full exercise regimen prescribed by his doctors before hitting a shot.
The Golf Channel aired video of McIlroy on the driving range and the course, running up the hill at one point, showing no signs of the injury.
McIlroy was not quoted on the air, but a Golf Channel reporter said Rory told him he has played 90 holes of golf recently, and media reports in Europe said he practiced during the last week in Portugal.
Although he has not said officially that he will play in the PGA, which he won by one stroke over Phil Mickelson last year at Valhalla, McIlroy is listed in a first-round group on Thursday at 2:20 p.m. ET with Jordan Spieth, the Masters and U.S. Open champion, and Zach Johnson, who won the Open Championship at St. Andrews.