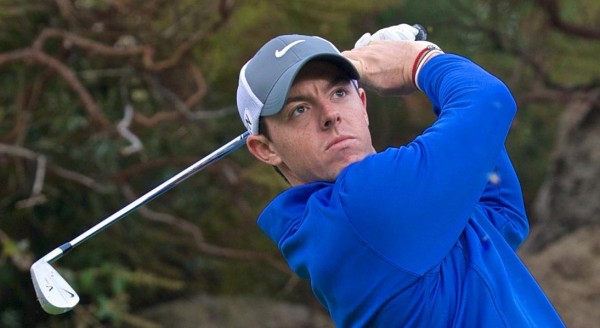 Rory McIlroy applauded as much as anyone when Jordan Spieth of the United States and Jason Day of Australia took turns holding the No. 1 spot in the World Golf Rankings this season.
McIlroy, down to No. 3 behind current No. 1 Spieth and No. 2 Day, sent out congratulatory messages to both on Twitter after they unseated him.
Now he is ready to make his bid to return to the top of the heap, starting this week in the Frys.com Open, the first event of the 2015-16 PGA Tour schedule on the North Course at Silverado Golf Resort in Napa, Calif.
"It has definitely given me that sense of hunger again," McIlroy told BBC Sport recently when asked about the brilliant seasons of Spieth and Day. "It's motivating to see what these guys are doing.
"You want to work harder, hit more balls and try to keep getting better."
The 26-year-old from Northern Ireland didn't have a bad year himself, winning the Omega Dubai Desert Classic, the Cadillac Match Play Championship and the Wells Fargo Championship.
However, it didn't match up to 2014, when he captured the BMW PGA Championship, the flagship event of the European Tour in May, then took a strong grip on the No. 1 ranking with a brilliant late-season run in which he claimed the Open Championship, the WGC-Bridgestone Invitational and the PGA Championship in consecutive outings.
This year, McIlroy missed about six weeks during the heat of the summer schedule after he ruptured a ligament in his left ankle while playing soccer with friends on July 4.
"It hasn't been the season that I would have hoped for," said McIlroy, who finished 17th in his title defense at the PGA Championship when he did return to the course. "Going without a major (title), missing arguably the biggest tournament that we have, the Open Championship at St. Andrews, it only comes around once every five years.
"Having to sit that one out, there's been a few disappointing moments. There's been a few highs as well, but 2015 won't be a year that I necessarily look back on at the end of my career as one where it was a (success). … It was a bit of a learning curve, but not one with great success."
McIlroy said immediately after sustaining the ankle injury that he would continue to play soccer, or football as he calls it, because it always has been a part of his life.
However, more recently, he modified that statement.
"I, for sure, won't be playing any football in the middle of the season again," said McIlroy, who leads the Race to Dubai standings he won in 2012 and 2014. He has three events left this year on the European Tour to nail down a third title.
"I'll still want to play football in the offseason and enjoy my time with my friends, as that's what we all do, but maybe be a little more careful in the middle of the golf season."
McIlroy, who spends his time while playing the PGA Tour at his home in Palm Beach Gardens, Fla., talked about how difficult it is for the European players to play full time on both major tours.
Despite some speculation that he might play only the U.S. circuit, he said he is not going to give up his European Tour membership, as Paul Casey of England did this year.
"The travel, wow! I'm in an airplane for more than a fortnight a year; have been in 118 different airports in 12 months," McIlroy said. "I've spent 287 nights in a hotel. What does that leave? Less than 80 nights in my own bed, whether it's the one in Northern Ireland or Florida. I guess at the minute, I don't really have a home.
"I don't want to put the European Tour in that sort of position, because I owe a great deal to them. They gave me playing opportunities at the start of my career, and I wouldn't be where I am without them."
McIlroy is teeing it up in the Frys.com Open because he was one of eight PGA Tour players who were given a waiver to play in the then-unsanctioned and very lucrative Turkish Airlines Open in 2012.
Since the tournament was played opposite the Frys, the eight had to make a commitment to play in the Northern California event at least once in the next three years.
Tiger Woods also was committed to play this week until he underwent back surgery last month, but McIlroy will be part of solid field that includes Justin Rose of England, Hunter Mahan, Brandt Snedeker, Webb Simpson, Brooks Koepka, Charl Schwartzel of South Africa, Hideki Matsuyama of Japan, Steven Bowditch of Australia, Chris Kirk, Nick Watney and Daniel Berger — the 2014-15 PGA Tour Rookie of the Year.
"During the (Honda Classic in March), Rory told me that he watched quite a bit of last year's tournament on Golf Channel and that Silverado looks great," Frys tournament director Duke Butler said when McIlroy made his commitment a few months ago.
"It will be a privilege for Fry's Electronics and the Napa community to host the world's top-ranked player at Silverado."
Of course, McIlroy is not No. 1 right now, but winning this week would be a step back in the right direction.
And NorCal seems to suit him, because the last time he was there in May for the WGC-Match Play at TPC Harding Park in San Francisco, he won.
–Story courtesy of The Sports Xchange, TSX Golf Edtior Tom LaMarre