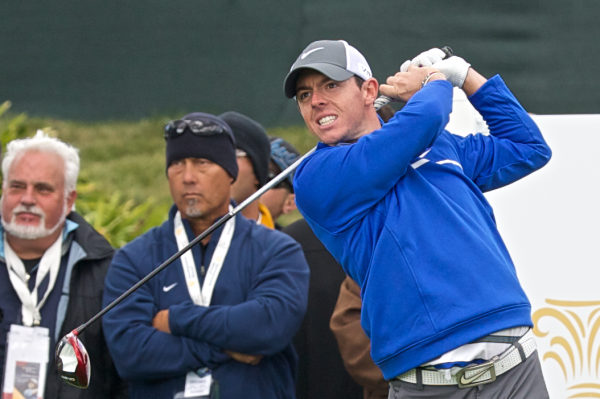 Ever since Rory McIlroy captured the Open Championship at Royal Liverpool last July, the question has been asked: Can he complete the Career Grand Slam in April at the Masters.
The first major of the season is the only one McIlroy has yet to win.
As wild as the scene would be if McIlroy is in the hunt at Augusta National, the 25-year-old from Northern Ireland knows that if he claims the Green Jacket, it figures to be even crazier in the U.S. Open at Chambers Bay near Seattle in June.
That is because if he does join Gene Sarazen, Ben Hogan, Gary Player, Jack Nicklaus and Tiger Woods as the only players to claim the modern career Grand Slam, he will show up at the second major of the year seeking to equal what is known as the Tiger Slam.
In 2000, Woods captured the last three majors of the year and then held all four at the same time when he claimed his second Green Jacket the following April.
Since McIlroy won the last two majors of 2014, including the PGA Championship at Valhalla in August, he is halfway there.
"There's going to be a lot of hype when I drive down Magnolia Lane in April," McIlroy, who makes his 2015 PGA Tour debut this week in the Honda Classic at PGA National, told BBC Sport. "If (I were to win at Augusta), there could be even more hype going into the U.S. Open and trying to hold all four at the same time. …
"But we're getting ahead of ourselves there. Look, Augusta is going to be a very special week, and hopefully I can live up to expectations. I know if I play my best golf, I will have a great chance to win."
McIlroy is the 6-1 favorite of one Las Vegas bookmaking site to win the Masters, with Jordan Spieth second at 15-1.
It is easy to find people in the know who think McIlroy will pull it off.
"I predict that he will do it (in 2015) because the Masters is just made for him," Player, who won three Green Jackets, told SportLive.com. "There is no golf course I can think of that is made for him more than Augusta National. …
"There is no question in my mind (McIlroy) will be the next winner of the career Grand Slam and he'll go on to win many more major championships. One can never predict how many. … People were saying Tiger Woods could win 30, but nobody knows what is going to happen to your health, nobody knows what's destined for you in your career.
"But all being well, he's going to win a lot of majors."
Paul McGinley of Ireland, who captained the Europeans to their latest Ryder Cup victory over the United States with McIlroy's help last year at Gleneagles in Scotland, is on the Rory bandwagon, too. However, McGinley is not handing McIlroy the Green Jacket just yet.
"I don't know if it is going to happen this April," McGinley said. "I don't want to put expectations on his shoulders by saying it is going to happen this April. It could well happen, but we never know in this game. …
"The Masters and Augusta is certainly a golf course which suits the game that he plays. I'd be very surprised if at the end of his career he hasn't won more than one Masters Green Jacket.
"It is important he stays ambitious as he is now. It is important that he dedicates himself as much as he is now, and there is no reason why any of those things won't happen. I think he will win more major championships.
"Rory is the undisputed No. 1 player in the world at the moment. We haven't seen the best of him yet."
We have seen the worst of him, and it came in the Masters.
In 2011, he opened with a 7-under-par 65 at Augusta National, and after rounds of 69-70, he took a four-stroke lead into the final round. However, he closed with an 80 that is the highest score of any 54-hole leader in Masters history.
Of course, we found out what he is made of two months later in the next major when he captured the U.S. Open by eight strokes at Congressional for the first of his four titles in the Grand Slam events.
Now, McIlroy is on the precipice of history, and we know how the Irish feel about green.
–Story courtesy of The Sports Xchange, TSX Golf Editor Tom LaMarre