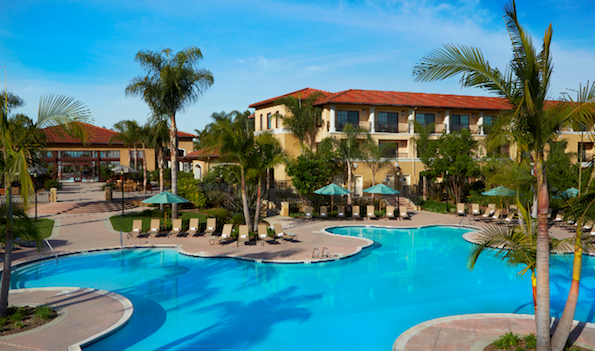 If your family or group is like most others, there's never a lack of options – or opinions. Do you ever find that opinions are especially formed and expressed when it's vacation time? (Funny how that happens!) In an ideal world, every golf course would take this into consideration. It seems there are always four or five votes that weigh in on deeming a course perfect enough for your game — and we're not talking about good angles for approach shots or forgiving greens. We're talking about opinions about new theme park rides, prime sand castle building conditions, and how many water activities can fit into one day (Jetskiing or stand-up paddleboarding Carlsbad Lagoon, anyone?). We're talking about all the things your family wants for your perfect golf vacation – not to mention your game.
In southern California, the place that fits the bill is Carlsbad. Here, "off the beaten path" doesn't mean out of the way. In fact, Carlsbad is sandwiched right between Orange County and San Diego, and is home to The Crossings — San Diego's newest course — plus LEGOLAND® theme park, fashion-forward shopping, warm sunny beaches, relaxed train transportation and much more.
The Sheraton Carlsbad is the seaside bluff retreat buzzing with the energy of this anything-is-possible southern California lifestyle. Guests range from golf warriors to business travelers, families, and couples. Refreshing marine botanical spa treatments at the on-site Ocean Pearl Spa are a favorite indulgence no matter who you are – as are the ocean-view happy hour and laid-back resort pool where lagoon-style pools are shaded by palm trees.
The total coastal resort experience for golfers is absolute with the adjacent The Crossings (below), designed by Greg Nash, which consistently wins acclaim as one of southern California's most atmospheric and playable public courses, and fairways are kept cool by an ever-present ocean breeze. The course gets extra kudos for a panorama clubhouse boasting views of the ocean just a mile away. And what golfer doesn't love a 30-second golf cart ride between hotel room and tee time?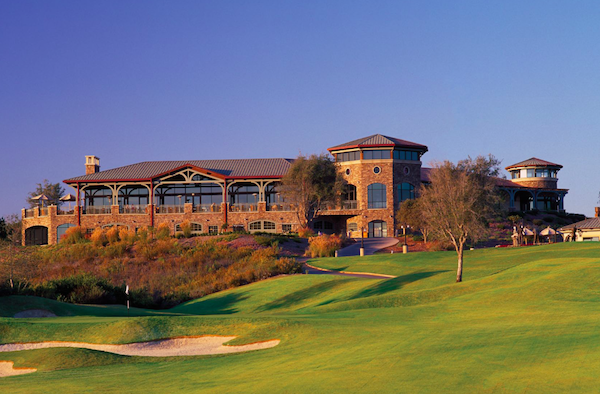 An ideal California retreat would not be complete without shopping. Carlsbad Premium Outlets offers 90 stores for impressive savings on designer brands such as Michael Kors, Kate Spade,Tommy Hilfiger, and Crate and Barrel. The coastal bluffs and beaches of Carlsbad are a San Diego locals' secret with well-maintained walkways and facilities. Plus, Sheraton Carlsbad is so close to LEGOLAND that hotel guests have a private entrance straight into the theme park. The Carlsbad Lagoon for watersports, sprawling, fragrant flower fields (which flourish in April and May), and Carlsbad Village with restaurants and boutiques, are more reasons why this destination appeals to all.
Carlsbad is the perfect destination to fall in love with California train travel, where it's just a two-hour ride to Los Angeles and even less to Orange County and Disneyland. It's easy to get to downtown San Diego, where just $11 round trip gets you to the city that offers the buzzing Gaslamp District and Balboa Park. Within the Carlsbad region, the San Diego Botanic Gardens, San Diego Safari Park, Temecula Wineries and prime hiking and bike riding trails are all a short drive from Sheraton Carlsbad.
Natural surroundings are in plentiful supply for everyone in Carlsbad – golfers included. Environmental preservation is key here, and The Crossings retains much of its coastal sage and other flora, with fairways connected by a handful of bridges built to work the course into its natural uneven landscape.
Take advantage of the Sheraton Carlsbad's Playcation package, including spacious accommodations, a hearty breakfast, and your choice of daily activities including golf at the Crossings (with unlimited use of practice facilities and personalized bag tag), Resort Hopper tickets to LEGOLAND California, one hour jet ski rental at the Carlsbad Lagoon, or a relaxing massage or facial treatment at Ocean Pearl Spa. The variety of amenities in Carlsbad are likely to leave you wondering how it took you so long to discover this seaside retreat – and thankful that the most interesting families never have a lack of opinions.