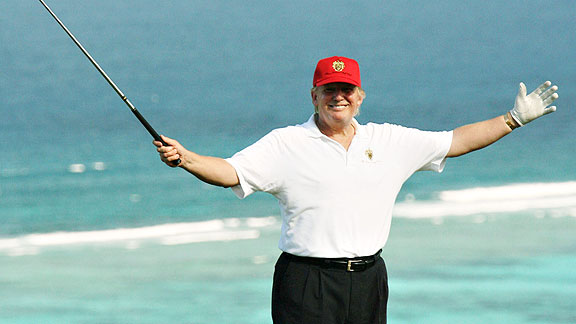 The PGA of America became the latest organization to distance itself from Donald Trump in the wake of his controversial comments about Mexican immigrants, pulling the PGA Grand Slam of Golf in October from Trump National Golf Club Los Angeles.
Trump, the business entrepreneur and Republican presidential candidate, also has seen NBC Universal, Univision, Televisa, Serta, Macy's and other corporations take similar action in recent weeks.
"The PGA of America met with Donald J. Trump yesterday and the parties mutually agreed that it is in the best interest of all not to conduct the 2015 PGA Grand Slam of Golf at Trump National Los Angeles," the PGA of America said in a statement.
"The PGA of America is in the process of exploring options, including a venue for its annual PGA Junior League Golf Championship, and will comment further at the appropriate time."
The PGA Grand Slam of Golf, a 36-hole event matching the winners of the four major championships that season, was set to be played at Trump National Golf Club Los Angeles for the first time after being contested in Bermuda since 2007.
Trump said the move will allow him to continue to make improvements at the club.
"I have great respect for the PGA of America and everything they stand for," Trump said.
Trump has three years remaining on his contract with the PGA Grand Slam of Golf and two other PGA of America events are scheduled to be played on Trump properties–the 2017 Senior PGA Championship at Trump National Washington and 2022 PGA Championship at Trump Bedminster.
The PGA Tour released a statement that read in part: "We understand and support the decision" made by the PGA of America, and added that it is "continuing to monitor the situation."
Two PGA Tour events are played annually at Trump courses–the WGC-Cadillac Championship at Trump National Doral in Miami and the Puerto Rico Open at Trump International Golf Club in Rio Grande, Puerto Rico.
The Ricoh Women's British Open is scheduled to be played July 30-Aug. 2 at Trump Turnberry Resort in Scotland.