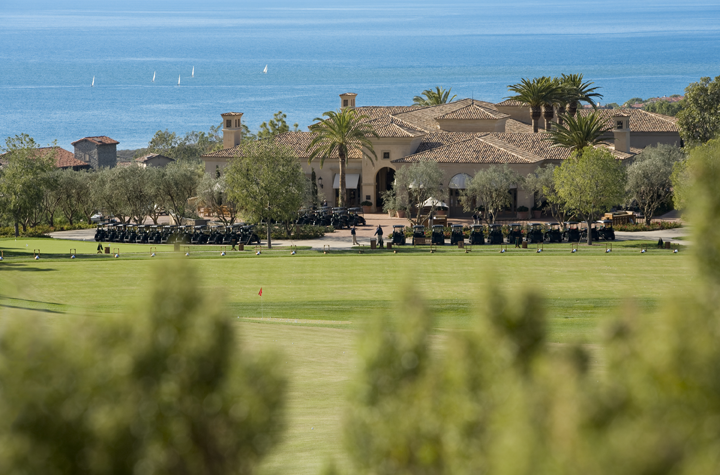 NEWPORT BEACH ­– Last Friday marked the fifth anniversary of the re-opening of Pelican Hill Golf Club and the opening of Pelican Grill, located at The Resort at Pelican Hill, currently rated World's Top Golf Resort by Condé Nast Traveler magazine readers. On November 2, 2007 following a two-year closure, Pelican Hill Golf Club debuted its newly "re-perfected" 36 holes of ocean-view golf, 44,000-square-foot clubhouse and one of the most breathtaking spots for al fresco dining along the California coast.
"When Pelican Hill Golf Club re-opened to the public five years ago, our world-class golf experience immediately began captivating golfers from far and near, including Resort guests, Preferred Program participants, tournament groups and local golfers of all experience levels," said Steve Friedlander, vice president – golf for Pelican Hill Golf Club. "As a luxury golf destination, Pelican Hill Golf Club provides professional forecaddies, PGA instruction, a superb practice facility and 36 championship holes with panoramic ocean views."
Originally designed in the early 1990s by renowned course architect Tom Fazio, the 18-hole Ocean North and 18-hole Ocean South cover nearly 400 picturesque acres by the Pacific Ocean. Conceived in harmony with the dramatic, natural coastal environment, Pelican Hill's two courses both feature incredible ocean views, but also offer two distinctly different playing experiences. When Fazio returned in 2005, he explained his vision to "re-perfect" all 36 holes in a location that is "one of the most spectacular in golf."
Voted Best Southern California Sports Bar & Grill by Los Angeles Times readers, Pelican Grill opened its doors five years ago as the first of The Resort at Pelican Hill's three distinct restaurants. Located at Pelican Hill Golf Club, Pelican Grill celebrates the best of the California lifestyle with its picturesque ocean-view location, a delectable menu of quintessential California cuisine prepared with the highest-quality fresh and locally sourced foods, as well as stylish and comfortable décor, gracious personalized service, al fresco terrace seating and sophisticated, yet relaxed lounge with two nine-foot TVs for sports viewing.
For golf and dining reservations, call (800) 820-6800. For additional information, visit pelicanhill.com.