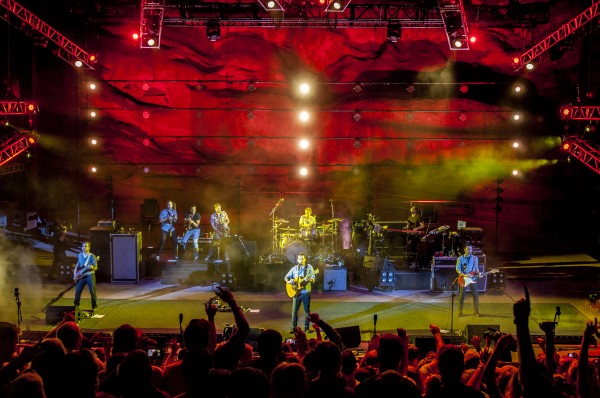 By Wil Barnes
It was six years ago at the Waste Management Phoenix Open when, after the second round, everyone headed to that's night concert at the famous Bird's Nest. The featured act was O.A.R., a band that I was totally not familiar with. While I was interviewing Rickie Fowler earlier that day, Bubba Watson walked by and asked Rickie if he was going to the show that night.
"Oh yeah," yelled Fowler. "I've been waiting for this one."
Rickie explained the band's style to me and talked about some songs from them he liked most. They sounded like a band that was definitely worth seeing.
The house was packed and fans were chanting the band's name over and over when they finally appeared to a thunderous welcome. If memory serves me well, they opened with one of their hits, "City on Down." I was standing next to two absolutely gorgeous young twins who had graduated from Arizona State. Three or four songs into the show I couldn't help but notice the pair knew every word to every song. I was thinking to myself, "Where have I been?" O.A.R. was absolutely fantastic and I hadn't heard of them and I felt slightly embarrassed, but then again, I am sort of ancient.
In between songs, the girls filled me in on some of their history and that they had seen them on other college campuses over a few years. College rock shows were where the band had made its largest impact.
O.A.R. became a regular at the WM Phoenix Open over the next four years, selling out each time. That's why after arriving in Scottsdale this year, I was disappointed to find out that the boys with such hits as "Hey Girl," "Shattered" and "Crazy Game of Poker" were not appearing. Kid Rock, who also sold out this year's Friday night show, was a very popular choice for 2015.
When I found out that O.A.R., a band with a mix of rock, indie rock and reggae would be appearing as part of the PGA Tour's Northern Trust Open, it was great news. The show is Saturday, February 21 at the driving range at Riviera CC and, as advertised, it is complimentary if you have a ticket from Saturday's third round. The band recently released their eighth album, "The Rockville LP," a fitting title since the majority of the band is from Rockville, Md. The band was founded in 1996 in Rockville by guitarist and lead vocalist Marc Roberge, a terrific front man, and joined by guitarist Richard On, drummer Chris Culos, and bassist Benji Gershman. Saxophonist Jerry DePizzo joined the band after meeting it while attending Ohio State.
If you haven't seen O.A.R., you definitely should and that opportunity is coming this weekend thanks to the good people at Northern Trust. Having a live concert with a band of this quality and popularity should make a for a great Saturday afternoon following the third round at Riviera. For information and tickets, log onto www.northerntrustopen.com