While golf sputters close to home, it booms elsewhere; creating new, alluring international frontiers for the golf adventurer. Mexico had its moment. On some level, the British Isles may never relinquish theirs. Today, the preponderance of new-course hype emanates from California's offshore neighbor to the southwest.
Catalina? If only.
It's New Zealand, where the endless coastline, famous name course designers, sub-tropical climate, a weak New Zealand (NZ) dollar and Tolkien-esque landscapes have conspired to create a golf destination unlike any other on the planet. Distant? Undeniably. It's 13 hours by jumbo jet from LAX to Auckland — but then, it's also 11 hours from LAX to Edinburgh or Dublin, and golf hounds think nothing of making that trip at least once.
Sometimes, when in search of new golfing drama, one must light out for new territory.
There has always been great golf in New Zealand, but the "Great Man Theory of Golf Development" only kicked in around the turn of the century, when American hedge fund legend Julian Robertson commissioned a pair of North Island resorts — Cape Kidnappers Golf Club in Napier (www.capekidnappers.com) and Kauri Cliffs Golf Club in Bay of Islands (www.kauricliffs.com) — that quickly took their places on everyone's world top 100.
From that estimable starting point, the hits kept coming. The latest and perhaps greatest is Tara Iti Golf Club, a true links course that opened in October fewer than 70 miles from Auckland (it was developed by Los Angeles financier Ric Kayne). In between, Jack Nicklaus opened Kinloch Golf Club in the stunning resort area surrounding Lake Taupo.
But it is architect Tom Doak who, more than anyone else, has fueled the 21st century emergence of Kiwi golf. It was Doak who designed both Cape Kidnappers and Tara Iti; construction of a third course will begin in 2016, near the South Island resort Mecca of Queenstown.
The hype surrounding Tara Iti has been considerable, and a look at the property shows why. It's a pure links course (right down to the wall-to-wall fescue) laid out amid the dunes north of Te Arai Point, a favored headland among Northland surfers. Links properties this legit are rare, and Doak didn't squander it, which helps explain why, despite being a private club, golf magazines from Melbourne to Beijing to London have already devoted so many pages and covers to it.
"What I appreciate most about Tara Iti is the pacing and rhythm of it," Doak says. "What also strikes me is how much it plays like a links — and how fun that is. You can't take your eye off the ball until it stops rolling, and C.J. (Kreuscher, the course superintendent) has the playing surface so tight, the ball is still rolling long after you think it might stop."
Add Kreuscher to the list of "Great Men," because Tara Iti wouldn't look or play as authentically if he weren't in charge. This Wisconsin native arrived at Tara Iti from none other than Bandon, Ore., where he learned a thing or two about maintaining fescues to the highest links standards.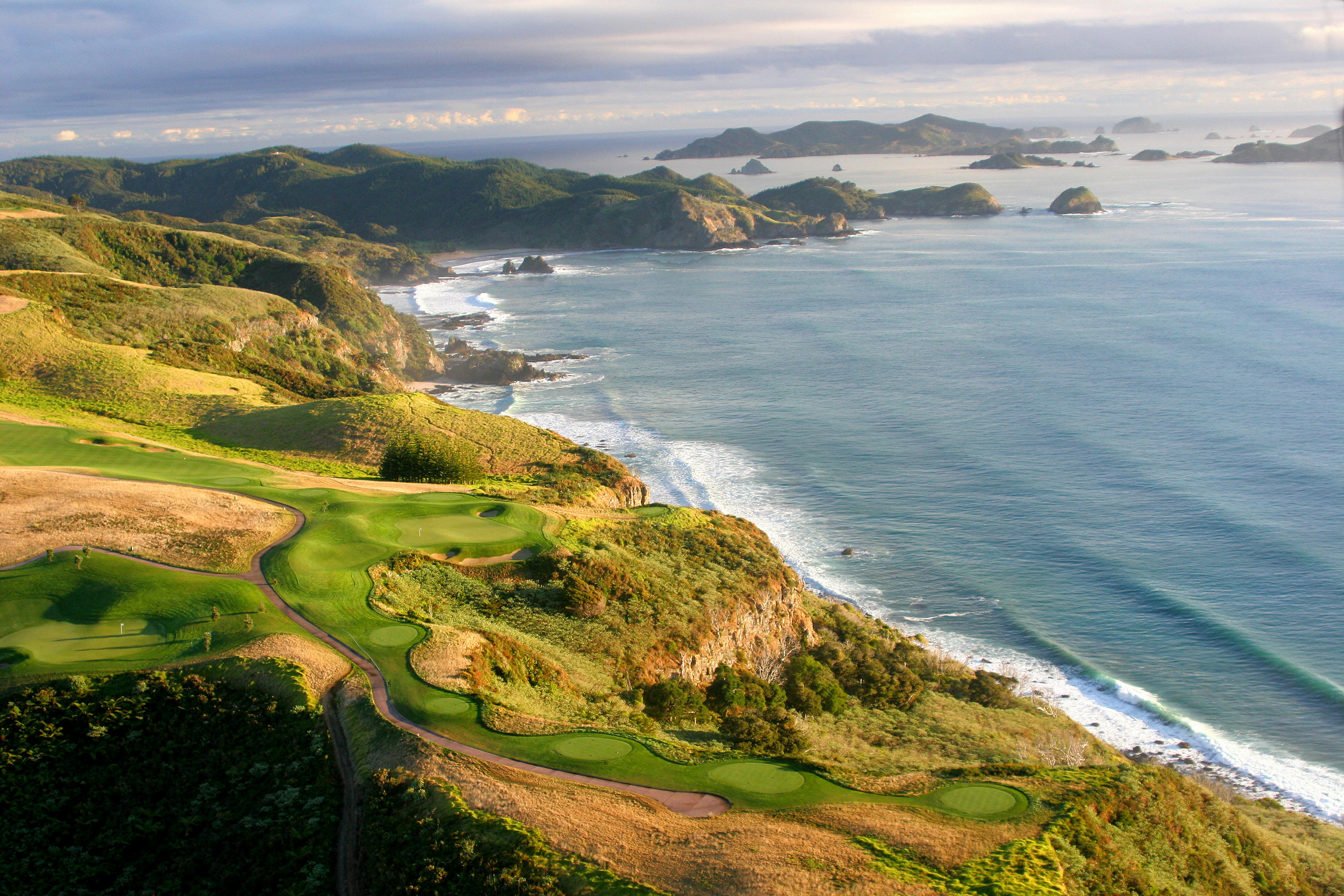 Tara Iti Golf Club sits at the center of a unique development called Te Arai, where the complete build-out plan calls for just 46 individual home sites across 1500 hectares of freehold land. Through Legacy Partners, Ltd. (www.legacypartners.co.nz), buyers may acquire home sites or completed residences — all boast access to the community's nearly four miles of Pacific Ocean frontage.
Legacy Partners enjoy the exclusive authority to market the real estate assets of another major player in the Kiwi golf development scene: the New Zealand Land Fund, which is dedicated to the prudent development of prime oceanfront, mountain and lake property throughout the North and South islands. The General Partners of the Land Fund just happen to include two Los Angeles-based firms: Kayne Anderson Capital Advisors and Terrapin Palisades Ventures.
In addition to Tara Iti Golf Club and the Te Arai community, Legacy Partners are involved with several other notable projects across New Zealand, where the shoulders of all these "Great Men" continue to rub:
• In Queenstown, the NZ Land Fund recently invested in Jack's Point Golf Club (www.jackspoint.com/golf), home to two miles of frontage on Lake Wakatipu; 3,000 acres of property slated for commercial and residential development; and 18 remarkable resort holes designed by John Darby, whose firm, Queenstown-based Darby Partners, is the Fund's third General Partner.
• On Lake Wanaka, an hour over the mountains from Queenstown, Darby and Doak have collaborated on the design of 18 new resort holes at Glendhu Bay. Home sites and residences will soon be available; course construction will begin next year.
The emergence of all these shiny, new Kiwi courses tends to obscure the fact that so much great golf — complemented by some of the world's finest lodge-style accommodations — has been available in New Zealand for some time.
Just down the road from Kinloch (www.kinlochgolfclub.com), for example, lies Wairakei International Golf Club, which sprawls over 450 acres inside Wairakei Geothermal Park, where plumes of superheated steam can be seen rising through mature forest (www.wairakeigolfcourse.co.nz). On the South Island, just outside of Queenstown, sits Arrowtown Golf Club (www.arrowtowngolf.co.nz), a quirky, absurdly picturesque track that none other than Tom Doak has championed as the "North Berwick of New Zealand."
New Zealand is, of course, a British Commonwealth nation. That means many private clubs are accessible to outside play, including Paraparaumu Beach Golf Club (www.paraparaumubeachgolfclub.co.nz), designed by none other than Alister Mackenzie; and Royal Wellington Golf Club (www.rwgc.co.nz), newly renovated by former tour pro and Kiwi native Greg Turner. Royal Wellington will host the prestigious Asia-Pacific Amateur in 2017.
Safe, stable, scenic countries like New Zealand have long attracted tourists from around the world, along with foreign property investors. But this would appear to be the Kiwi moment. The state of New Zealand's dollar — still hovering at a 5-year low — has underlined the attraction, said Legacy's Jim Rohrstaff, a Michigan native who served as real estate broker at The Vintage Club in Indian Wells, before moving his family to Auckland.
"With the NZ dollar performing so weakly against major foreign currencies, these properties in our portfolio are honestly some of the best buys in first-world, luxury real estate," Rohrstaff said. "That's the long-term investment view, but the same economics apply to anyone considering a golf holiday here."