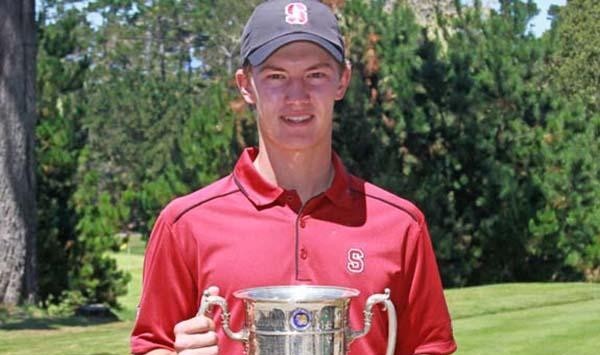 Maverick McNealy of Portola Valley completed his dominating run through the 112th Northern California Golf Association Amateur Match Play Championship with a 6-and-5 victory over Matt Cohn of San Francisco in the scheduled 36-hole final at Spyglass Hill Golf Course in Pebble Beach.
Cohn, 34, who played college golf at Oklahoma, held a 1-up lead twice early in the match.
However, McNealy, the junior All-American at Stanford, pulled even by winning the eighth hole with a par before taking charge by winning the 10th, 11th, 17th and 18th holes to grab a 3-up lead after the morning round.
"This is a course I've been playing since I was a kid and a tournament I have played many times, so to finally come out as champion is pretty cool," said McNealy, ranked No. 2 in the World Amateur Golf Rankings. "I match play you can get on a little roll.
"I had a blast this week. The golf course was in great shape, firm and fast. Obviously, this is a special place on the (Monterey) Peninsula. … I'm really happy with the way I played down the stretch."
The lead never fell below 3-up in the afternoon and McNealy finished things off by winning the last three holes through No. 31, making birdies on the 26th and 29th holes.
McNealy captured medalist honors by five strokes, finishing stroke-play qualifying with a score of 65-71–136, 8-under-par, and never went past the 15th hole while claiming five victories in match play.