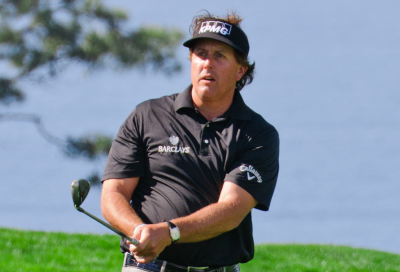 Phil Mickelson loves playing at Augusta, and a good showing there would go a long way toward continuing the good feelings he has rekindled at the start of 2012
By Jim Dover
It's almost embarrassing to admit there was a time when golf writers questioned whether Phil Mickelson would ever win a major. Now, as a three-time Masters champion who also has a PGA Championship under his belt, Mickelson is again turning heads in the wake of his recent final-round trouncing of Tiger Woods at Pebble Beach.
The newest World Golf Hall of Fame member added to his legacy with his 40th victory that moved him into a tie for ninth on the all-time list. His 41st nearly came a week later at the Northern Trust Open at Riviera, but he lost in a playoff to Bill Haas. Also in the playoff was Keegan Bradley, a rising star Mickelson played several practice rounds with at Augusta National in preparation for Bradley's first Masters. It will be the 20th for Mickelson, and he cherishes each opportunity.
"I just love playing there, and there are a few courses in the world that I get excited just to go play," Mickelson said during that practice visit. "We get to play the best courses in the world in the best condition, so I get up for the events. But Augusta National with maybe a Cypress Point, a St. Andrews, courses that I have this genuine love for, I get excited the night before just to go play it. I try to go as much as I can to Augusta beforehand. It gets me excited to practice and work hard."
In the excerpts that follow, Mickelson shares his thoughts on several topics, including Augusta National, winning tournaments and what keeps his competitive fire burning.

ON AUGUSTA NATIONAL
It's in great shape as it always is. There's more grass coverage than in years past. Every year, two greens are redone with subtle changes, and this year those holes were 8 and 16. There were bigger plateaus up on the top right on 16, and the green on 8 in the front was widened and the hill on the left was softened. It's much flatter, a lot more room there. You can be a little bit more aggressive now into that pin.
HIS PREPARATION FOR THE MASTERS
I have a pretty good understanding of how to play Augusta National, so it's not like I'm looking for any answers. I know how I want to attack it given each pin placement, how I want to hit it, the shots I want to hit, and now it's just a matter of refining and getting ready so that it's there when I need it.
HIS SUCCESS AT AUGUSTA
There's a ton of reasons as to why I've played well there consistently year in and year out, whether I'm sharp or not. And the biggest reason is that you don't have to be perfect there. If the average player goes out and plays Augusta National, he can play his normal game and he always has a shot. He can be in the pine needles and the trees don't hang down to the ground. He can be in the rough and there's no rough; it's first cut. You always have a chance and you all have a shot. So I'm able to get away with being less than perfect there because I can still advance the ball up by the green and rely on my short game as well as my knowledge and experience of where I can and can't go.
HIS PRACTICE ROUNDS WITH KEEGAN BRADLEY
There's no better way to learn and understand Augusta than to play it and experience it in the tournament conditions and to have made putts and missed putts certain ways. You'll have that knowledge, that memory. I don't think that you're able to really read the greens at Augusta, because you could look at a putt and see such wildly different lines. So the more time that he spends on that golf course, the better he's going to get. They had some good pins. They had tournament pins all throughout the round, which I felt like we got a lot out of it. The greens were very close to tournament speed.
HIS FAVORITE PART OF MASTERS WEEK
Wednesday afternoon my family usually meets me before the Par 3 for lunch on the veranda, on the balcony overlooking the first tee. That's one of my favorite parts of the week, because it's the anticipation of the tournament starting. It's sharing some moments with them, caddying in the Par 3, and it's looking at all the people in the game of golf, the golf industry, congregating down there below that huge tree by No. 1 that I just think has a really cool feel.

HIS WORK WITH BUTCH HARMON
Butch and I are more in the maintenance phase. We're not going through any changes. The swing is what it is. It's where I want it to be, and we're just making sure that it stays there, that there's no major changes that we will be doing.
GETTING HIS CONFIDENCE BACK AT PEBBLE BEACH
I felt very confident at the start of the year because I had played eight to 10 rounds exactly like Sunday's final round [at Pebble Beach], and I felt like I was so amped up and ready to start the season that I came out and played three terrible tournaments, and my confidence took a little bit of a hit. To come back and play the way I know I can play when I needed it most at Pebble, it gets my confidence right back to where I was starting the season, and I'm excited about it.
WHERE HIS VICTORY AT PEBBLE BEACH RANKS
It's one of the more emotional victories I've had, and the reason is I've had some doubt these last couple of weeks, given the scores that I've shot. I've been having great practice sessions but started to wonder if I was going to be able to bring it to the golf course. So this gives me a lot of confidence and erases the doubt. And second, to be here [at Augusta for the practice session], an emotional place for me, given my family history and to share this weekend with Amy – she flew up and spent a few days here on a little weekend trip – that's awesome. I mean, it is so fun, and we have had such a great time, that it's an emotional win to share that with her.

PLAYING WITH TIGER WOODS
Well, I'm just very appreciative of what he's meant to the game of golf over the years and, as I've said over the years, I don't believe anybody has benefitted more from what he's done for the game than myself, so I'm appreciative. I also am inspired playing with him. I think most people are but he seems to bring out the best in me, and the last four or five years I've played some of my best golf playing with him and I really enjoy it.
WHAT FUELS HIS COMPETITIVE FIRE
You have to reset goals all the time, so I have some lofty goals that I've reset. I want to try to win more tournaments and more major championships, and I love competing. You know, it's been frustrating when I haven't been in contention, when I haven't had those opportunities to win. It's a lot more frustrating for me to finish 25th than it is to finish second at the British Open where I came so close and let it slip away. I would much rather have that where I'm in the thick of it, have that excitement level. That to me is what I really enjoy.
PLAYING IN PRO-AMS
It's a chance for Bones (caddie Jim Mackay) and I to see how the golf course is playing, see what's been done with some of the cuts, the fairway cuts and the greens, around the greens. It's also an opportunity to see how far the ball is flying. Each week different altitudes, different temperatures, the ball flies different yardages for us, so it gives us a chance to see how far clubs are going, and it also is an enjoyable day.
POSSIBLY RISING TO NO. 1
I think that I haven't played to the level that I know I'm capable of; nor have I played near the level that I've played to for the number of years in the 2000s. I need to play at that level more consistently. But if I just play the way I did for a number of years while Tiger was dominating, I think that my points would put me up there, yeah.