M.Special is a collective of friends and family from across the world of beer, food, and entertainment. Each member contributes something unique to help create a unique, fun experience, and of course some great beer. Founded in Goleta CA up in Santa Barbara County in 2015 by the Malloy and Miller families, hence the name M. Special which is actually inspired by an old box race car that used to race in CA.
The portfolio of beers are diverse, ranging from our flagship M.Special American Lager, some amazing IPA's such as the Greatland IPA and Lazy Eye DIPA, to a rich and flavorful Dozer Brown Ale, and much more. You can find these beers at most local markets between San Luis Obispo to the north, and down to OC in the south. You can also visit one of our taprooms in Goleta or Santa Barbara where you'll find a welcoming space with lot's of good times to be had seven days a week.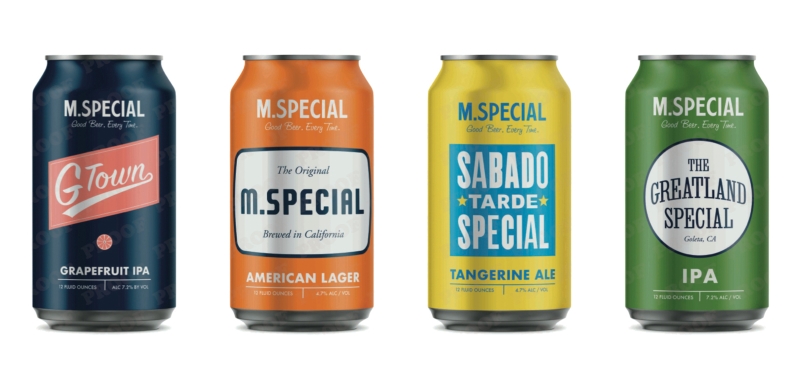 Core Beer Lineup:
Special American Lager
Clean / Smooth / Refreshing
4.7% ABV
A classic American Craft Lager dedicated to those that work hard and play hard. True to M.Special Brewing Co form, this beer is made with only the finest combination of malted barley, fresh hops, and yeast creating sparkle and flavor. Aged to perfection to provide a balanced, unbeatable flavor. It's everything an American Lager should be.​
Lazy Eye Special Double India Pale Ale
Dank / Party / Rewarding
8.5% ABV
Huge hop aroma, flavor and balanced bitterness with Hints of caramel malt sweetness make this beer a treat for all occasions. Brewed in true west coast tradition of profiling hops in the beginning, middle, and end. Go big or go home!
The Greatland Special India Pale Ale
Fresh / Hoppy / Balance
6.5-7.2% ABV
Do your nose a favor and enjoy the aroma of this beer before you drink it. It has been mashed low and slow to ensure a crisp clean dry finish that profiles the one and only thing that matters about this beer, the hops.
Dozer Special American Brown Ale
Flavorful / Refreshing / Unique
7.5% ABV
This is truly a special beer that you don't see everyday. We feel the Dozer Special provides the best of both worlds. Flavors and aromas of Malt, brown sugar, toffee, caramel balanced with a hoppy citrus and pine profile.
Sabado Tarde Special Tangerine Ale
Light / Refreshing / Citrus
4.7% ABV
Sabado Tarde Tangerine Ale is a light and refreshing flavorful ale coming in at a drinkable 4.7% ABV, which means you can go the distance with this winner. It has a balanced body of malts and hops, and a slight aroma and flavor of tangerine.
G-Town Grapefruit IPA
Grapefruit / Hoppy / Goodness
​7.2% ABV
A collaboration with the Goodland Hotel in Goleta, this beer is bursting with the aroma and flavor of fresh grapefruit. Pairs well with a pool and friends.