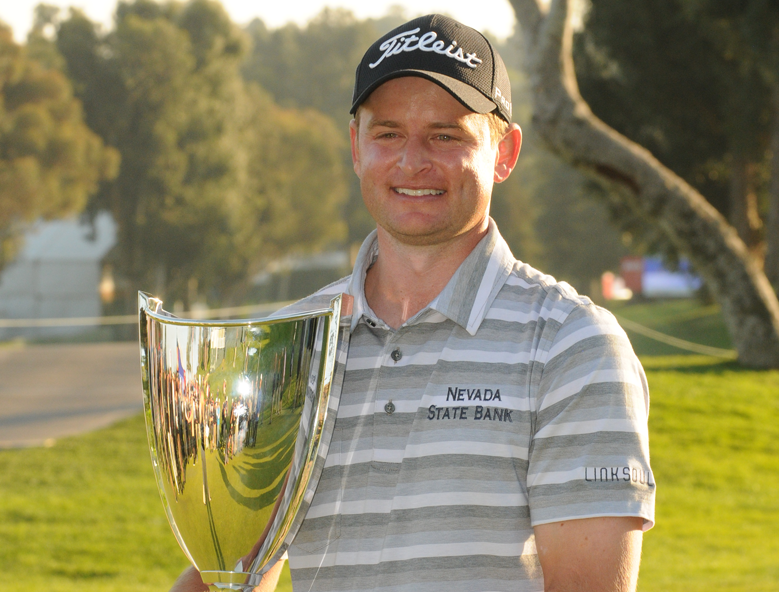 It took a couple of extra holes, but PGA Tour player John Merrick captured his first win at the Northern Trust Open amid plenty of local support from his hometown fans.
Merrick made plenty of big putts during his final round, but it was the missed par putt on the second playoff hole at Riviera Country Club by Charlie Beljan that Merrick will always remember.
"That's a tough hole and it looks so easy," said Merrick, referring to the famous short par-4 10th at Riviera.
Merrick, who played Riviera many times during his time at UCLA as well as attending the event while growing up just down the road in Long Beach, will now get to enjoy the perks of a PGA Tour winner.
"Earning a trip to the Masters is what you play for, it's the pinnacle," said Merrick, who will return to Augusta National for a third time in April. He also looks forward to qualifying for more World Championship events and will have the distinct pleasure of returning to Riviera next year as the defending Northern Trust Open champion.
In an exclusive interview with California Golf, we learn more about the Southern California native and his emotional first win.
You just earned your first PGA Tour win, does it seem real yet? It's starting to sink in. It was a stressful week and something that I'll never forget. Everything just came together. I had family and friends on the course and the fans were shouting Long Beach and UCLA. I went to this tournament as a kid and always loved Riviera. To win here and it being my first win there was just so much energy. It was really cool.
I'm sure you've thought about your first win on the Tour many times. Did it live up to the dreams? When it's happening you really don't have time to process it. I was trying to gut it out on the back nine. I really was just trying to get to the clubhouse. Luckily it's a course you don't have to make birdies, you just have to hold your spot.
In 14 rounds prior to your winning week at Riviera, you shot under par just three times and probably didn't think your first win would come on that course given your past results. What changed? I said the same thing and even my wife brought it up. The funny thing is I really enjoy the course and I feel really comfortable playing there. And when I started playing well that week my wife told me: "It doesn't matter where you are if you're playing well." And that turned out to be pretty good advice.
You made several clutch putts in the last round and a great up-and-down on the first playoff hole. Is there one shot that stands out for you? There were so many tough putts. The putt on seven was off the green, downhill and breaking left to right. The putt on 10 in regulation was great. I think the putt I made on 14 was really the point I started saying, "This is my day." And those short putts on 17 and 18 in the heat of the moment were pretty tough.
How much can you learn about yourself going forward by the way you played on Sunday? I always keep a mental journal and write notes in my phone of all the things I was working on that week. This week will be no different but there are so many intangibles that add up to a victory. When it's going your way it's great, I wish I could do this every week. I guess that's what Tiger Woods feels like.
Not only did you win, you've had a great start this year. Are you surprised or did you know you were playing well coming into the event? I took a long break after my last tournament at the Frys, which was like a three-month break. But every year you learn more and it just starts to add up.
This win gets you into the Masters and potentially some World Golf Championship events. Is that really the best part about winning? I think if I stay in the top 10 in FedEx Cup points going into the Honda I will be in the World Golf Championship event at Doral. That's opposite the Puerto Rico event where I normally play so that will be great. The Masters and PGA Championship will also be available. I just look forward to the opportunities and will try not to put too much pressure on myself. I put a lot of pressure on myself after 2009 and I was just trying too hard.
Anyone text you congratulations that you didn't expect? A few here and there. I had to work through a couple of hundred. It's been pretty cool to see the support. It was a special week. I still have a few goose bumps.
What have you and your coach Jamie Mulligan worked on in the off-season to get you playing so well? There were a couple of things. The first was in my putting stroke. I have a tendency to let my hands get behind the ball and we always work on getting my hands ahead of the ball in my putting stroke. As far as ball striking, I've squared my shoulders up a bit more, instead of being open to the target. That has really helped my consistency.
The media got a kick out of you shooting a 66 on USC day. Did you give any of the USC players a hard time about that? We're all friendly, but [USC alum] Kevin Stadler sent me a text.
You wear Linksoul golf attire by John Ashworth. How did that relationship come about? That was through my golf coach Jamie. He let me know about it. It was kind of a handshake deal and I feel really proud to represent the line. John Ashworth is a great guy to work with, a real first-class guy. It's a very comfortable relationship.
Outside of practicing and getting better, do those types of business opportunities help your confidence as a player? Absolutely. When someone wants to take a risk on you and they put their trust in you it definitely boosts your confidence. Knowing that someone has taken an interest in your game can only help your confidence.
We interviewed you last when you fell out of the top 125 for your Tour card in 2010. Does that seem like a lifetime ago? It does. I was in a bad spot. I felt like I just couldn't reach the apple or carrot that was right in front of me. I would have one good round and then a bad round. It was a tough year and I really had to re-group to get my card back. I had to go back to basics and look at my whole game and figure it out.
Some players when they start a family take a step back in their golf performance. You seem to have the opposite result. Family life seems to agree with you, yes? Yeah, I feel like my son and daughter have taught me that golf is not the most important thing in my life anymore. It gives you a new perspective and it has relaxed me a little bit. It's cool to have them at home and get that unconditional love.
Now that you're earning those big winning checks, are you moving out of California? (Laughs) No. I hope not, at least. I guess paying a lot of taxes is a good problem to have. I'm from Southern California and I hope to stay here for the rest of my life.
– By JIM DOVER