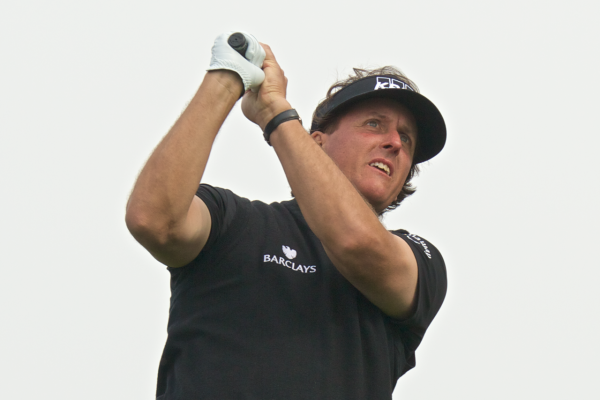 Phil Mickelson is trying to find his game in Texas ahead of the Masters, no surprise since he almost always plays tournament golf the week before a major.
However, it is different this time because Lefty mostly struggled the past two seasons on the PGA Tour. He wants to find his form in the Shell Houston Open before heading to Augusta National for what he has said is his favorite week of the year.
Mickelson failed to win on the circuit last year for the first time since 2003, and more even more alarming, he has finished in the top 10 only once since the start of the 2013-14 season.
As usual, he remains optimistic after a vigorous offseason regimen, even though it has yet to pay off.
Mickelson maintains that he is getting close to putting it all together.
"And when that happens, it's going to explode," said Mickelson, who last week was in contention for the first two rounds of the Valero Texas Open before coming home in 74-76 to tie for 30th.
The five-time major champion has been streaky throughout his career, and when he plays especially well, it can come out of nowhere.
That is what happened last year when, after struggling all season, he posted four scores in the 60s to finish second, one stroke behind Rory McIlroy, in the PGA Championship at Valhalla.
Since then, almost nothing.
Even so, if history means anything, Mickelson could be a player to watch at the Golf Club of Houston because four times in his career he won the week before the Masters, including the 2011 Shell Houston Open.
"For me to really have a good chance at Augusta, I've got to get in contention weeks prior," said Mickelson, who has 42 victories in his PGA Tour career but none since the 2013 Open Championship at Muirfield.
"I think it's important to have some momentum and to have been in contention heading into the Masters because there's a lot of pressure there. You feel it, and it's not the easiest thing to deal with and control if you haven't been exposed to it."
Mickelson also won the old Bell South Classic three times at TPC Sugarloaf in Duluth, Ga., which he considered perfect preparation the week before the Masters. He was he not happy when the tournament disappeared from the PGA Tour schedule.
In 2006, he slipped on the second of his three Green Jackets a week after winning by a whopping 13 strokes at Sugarloaf, becoming the fourth player to capture the Masters following a victory the week before.
Sandy Lyle of Scotland claimed the 1988 Masters after winning the Greensboro Open, Art Wall won the 1959 Masters after taking the Azalea Open, and Sam Snead captured the 1949 Masters one week after his victory in the Greensboro Open.
Mickelson has showed occasional signs that he is ready to break out of his funk, finishing in the top 25 on 12 occasions since the start of last season, but he also has missed the cut five times and had to withdraw three times.
Often, he simply was unable to put together four good rounds the way he did at Valhalla last August.
"I feel like I'm not playing any differently, except that mentally I was much sharper," he said after shooting 70 in windy conditions in round one last week at TPC San Antonio. "I was able to salvage all the strokes around the greens and post a good number, which is ultimately all that matters in this game. But the first few months of the year, my game hasn't felt any better or worse, it's just mentally I haven't been as sharp. …
"I don't know when it's all going to come together, but I feel like starting the year, I felt ready and was able to work on my game and practice uninhibited, and I feel like I put in the time so hopefully the scores will start to reflect that. I don't know when that will happen, but hopefully soon."
This week, or next week at the Masters, would be a good time for it, but although Mickelson hasn't talked about it recently, he has something else in the back of his mind.
By winning two years ago at Muirfield, he claimed the third leg of the modern career Grand Slam. Last year, he tied for 28th in the U.S. Open in his first attempt to join Gene Sarazen, Ben Hogan, Jack Nicklaus, Gary Player and Tiger Woods as a winner of all four majors.
His next chance in the national championship comes in June at Chambers Bay, and he wants to be ready for his date with destiny.
–Story courtesy of The Sports Xchange, TSX Golf Editor Tom LaMarre