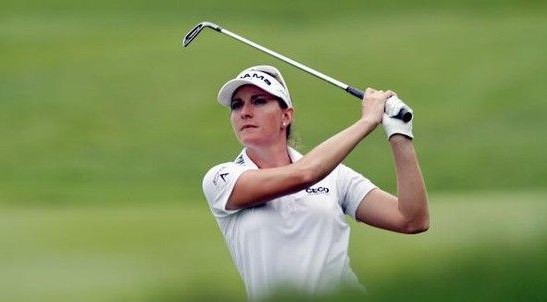 Brittany Lang celebrated being selected to the United States team for the Solheim Cup earlier this week by posting a 7-under-par 65 to take a two-stroke lead over Sydnee Michaels, Tiffany Joh and Ryann O'Toole–all former UCLA stars–through one round of the Yokohama Tire LPGA Classic in Prattville, Ala.
The 30-year-old Lang, whose only LPGA Tour victory came in the 2012 Manulife Financial LPGA Classic, birdied five of the first seven holes and four of the last eight on the Senator Course at Capitol Hill on the Robert Trent Jones Golf Trail.
"It was just one of those days," said Lang, who made her only bogeys on the 13th and 14th holes. "It was so enjoyable. I wasn't thinking about a whole lot. You know, I was just super committed to seeing my shots, it was so much fun.
"I played pretty flawless golf. Even when I was making pars, I was burning the edge from 10 feet. Every hole I was right there. The birdies on 16 and 17 were pretty big after the bogeys on 13 and 14.
"Kind of, I mean not stupid bogeys, small misses, but I stayed aggressive so I was excited with that."
O'Toole, from San Clemente, birdied four of five holes through No. 5 while finishing on the front nine in her bogey-free 67.
Joh, from San Diego also played flawlessly, making three birdies down the stretch as she finished on the back side.
Michaels, from Temecula, started at No. 10 and carded four birdies on the back nine before adding another at No. 3 in her bogey-free round.
None of the former Bruins has won on the LPGA Tour, but O'Toole won three times on what is now the Symetra Tour, while Joh and Michaels each won twice on the developmental circuit.
Julieta Granada of Paraguay shot 68 to tie for fifth with Simin Feng of China, Hoo Joo Kim of South Korea, Ariya Jutanugarn of Thailand and Therese Koelbaek of Norway.
Candie Kung of Fountain Valley carded a 69 and was in a tie for 10th that included Lexi Thompson and Katherine Kirk of Australia and Pepperdine.
Third-ranked Stacy Lewis recorded a 70 and was in a tie for 19th that included former world No. 1 Yani Tseng of Taiwan.