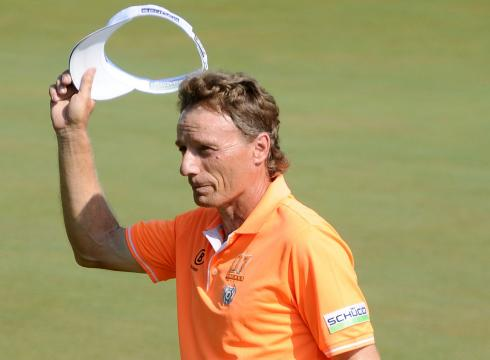 Bernhard Langer birdied five holes in a row late in the final round to win the Mitsubishi Electric Championship by three strokes over Fred Couples and Jeff Sluman at Hualalai Golf Club in Ka'upulehu-Kona, Hawaii.
Langer posted his second consecutive bogey-free, 8-under-par 64 by playing the back nine at Hualalai in 6-under 30 with his birdie run through No. 17, to capture the season opener on the Champions Tour.
"At times, it seemed like match play (with Couples), but there were other guys in the hunt, too, if we didn't make any birdies," said Langer, who claimed his 19th victory on the senior circuit.
"We both played well and I missed couple putts early, and it ended up being just the two of us (until) I was fortunate to finish strong with five birdies. It's a new year and I wanted to get over that hurdle and win as soon as possible."
Couples was right with Langer until the stretch run, but could make only three birdies on the back nine to close with a 67, while Sluman wound up with a bogey-free 65.
Jay Haas played the last six holes in 5-under to finish solo fourth with a 65 and Rocco Mediate, who held the first-round lead with a 63, closed with a 67 to take fifth.
Mark O'Meara shot 70 to tie for sixth with David Frost of South Africa, who had a 69.
Defending champion John Cook finished with a 68 and tied for 19th.