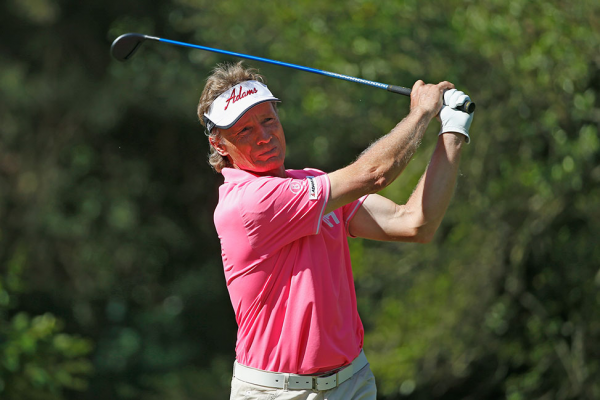 Bernhard Langer of Germany opened up a three-stroke lead over Colin Montgomerie of Scotland heading to the final round of the Insperity Invitational at the Woodlands Country Club in the Woodlands, Texas.
Langer, trying to win the tournament for the third time, birdied three of the first five holes to break out of a tie with Bart Bryant and added two more on the back to go with his only bogey at No. 12.
"Every win is a thrill and it's exciting," said Langer, who is trying to win for the 20th time on the senior circuit. "I'm not sure I've ever won any other tournament three times. That would be a first and it would be a lot of fun."
Montgomerie, who has 41 victories in his career but has never won on the Champions Tour, collected six birdies and an eagle on the 13th hole en route to a 66 that was the low round of the day.
Bryant followed his opening 66 with a 72 that included a bogey on the 14th hole and a double bogey at the 17th that left him four shots back in a tie for third with Esteban Toledo of Mexico, who shot 71, and Gary Hallberg, who came in at 67.
Fred Couples, a resident of La Quinta who won the tournament in 2010, carded a 70 and was five strokes back in a tie for sixth with Mark O'Meara of Mission Viejo and Long Beach State, who also totaled 70, Tom Pernice Jr. of UCLA, who had a 67, Steve Pate of Ventura and UCLA, who recorded a 70, and Fred Funk, who came in at 71.