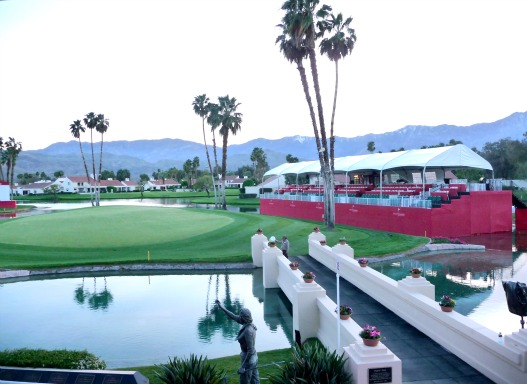 Kraft Nabisco will not renew its contract as title sponsor of the LPGA Tour's first major of the year on the Dinah Shore Tournament Course at Mission Hills Country Club in Rancho Mirage.
The tournament will be played for the final time as the Kraft Nabisco Championship on April 3-6, with top-ranked Inbee Park of South Korea as defending champion.
Commissioner Michael Whan didn't seem to be too concerned about finding a new title sponsor.
"It's really about what fits best for the client," Whan told golf writer Larry Bohannan of the Desert Sun. "I can tell you that when we talk about other tournaments, the questions are always the same. How can we get the best field? How can we get attention for our tournament?
"No one ever asks that about the Kraft."
Kraft Nabisco officials informed the LPGA Tour late last year that they would be ending their association with the championship after 33 years.
Entertainer Dinah Shore founded the tournament in 1972 as the Colgate-Dinah Shore Winner's Circle, with Jane Blalock winning the first year.
Nabisco came aboard in 1982 for what became the Nabisco Dinah Shore, and the tournament became a major championship the following year, when Amy Alcott of Santa Monica claimed the first of her three titles.
Shore's name remains on the tournament until 2000, even though she died in 1994 at the age of 77, with the tournament becoming the Kraft Nabisco Championship in 2002.
Betsy King and Annika Sorenstam of Sweden joined Alcott as three-time winners of the tournament, with Juli Inkster of Los Altos and San Jose State, Dottie Pepper and Karrie Webb of Australia each winning twice.
Alcott began the tradition of the winner jumping into "Champions Lake," which surrounds the 18th green, in 1988.
A statue of Dinah Shore greets the players before they walk across the bridge to the final green.