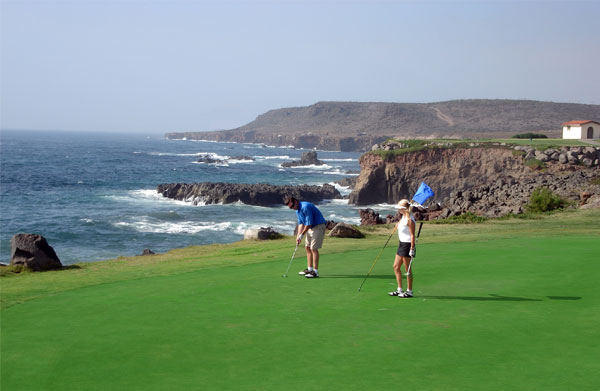 The 5th annual Bajamar Vendimia Open will be held Saturday, Aug. 11 at the Bajamar Golf Resort (pictured), a 27-hole seaside course north of Ensenada, Mexico. The tournament celebrates golf, gastronomy and music and benefits the Baja Scholarship Foundation.
Register now as a player or as an event sponsor to be part of one of Baja's great grape harvest events, the prestigious Vendimia. For a $129 entry fee, participants will receive golf, lunch, wine tasting and appetizers on the course and prizes for the top three places in each division.
Fiestas de la Vendimia, the two-and-a-half-week harvest festival held between the first Friday and the third Sunday in August, dates back to 1990. The festival combines visits to state-of-the-art wineries, Italian tenors, alternative-style circuses, Kafkaesque plays, modern dance and performance art. Valle de Guadalupe – the 14-mile region 90 minutes south of San Diego — is Mexico's premier artisanal wine – growing region, making up 90 percent of Mexico's production.
For more information, visit http://www.golfbajamar.com/vendimia2012/.
•••
Jack Nicklaus' newest golf academy, located at the Nayar Vidanta course in Nuevo Vallarta, opened this month to rave reviews from PGA pros, avid golfers and weekend players whose games stand to benefit most from the elite instruction and training program.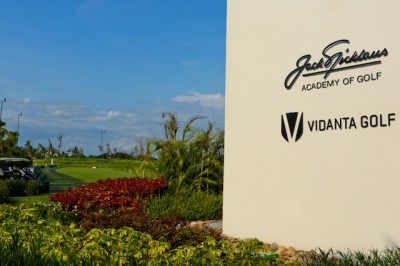 Tucked inside sprawling Vidanta Nuevo Vallarta, which boasts the Grand Luxxe, Grand Mayan and five more resorts, the academy gives visitors the added luxury of shaving strokes off their score while vacationing in paradise.
"I think I have found heaven … and in Nuevo Vallarta of all places," said Leon Shwetz, a visiting golfer from Las Vegas by way of Canada. "The new Nicklaus Academy is unbelievable. I now have a place to come to get out of the cold or the heat, and just work on my golf game as much as I can stand."
Golfer Mark DeWald took a two-hour flight from Phoenix for the grand opening and he wasn't disappointed.
"I came here with the expectation of seeing another driving range with some teaching aids and the standard stuff," he said. "That wasn't the case. The range is huge with all sorts of targets and trees to hit at or around. The short game area was one of the largest I have seen. But the really cool part was the climate-controlled coaching studios that allow you to escape the heat, sun or rain while taking a lesson."
The Nicklaus Academy is the 15th such facility worldwide and third in Mexico. It includes tactical evaluation, on-course instruction and mental and physical evaluation and training programs. The lit driving range is designed with seven strategically placed target greens complete with bunkers and palm trees, creating a realistic visual for the golfer working to shave strokes off their score.
"You feel like you are on a course," said Mike Malaska, PGA of America's 2011 National Teacher of the Year and the Nicklaus Academies' Worldwide Director of Instruction. "The backdrop from the tee is the [Sierra Madre] mountains. Not the golf course, buildings or houses, but a mountain. This is the perfect setting to work on your full swing, your short irons, and your complete game."
The facility's director of instruction is Bruce Summerhays, Jr., a PGA professional from Utah whose father Bruce played on the PGA and Champions tours.
"This academy is really more of a golf experience than a practice area," Summerhays said. "The beginner can not only enjoy the incredible atmosphere, but can feel confident that they are receiving the best quality instruction."
The Nicklaus Academy is open to members and guests of Vidanta Resorts as well as residents and visitors to Puerto Vallarta. Customized lesson packages for individuals, groups and juniors are available for all ability levels. Golfers can test their rejuvenated games on the Nayar course, which reopened last year after an extensive renovation by Nicklaus Design.
For additional information on the academy and golf at the Nayar course, please visit www.vidantagolf.com.
•••
The Fifth Annual SCGA Match Play and Senior Match Play Championships are set to take place August 6-8 at Sandpiper Golf Club in Santa Barbara. The single-elimination, match play tournament is open to the top 32 players on the Match Play Points List as well as the top 16 players on the Senior Match Play Points List. The entry fee is $150. Match play points are awarded to golfers who play well in SCGA, USGA, CGA and other select tournaments.
Sandpiper Golf Club is a classic William F. Bell design that features an inspiring combination of challenge and beauty with breathtaking ocean and mountain views. Measuring more than 7,000 yards with a championship rating of 74.5, Sandpiper has challenged the abilities of PGA and LPGA tour players alike, playing host to several top professional tournaments through the years. For more information, visit scga.org or sandpipergolf.com.
•••
ASU Karsten Golf Course, Eagle Mountain Golf Club, Longbow Golf Club and Raven Golf Club -Phoenix – all managed by Arizona-based OB Sports – have joined together to introduce the "Tee It Up at 10 For The First Tee" program to benefit the First Tee of Phoenix.
Each club is offering one tee time, available to the public for $100, Monday through Friday, June 11-August 31 in the 10 o'clock hour, with all proceeds going to benefit the First Tee of Phoenix.
"Junior golf has always been one of our top priorities at Longbow and for the OB Sports team in general," said Jay Larscheid, general manager at Longbow Golf Club. "The program allows us to direct the proceeds back into junior golf efforts here in Arizona. In the end, this is a strong incentive to get more Valley kids playing the game of golf."
The First Tee of Phoenix is a non-profit organization dedicated to teaching young people important life values through the game of golf. For more information, visit thefirstteephoenix.org.
•••
The Crossings at Carlsbad will be celebrating its five-year anniversary throughout July with various activities and promotions, including an event on July 29 that will feature contests with prizes and giveaways as well as special $5 pricing on select items such as range balls, appetizers, lunch and drinks.
"We look forward to welcoming the entire Carlsbad community to celebrate the fifth anniversary of The Crossings," said Chris Hazeltine, director of the City of Carlsbad Parks & Recreation Department. "Whether playing a round of golf, enjoying the ocean view over a cool drink at the clubhouse or exploring the public hiking trails, there are so many ways to enjoy this beautiful course."
The Crossings at Carlsbad recently completed renovations to the 18th green and opened a new Player's Lounge in the clubhouse as well as a full-service bar for guests. For more information, visit thecrossingsatcarlsbad.com.
•••
Angel Park Golf Club in Las Vegas will host the 2012 Cleveland Golf/Srixon Pro-Scratch Invitational July 22-23. More than 60 two-person teams, each comprised of one professional and one scratch amateur, will compete in the 36-hole, stroke-play, one-better-ball format tournament for a total prize purse of more than $17,000.
Team entry fee is $400 and includes green fees, cart, unlimited practice balls, lunch on the first day, breakfast and barbecue dinner on the second day, awards ceremony and tee gift. For more information, visit angelpark.com or contact tournament director Ben Buck at (702) 967-3213 or [email protected].
•••
Suzanne Madej of Detroit, Mich., defeated Wayne Higgins of Granbury, Tex., on the first hole of a sudden-death playoff to claim the title at the 10th Annual Mesquite Amateur.
"This is my second time here [and] this time it was a real thrill. I played very consistent and felt comfortable all day long," said Madej. "I enjoy golf and being with the people and being outdoors. [Now] I'm ready for another challenge. I'm marking things off my bucket list."
The tournament took place May 28-June 1 at some of the top courses in the Mesquite region, including CasaBlanca, Falcon Ridge, Palms, The Canyons at Oasis, The Chase at Coyote Springs, Palmer Course and Conestoga.
•••
San Francisco Giants pitcher Matt Cain took part in a TaylorMade Golf exhibition on June 13 that saw the two-time all-star join TaylorMade staff player Dustin Johnson launching golf balls into McCovey Cove with the new R11S driver. Later that night, Cain pitched the 22nd perfect game in Major League history and the first ever for the Giants.
"Pitchers and golf have always had a special relationship and it was nice to see it all come together on a perfect night," said Bob Maggiore, chief marketing officer for TaylorMade. "This might have been the 22nd perfect game, but clearly the first preceded by hitting a golf ball out of the ballpark."
TaylorMade is now offering the R11S to any other major league pitchers interested in trying to knock one out of their home ballpark prior to their next scheduled start.