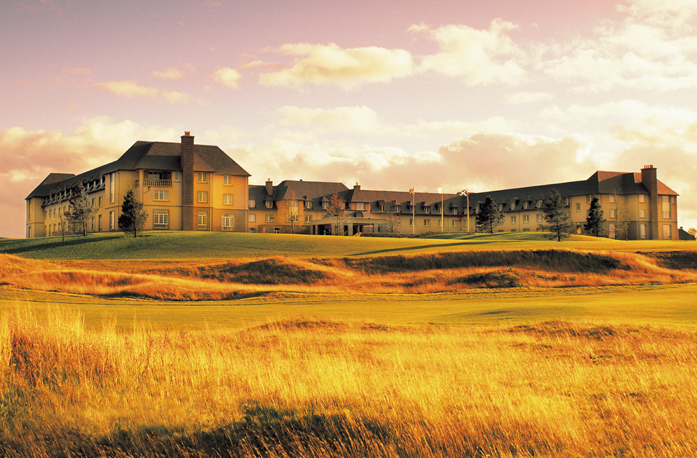 Experiencing golf in its birthplace along with the sights, sounds and unique culture of St Andrews may very well give you a new appreciation for the game – and a greater understanding of its true character.
One of the first things you'll realize is that golf – at its core – is not a genteel game for coddled elite. In Scotland, golf is a game of the people. Cab drivers and bartenders in St Andrews play to single-digit handicaps. And, The Old Course at St Andrews, generally regarded as the most cherished golf course in the world, is tantamount to a muni. The course is closed on Sundays, becoming a city park where locals and tourists picnic, walk their dogs, kick soccer balls and throw Frisbees. Try that at Pebble Beach, Augusta or Pine Valley.
The game is more rugged in Scotland, too. Locals walk every round, carrying their own bags, and think nothing of pressing on in weather that would send most Americans scurrying for the comforts of the nearest clubhouse. Of course, this is befitting a game created by shepherds following their flocks along the useless "links land" connecting the sea and the fertile fields.
If you've never been to St Andrews and you want to tackle planning a trip on your own, consider the Fairmont St Andrews. The five-star resort, which sits atop a cliff overlooking the North Sea and the town of St Andrews, is first class all the way. It has all the comforts, convenience and outstanding service one would expect from the Fairmont brand. The rooms have been freshly remodeled with HD televisions, exceptional beds and heated floors. Dining, from fine to casual, is excellent. There's a terrific sports bar off the main lobby as well as a spa and fitness facility. And, as one might expect, the service is exceptional.
Most importantly for golfers, Fairmont St Andrews employs a full-time golf concierge who can arrange tee times at any of the dozens of golf courses in and around St Andrews. Additionally, Fairmont St Andrews offers two acclaimed 18-hole golf courses on site. The recently remodeled Torrance Course has been widely acclaimed for its beauty and challenge, having been selected to host the final qualifying round for the 2010 Open Championship and placing No. 20 on Golfweek's list of the Best Golf Courses in Great Britain and Ireland. It's sister course, The Kittocks, is stunningly beautiful and highly rated, as well. Plus, it is one of the few courses in the area that offers golf carts (buggies, in the local parlance), a welcome relief for those not used to walking multiple rounds.
For more information on the Fairmont St Andrews, Scotland, visit fairmont.com/st-andrews-scotland, or email [email protected].