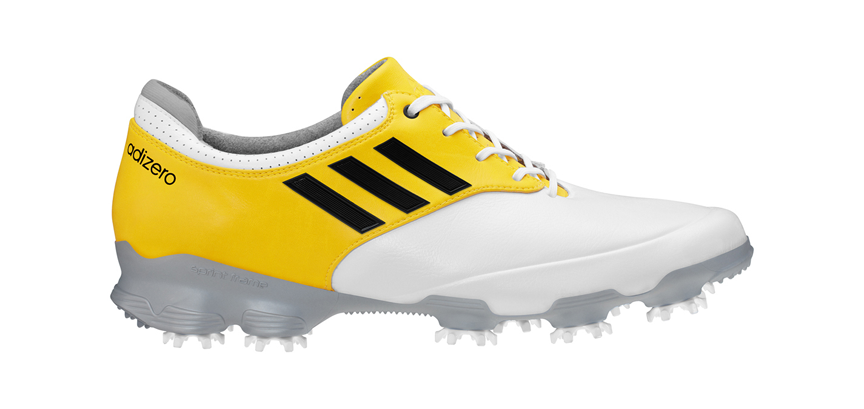 The latest golf footwear is collectively more comfortable than ever. More stable, too. Not to mention lighter with more traction. No doubt, the line dividing golf shoes and pure bliss surrounding your feet has blurred. Try on any of these and it may well change your perception of what a golf shoe is all about.
adidas Golf adizero Tour: The men's and women's adizero Tour (pictured, $180/men, $120/women) from adidas Golf weighs a feathery 10.6 ounces – 9.2 for women – thanks in part to the company's thinnest-ever outsole. Its last helps keep your feet comfortable, while an internal TPU layer adds support during lateral movement.
Puma Clyde: Puma's Clyde ($100) – named after 1970s basketball star Walt "Clyde" Frazier – boasts molded spikes for traction, soft full-grain leather upper that's waterproof, and blissful cushioning and flexibility. A decoupled heel with flex grooves helps with shock absorption.
adidas Golf adizero Sport: At 9.5 ounces, adidas Golf's adizero Sport ($120/men, $100/women) is ultra-light, sporting breathable mesh and a microfiber leather. A six-spike, thin outsole combines with a running last for comfort, long-lasting cushioning and a sneaker-like feel.
Ecco Tour Hybrid: Ecco's Tour Hybrid ($190) has a classic leather upper and non-cleated outsole bearing 100 molded traction bars that prevent slipping. While it's rugged enough to handle the links, it's classy enough to wear as a casual business shoe.
Nike TW '13: Nike TW '13 ($180) features an outsole designed to let your feet move more freely and naturally for more stability. A "Dynamic Fit" system – derived of soft "fingers" that wrap the midfoot and arch – helps tailor the shoes perfectly to your feet.
Oakley Cipher 2: Oakley's waterproof Cipher 2 ($150) weighs just 9 ounces, which is even lighter than its predecessor. Plus, it has better stability, thanks to a synthetic skin upper, improved nano-spikes and built-in outsole traction nubs.
TRUE linkswear sensei: TRUE linkswear's sensei ($99) is incredibly lightweight and comfortable. Its mesh upper keeps your feet cool, while the cleatless rubber outsole maximizes your foot traction on all surfaces.
FootJoy M:PROJECT: FootJoy's lightweight M:PROJECT shoe ($145/cleated, $135/cleatless) is flexible and stable. It features a Pittards leather upper, wider toe area, durable toe guard, and a low-profile outsole with thin cleats.
– By SCOTT KRAMER