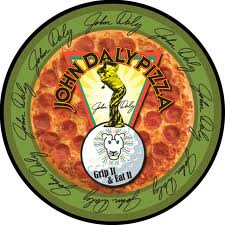 While John Daly was playing in the Commercial Bank Qatar Masters on the European Tour this week, he was making some news at PGA Merchandise Show in Orlando, Fla.
John Daly Pizza was being sold at a booth in the Orange County Convention Center. And you can wash it down with a vodka-lemonade concoction known simply as "The John Daly."
Daly's slogan is: "My pizza is a 371 yard drive down the middle! Grip it and eat it!"
John Daly Pizza does not have any franchises and is not yet available in stores, and so far is only on the menu at some restaurants and kitchens, in addition to its kiosk at the PGA Show.
Jimmy Howell, Daly's business partner and owner of Perky's Pizza in Tampa, Fla., said they also hope to market their product at your local golf course.
"He loves this, man; it's all fun," said Howell, who was overseeing the launch of the product at the PGA Merchandise Show. "I shot him an email … and told him how packed we were. He was excited."
Daly is a two-time major champion, winning the 1991 PGA Championship at Crooked Stick and the 1995 Open Championship at St. Andrews. So naturally, one of the pizzas available is called "The Double Major."
Each pizza comes with a John Daly ballmarker.