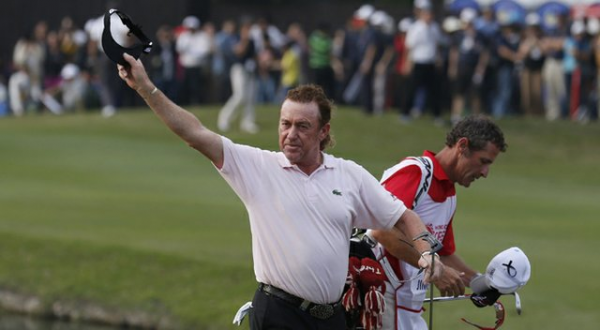 Miguel Angel Jimenez of Spain won his first start on the Champions Tour, closing with a 5-under-par 67 to beat Bernhard Langer of Germany by two strokes in the Greater Gwinnett Championship at TPC Sugarloaf in Duluth, Ga.
The 50-year-old Jimenez became the 18th player to win in his debut on the senior circuit, and second in a row, as Jeff Maggert captured the Mississippi Gulf Resort Classic last month.
Jimenez and Langer were even through seven holes of the final round, but the Spaniard made a short birdie putt at No. 8, where the German made a bogey to fall two strokes back and never caught up.
"When you hit the ball straight and you put the ball close to the hole, it looks easy, but nothing is easy," said Jimenez, who said he will not commit to the Champions Tour this year because he wants to make the European Ryder Cup team. "You need to keep calm yourself. … I like to feel the pressure and … the people that are coming behind bite me.
" … To me, it's not about money. It's about some different goals to make me feel proud of myself. To me I would feel nice to play on the Ryder Cup once more."
Langer, seeking his 20th victory on the senior circuit, closed with a third consecutive 68, but could not catch Jimenez as both played bogey-free in the final round.
Jay Haas posted a 67 to finish four strokes back in third, while Fred Couples shot 70 in the final group with Jimenez and Langer to wind up another shot back in fourth.
Steve Pate of Ventura finished with a 70 and tied for fifth with Duffy Waldorf of Northridge, his former UCLA teammate who also shot 70, and David Frost of South Africa, who came in at 69.