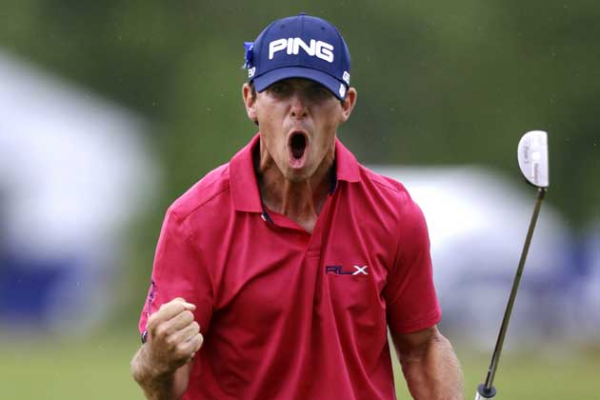 When Billy Horschel claimed his first title on the PGA Tour last year in the Zurich Classic of New Orleans, he reminded people of Tiger Woods.
Horschel holed a 27-foot birdie putt on the final hole to beat D.A. Points by one stroke and unleashed a roundhouse fist pump similar to those made by the No. 1 player in the world, whom he has said is his favorite golfer to watch.
"I can't tell you what that putt meant to me," said Horschel, who is back to defend his title this week at TPC Louisiana in Avondale, La. "(The fist pump) did remind me of Tiger Woods, but I was so caught up in the moment."
Even though he had never won as a professional, Horschel had a feeling a year ago that this was his week and New Orleans was the place.
After the Wednesday pro-am, he told CEO Martin Senn of Zurich: "I'll see you Sunday from the winner's circle."
Horschel had to survive two rain delays in the final round and pull off a course-record tying 8-under-par 64, which included six consecutive birdies through No. 12.
But there he was, accepting the trophy from Senn on Sunday.
"I think it was more of a stupid comment than anything," said Horschel, whose victory in New Orleans capped a run of four consecutive top-10 finishes. "It was just me trying to impress Martin a little bit, but I felt confident in the way I've been playing.
"I like this golf course. I've always felt like I played well on Pete Dye golf courses. He sort of tries to intimidate you with looks and everything off the tee and into the greens. But I think there is more room there than what you see.
"So I felt confident coming in with the way I was playing, and I saw Martin on Wednesday night and we chit-chatted a little bit, and I said, 'Hey, my plan is I'm going to see you on the 18 green.' I just tried to impress him, and it was somewhat of a dumb comment, but obviously, I lived up to it, so it's not a dumb comment now."
Actually, it was something that didn't start that week.
A friend of Horschel's who lives in New Orleans told him that his first victory was going to come in the Crescent City, and as the week went on Horschel began to believe it more and more.
"The whole week I felt like I'm going to get my victory here, and I have a friend of mine I met a couple years ago, Thomas Capella," said Horschel, who was a three-time first-team All-American at Florida. "After I almost won in San Antonio, he texted me and said, don't worry about it. Your first one will be here in New Orleans.
"I stepped on these grounds and said he must know something that I don't know. So I went ahead and followed through with what he said and just felt comfortable the whole way. I tried not to think too much about it.
"I just felt like I went out and played my game, did my stuff the way I had been doing it the previous of weeks. I felt like, you know, it's got to be sooner or later and thank God I finally won."
Horschel became the sixth first-time winner at New Orleans in the last nine seasons and he would like to emulate two of them — Bubba Watson and Jason Dufner — and take the next step by winning a major championship.
He got close when he shared the 36-hole lead with Phil Mickelson last year in the U.S. Open at Merion before finishing in a tie for fourth in his first major appearance as a professional.
"Of course knowing how to win is huge," said Horschel, who tied for 37th in his first Masters two weeks ago. "The Zurich Classic gave me that confidence. … It was a big confidence boost.
"My first major as a pro, I finished fourth with a really good field and had a chance to win going into the weekend. You can only build confidence in that."
When he does win that major, he already has the requisite fist pump.
–Story courtesy of The Sports Xchange, TSX Golf Editor Tom LaMarre