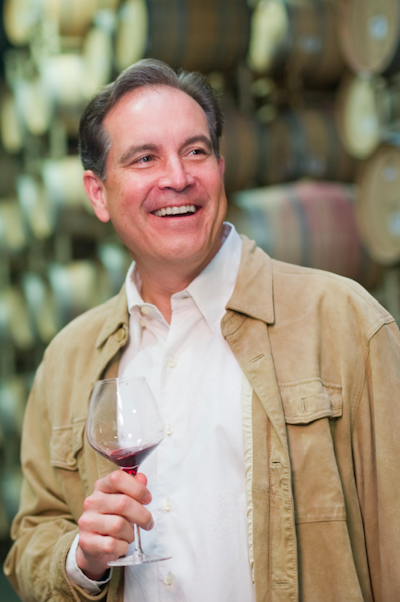 It's the voice that makes you feel you're in for a special afternoon whenever Emmy Award winning commentator Jim Nantz opens the broadcast with his signature "Hello Friends." Announcing everything from the Masters Tournament, NCAA Final Four basketball and Super Bowl since joining the CBS Television Network in 1985, Nantz is the trusted voice of a generation. He also is a New York Times bestselling co-author of Always By My Side, founder of the Nantz National Alzheimer Center and a partner in the wine brand The Calling. In an exclusive interview with California Golf+Travel when Nantz was in Los Angeles to broadcast the Northern Trust Open at Riviera, we asked Nantz about his role in broadcast journalism; his father, Jim, who passed away from Alzheimer's in 2008; and his new passion as a co-partner of The Calling wines.
How would you describe your role as a broadcaster?
I always feel that my responsibility as a broadcaster is to tell a story and not just spew a bunch of statistics. I try to find the heartbeat of a sporting event. That makes it far more interesting for the viewer. It gives them a reason to feel a connection to the athlete and the broadcast they are watching.
You began your golf schedule this year at Torrey Pines right after the NFL championship games. Is it tough not to be able to call the Super Bowl?
CBS broadcast the Super Bowl every three years. It's exhilarating to call it and I've done it 5 times. Of course I miss it when it's not our year but it's a thrill covering golf tournaments too. It's always a bit of an interesting and tough transition to come off the energy and demands that you expend in the course of an NFL season. Then suddenly the next week you arrive at a gorgeous setting like Torrey Pines and just completely melt into the rhythm and approach needed for golf.
One of the big differences about working on golf is that you're basically with the players during the entire week.
On the PGA Tour, you can't help but cross paths with the players and their families on a week to week basis. And of course it's not as transient a sport as some of the other ones I broadcast. For example I've watched Phil Mickelson go from just a young kid to a grown man with a beautiful family. Tiger I met at Riviera in 1992 for the first time. So you are around them for a long time.
Does that make it easier for a broadcaster?
It allows you to compile a tremendous amount of background stories. I don't even need material in front of me when I'm covering a golf tournament because I I've stored so much of it in my brain. On top of that, I have a brilliant "editorial consultant" in the booth with me who has an encyclopedic knowledge of the game – he's from San Francisco and his name is Tom Spencer.
And golfers really do have great personalities.
They certainly do and I want to share that with the audience. To me the real payoff as a broadcaster is how you handle those big events and big moments. When a tournament is concluding and the player is on the 72nd hole and you're entrusted with framing that moment for the audience – that's when this job is it's most rewarding.
Do you ever have to remind yourself to stay objective?
I know that when the headset is on I have a responsibility to CBS to call the game objectively. You can't help but have relationships with players, coaches and General Managers. Last week I had dinner at the Pebble Beach tournament with Peyton Manning. We have shot a number of commercials together and he is someone I know quite well. But when I'm broadcasting his games I don't even think about that. I call the game the way I see it.
You've been very lucky to have some great partners. It seems effortless on TV, but what is the work like before the broadcast to gain rapport with your on-air partner?
If you start talking about chemistry with your partner before the broadcast you're never going to have it. It has to be organic and real. It can only happen naturally and through time. You can't have a producer say 'You guys just go and have fun' and it just magically works. You can't suddenly go from sitting down with a stranger to creating a fake friendship. It happens in time and I have had some wonderful broadcast partners who have made me a better person and broadcaster.
The opportunity with more broadcast channels and sports in general is greater today than when you started, but would you say it is as competitive when you were just starting out.
I think there is definitely far more opportunity. I was a guest lecturer today at the USC Annenberg School of Communications and I told them that when I started 33 years ago there were really only the major networks. ESPN was just getting started. Now there is far greater opportunity and I told the students at USC that they should take advantage of that. The truly talented and passionate ones are going to figure out a way to get there.
The other part of TV business is there is always a top guy that people are coming for. Does that make you nervous as the No. 1 guy at CBS?
I honestly never look over my shoulder. I have been able to hold a No. 1 position on three sports properties for a long time (NFL, PGA Tour, NCAA basketball) and I'm grateful for that every single day of my life. It's been a blessing to live out a childhood dream and to be entrusted with calling the great championships of American sport.
Do you think about the longevity of your career?
I am a realist and know that one day someone else will be given the job and I'm okay with that. I'm not ready to retire but I've had a really long run. Fortunately I started at the network when I was young – 26. I feel like in many ways I'm just now entering the prime of my career. I enjoy it more now than ever. I wake up every day loving what I'm doing.
You're certainly known for your "Hello Friends" introduction. Do you remember the first time you said it?
I know exactly when I said it. I was at the PGA Championship in 2002 when Rich Beem won. My Dad was in a nursing home suffering from Alzheimer's. It was mandatory that the TV in his bedroom was tuned to CBS so that Dad could hear my voice and perhaps realize that it was his son talking. Also, I wanted to imagine that Dad was listening. My Dad had nothing but friends and was a real believer in people. I wanted to say something about friends to honor him and that fateful day back in 2002, I said 'Hello Friends' at the top of the show. It just felt great. I said it the next day and I've done it every broadcast since. It all started as a quiet, somewhat hidden message to my father. It still feels right and will always feel right to me. You can count on that continuing until my last broadcast.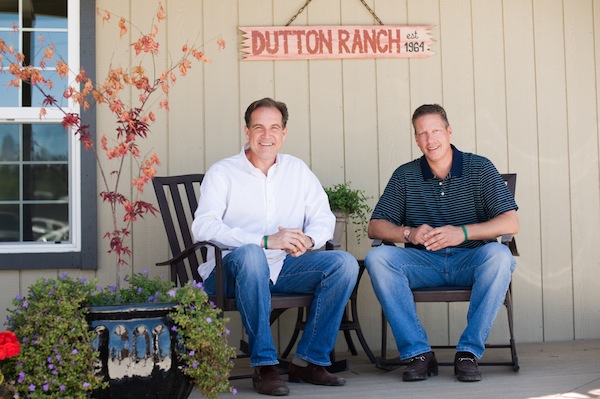 Let's turn the attention to your wine brand, The Calling. Were you worried at all that this would not work?
I never had a doubt that we could be successful in making and marketing a successful wine brand. First off, I was fortunate to serendipitously find the perfect business partner in Peter Deutsch (above). Peter and his dad had been in the business for 30 years and they have a five star reputation. I was able to convince him that together we could create something special. Our biggest concern initially was to have great sourcing and have a relationship with a grower and wine maker that would tell people just how serious we were going to be with this new venture. To my astonishment, when we first pitched The Calling to winemakers there was a lot of interest. We had the good fortune to forge a relationship with famed Dutton Ranch in Russian River Valley. The Duttons were our first choice for sourcing. They heard our pitch and saw our passion to build something special – thankfully we found a home there.
You had a pretty chance meeting with your partner Peter Deutsch. Can you talk about that?
It's 100% true. For years I had been learning about the wine business from the outside – from growing, to harvesting, crushing, barreling, and bottling. Educating myself on the entire process. Gaining a deep appreciation and base knowledge of it all so that one day I could follow the next "calling." So five years ago I was getting ready to meet with a prominent wine industry leader in a matter of days when one night Peter approached my table at a Connecticut restaurant to tell me how much he enjoyed the book I had written about my father, Always By My Side. Peter explained how he has always had a close relationship with his father Bill and that they worked together in a family business importing, marketing, and distributing some very popular wine brands. Listening to Peter wax about his love of his father – and his business – prompted me to divulge my crazy goal or "calling" to enter his world of wine. I told him about some of the initial steps I had taken and explained that in the next few days more important meetings were taking place. He asked me to do him a favor and give him a call to discuss it even more. I called him in a matter of days. You could tell right away that Peter had the same passion and vision that had been brewing in my brain for almost 10 years – to take on the challenge of creating a new brand with the goal of developing the next great American premium wine brand.
Were you worried that he was just interested because you were a celebrity?
Not at all. Peter is a sharp business man with high integrity. I know the celebrity wine business is very fickle and it often does not work no matter how popular the person is behind the wine. One of Peter's earliest questions was if my name had to be on the label. My answer was only if it helped the brand but my preference would be not to have it on the label. If I would have told him otherwise I'm now sure he wouldn't have been interested in forming a company together. At the same time I asked Peter if he was committed to developing a truly great brand – a brand that in due time could be one of the iconic names of American wine. His answer was spot on – yes! We instantly answered each other's chief concerns and that was all we needed to form a great partnership.
The wine business is hard work.
My learning curve has been pretty significant. I started this dream more than 10 years ago and like everything else I really researched it and once Peter and I got started in 2009 it went to another level. It's been less than two years since we first went to market with The Calling. We already have over 6,000 restaurant and retail accounts nationally. I think you're always going to be learning no matter who you are in the wine business.
In 2008 you co-authored the New York Times bestseller, Always By My Side.
It's a simple story, really a love story, from a son to his father. It was really just pages of telling people how much I admired my Dad. How I respected the way he led his life. When he was dying of Alzheimer's, I began writing the book with Eli Spielman and I didn't know if there was going to be an audience for it. Fortunately, it was a New York Times bestseller the very first week. The book gained a real following in the Alzheimer's world. Now every week when I do a sporting event there is always someone with the book asking me to sign it.
It sounds like a great way to remember your Dad?
It truly is. Today we have the Nantz National Alzheimer Center (NNAC) at Methodist Hospital in Houston, named after Dad, and we already have developed the NNAC into one of the top research institutes in the world. We opened in 2011 and our team in Houston is committed to finding a cure for Alzheimer's. That is the mission statement. I believe in goals and that is our goal. I know I wasn't put on this planet to just announce these great sporting events. God has given me the public platform and the passion to try and make a difference. Along with my wife, Courtney, we are driven to steer much needed awareness and attention to this disease as well as spearheading funding to our team of researchers. We truly believe that the Nantz National Alzheimer Center is going to be an important leader in ultimately defeating this opponent in our lifetime.