It's the only place I know where you can drop down and get to Heaven.
Most people know of Park City, Utah for one thing. Skiing. You know, the greatest snow on Earth. Well, it's all that and more if bulleting down black diamond runs is your thing. Holding the 2002 Winter Olympics here was a no-brainer.
But, as a lifelong skier, summer in Park City just didn't register.  Well, put simply, I was mistaken.
Not only did my wife and I fall in love with the sheer beauty and charm of Park City, we ended up building our dream home where we now live. It was the greatest decision of our lives.
In short, Park City is hands-down one of the hippest yet quaint towns I've come across in quite some time. Whether you are schussing down some famous Park City powder or teeing off from the tips with the Wasatch Mountains staring you down, Park City is a must visit for everyone at least once.
Dining is a marvelous experience in Park City. My suggestion is to walk up and down Main Street. You'll satisfy your taste without starting up your engine, plus there's nothing better than finishing a good meal, then strolling the streets on a crisp summer's eve, puffing on a cigar and spending a few bucks in the local shops.
Of course, a major criteria for yours truly is the golf.  The region is blessed with a plethora of great golf courses, but the diamond in the rough may well be The Jeremy Golf & Country Club.
When Arnold Palmer & Ed Seay designed the course in 1981, golfers from all over the world have fallen in love with its charm.  And, it's easy to see why.
Arnie and his army designed the course in one of the most beautiful settings in the West, the high foothills of the Wasatch Mountains. Using beautiful East Canyon Creek as both a companion and, occasionally, an adversary, the sprawling, gently rolling course offers a diverse challenge for every level of golfer.
No matter what the handicap you play to, you'll quickly agree on one thing…The Jeremy is a  championship test of golf in the truest sense.
The Jeremy is one of the most challenging courses in the state with the Blue Tees rated at 73.6. The fairways are dressed in pine, aspen trees and low brush, with almost every hole well-bunkered.  The course generously rewards accuracy from the tee, but isn't too punishing if you miss a fairway or two.  The lush bent grass greens are slightly larger than average in size, however you'll need to consider their diabolically placed bunkers when you get close.
The front nine eases you nicely into play with a chance to get off to a good start.  Then, comes No. 4 and 5, a Par 3 and Par 4 that hits you between the eyes if you're not careful.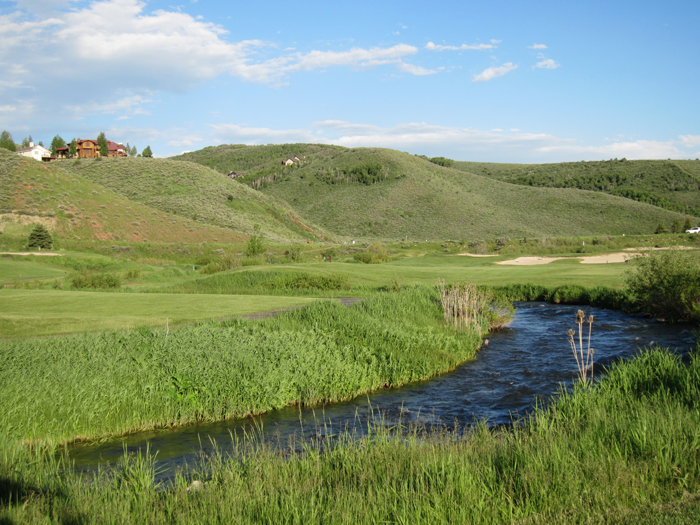 The fourth hole measures 193 yards and has an elevated tee some 150 feet above the putting surface.  Club selection is key.  Miss left or long and you're toast.  Miss short and good luck getting up and down for par.  Great hole.
The fifth, which checks in at 460 yards, offers another elevated tee and demands an accurate drive in order to set up the approach.  You then must softly land a downhill, traditionally downwind second shot to a green that runs away.  Take par and run for the hills, which surround you on both sides.
The front side ends with a great risk/reward Par 5.  A good drive sets you up with a hybrid or long iron into a green flanked on the front, left and right by the river that runs throughout the most of the course.  Find the putting surface and you could throw two circles around a number on the scorecard.  But, find the water and the dreaded box will show up on your card.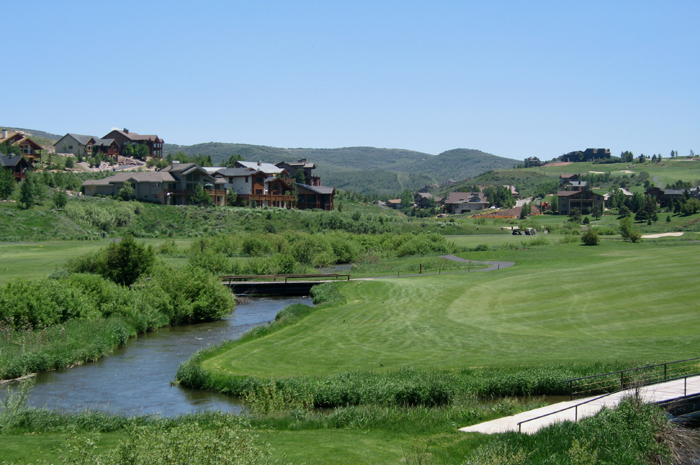 The back side has a great mix of holes, one being the Par 4, 12th at a mere 458 yards.  A good drive is a must, but the approach must be accurate or one of the three massive bunkers that surround the green will swallow it up.  Par is a great score here.
At 515 yards, the Par 5, 16th is reachable in two, but trouble is everywhere.  Water down the left on the drive, down the right on the second and five bunkers guarding the green are calling your ball's name.  You might want to tackle this one with three shots.
Finally, the 18th at The Jeremy is possibly the toughest hole in all of Utah.  Uphill and usually into a prevailing wind, the 442-yard, Par 4 plays more like 490.  A good drive is a must and it's doubtful an iron will be in your hand for the second.  Four bunkers guard a tiered green that slopes from back to front.
All in all, The Jeremy Golf & Country Club is where it's at.  And, if you're in Utah or visit Park City often, the club is running a screaming deal on membership.  For as little as a $1,000 initiation fee, you can play this marvelous tract all summer long.
It's the deal of a lifetime.
By LARRY FELDMAN