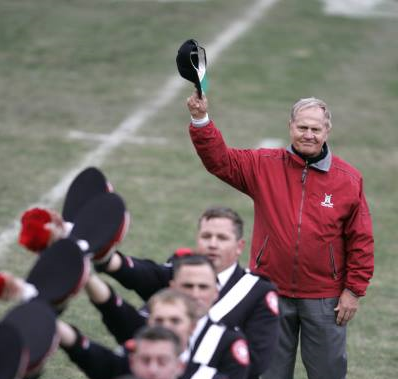 Jack Nicklaus is scarlet-and-gray through and through, having attended most Ohio State football games at Ohio Stadium, affectionately known as "The Giant Horseshoe," since he was a youngster.
However, if the Buckeyes play Florida State in the BCS National Championship Game, the Golden Bear will be rooting for the Seminoles.
That's because his grandson, Nick O'Leary, is the starting tight end for the Florida State, and has made 30 receptions this season for 509 yards and seven touchdowns, including a 94-yarder.
"I'm an Ohio State guy, but blood is thicker than anything else," said Nicklaus, the greatest golfer of all-time and an Ohio State graduate who at a 2006 football game performed the Buckeye ritual of dotting the "i" when the band performed its signature routine, "Script Ohio."
Top-ranked Florida State (12-0) and No. 2 Ohio State (12-0) are expected to play for the national title on Jan. 6 at the Rose Bowl in Pasadena, Calif., if they can win their conference championship games on Saturday.
The Seminoles will play No. 20 Duke for the Atlantic Coast Conference title in Charlotte, N.C., while the Buckeyes will play No. 10 Michigan State for the Big Ten title in Indianapolis.