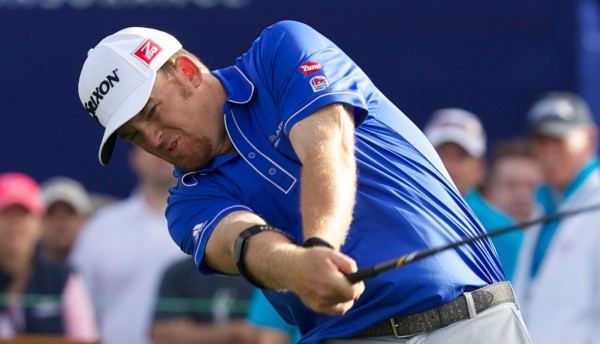 Jim Furyk withdrew from the United States team for the Presidents Cup, which will played next week in South Korea, and Captain Jay Haas replaced him with J.B. Holmes. Furyk has been battling a left wrist injury and it did not heal as quickly as he hoped.
Furyk, who has played seven times previously in the Presidents Cup, still will be at Jack Nicklaus Golf Club-Korea because Haas selected him as an assistant captain to serve along Fred Couples, Davis Love III and Steve Stricker.
"There is nothing I take more pride in than representing the United States in the Presidents Cup and the Ryder Cup, and I am deeply disappointed that I will have to withdraw from playing because my wrist, although improving, is still not where it needs to be at this point," Furyk in a statement.
"There are few people I respect more than Jay Haas, who I partnered with in the Presidents Cup in 2003 in South Africa, and I'm very grateful to accept the invitation to be part of the team as assistant captain."
Holmes, who finished No. 12 in the final team standings with the top 10 making the team, will be playing in the Presidents Cup for the first time.
However, he played a big role in the U.S. victory in the 2008 Ryder Cup at Valhalla in his home state of Kentucky, posting a 2-0-1 record that included a 2-and-1 singles victory over Soren Hansen of Denmark.
The 33-year-old Holmes, who has fought injuries during his career, has won four times in his PGA Tour–including a playoff victory over Jordan Spieth and Johnson Wagner in the Shell Houston Open earlier this year.
"My heart goes out to Jim because I know how much the Presidents Cup means to him," said Holmes, who has played well recently, tying for fourth in the BMW Championship and tying for eighth in the Tour Championship. "Obviously, he has been a leader for our team for many years and he will be greatly missed.
"I am, however, very honored and excited to get the call from Captain Haas to make the trip to South Korea to help the U.S. Team retain the Cup. Having personally experienced a victory in the Ryder Cup in 2008, I know firsthand what a phenomenal feeling it is to win for the United States and your teammates."
Holmes finished 14th in the FedEx Cup standings this season, a career best.