All in all, it was a great year for major championships – one that produced four world-class winners in Bubba Watson, Webb Simpson, Ernie Els and Rory McIlroy.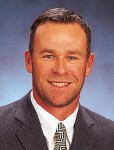 But as a fan and student of the game, it was most thrilling to watch a class act like Ernie Els win the British Open. A 32 on the final nine holes of a championship unlike any other in the world is remarkable. From the golf courses and the weather to the way you have to flight and control your ball, the British Open truly is a unique challenge – a challenge Els met with the same poise he has displayed throughout his career.
The first time I saw Ernie Els was back in the '80s at the Junior World Championship in San Diego. A friend had told me I needed to see this South African kid with the beautiful rhythmic swing. Today, Els is built like an NFL tight end. Back then he was a tall, skinny kid with a silky, fluid tempo. It was the dawn of the modern golf swing and like Nick Faldo he was one of the first guys using the ground with his feet and keeping his legs quiet while the torso wound up and wound down.
A trait of the great modern players is that the golf club looks light in their hands. In the hands of Ernie Els, the club looks weightless. There's never any hit in the motion. It's like passing through air. If you take his swing and fast forward it more than 25 years, it's like a great Bordeaux – it's the same wine but it just keeps getting better and smoother with time.
Aside from his physical gifts, he's always conducted himself like a champion on and off the course. Look at what he's done to grow the game in his home country. Players such as Louis Oosthuizen and Charl Schwartzel owe much of what they are to Ernie Els. With his humble nature and philanthropic spirit, it's easy to see why The Big Easy is beloved in the professional game.
I have a personal anecdote, as well.
In 2008, John Merrick, a young man we have worked with since he was a kid, finished sixth at the U.S. Open and was paired with Els in the final round. Els had an opportunity to win, but a triple-bogey on the 15th hole did him in. John capped his round with a birdie on the last hole to secure his exemption into the 2009 U.S. Open and his first trip to the Masters.
As I was walking through the tunnel to greet John and moving from darkness into brilliant daylight, I physically ran into Ernie Els. I could tell he wasn't pleased. The tournament had not turned out how he would have liked, and here I am running into him as he's trying to escape. Once he recognized me his demeanor changed. He proceeded to tell me what a wonderful player John was, how much potential he possesses and what a great person he was. He concluded by praising the work we had done with him and I was left speechless. This legend of the game had just finished what I'm sure was a frustrating final round of a major championship he had an opportunity to win and he took the time to praise his playing partner and the work we were doing to help him reach his potential. That to me is Ernie Els.
The golf course at Royal Lytham & St. Annes was set up so that if you hit your ball 10 yards right or left of your target you were likely making bogey. If you were 10 yards long or short, double bogey came into the equation. Some people may look at that golf tournament as Adam Scott losing a major championship. I prefer to look at it as Ernie Els playing the back nine perfectly and making a birdie on the final hole to win the British Open.
If you listened to his acceptance speech, it was so humble and appreciative of what Adam Scott had accomplished in the championship. He talked about what a great influence all the people in his life have had on him in getting to this place in his career, going as far as thanking Nelson Mandela for what he has done for South Africa. He concluded by saying that he was going to take time out of his playing schedule to spend a day with his family to celebrate a win that obviously meant a great deal to a man who has devoted his life to being a great gentleman of the game.
Jamie Mulligan is chief operating officer at Long Beach's Virginia Country Club and a PGA teaching professional who currently works with several tour pros.