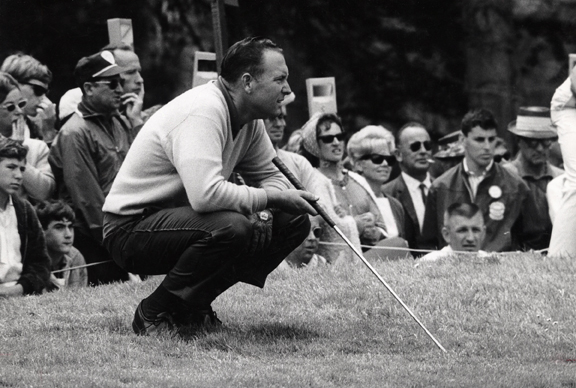 The U.S. Open returns to San Francisco's Olympic Club this month for the first time since 1998, with Rory McIlroy as the defending champion.
Can the young Irishman make it two in a row?
Not only are the odds of winning back-to-back titles against him, U.S. Open history at Olympic Club suggests there could be a surprise winner.
A brief history of The Olympic Club
In the four previous Opens at Olympic Club, big-name contenders suffered headline-grabbing upsets.
As USGA executive director Mike Davis said at U.S. Open Media Day last month, "In some ways, you remember more about what great legend didn't win an Open here versus who did win."
1955: David beats Goliath
In one of the biggest upsets in golf history, Jack Fleck – an unheralded municipal course pro from Davenport, Iowa – denied Ben Hogan's bid for an unprecedented fifth U.S. Open championship.
Going into that Open, Fleck had competed in only 41 professional tournaments and had earned a total of about $7,500 in his career. During the practice rounds that week, he also failed to break 80 as he broke in a new set of, ahem, Ben Hogan signature clubs.
California will be in the spotlight again at this month's national championship
So how do you explain Fleck making birdies on two of the last three holes on Sunday to force a tie and then beating Hogan by three shots in an 18-hole playoff the next day?
What made the story even more amazing is that when Hogan made par on the 72nd hole Sunday to protect his two-shot lead, NBC declared Hogan the winner and went off the air. Hogan even gave his golf ball to USGA executive Joe Dey, thinking the Hall of Fame would want it to commemorate his fifth Open title. (Oops. Wouldn't you like to know what was said on the air the next day, recounting how Fleck birdied No. 16 and No. 18 to force the playoff he went on to win?)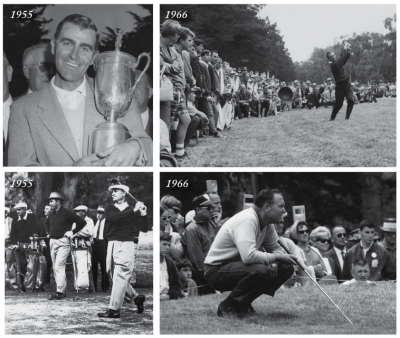 1966: Palmer's collapse
Not even "The King" could tame Olympic Club.
On the strength of a second-round 66, Arnold Palmer took a seven-stroke lead onto the back nine Sunday, seemingly destined to win his second Open title. Incredibly, Palmer wound up losing to Billy Casper in an 18-hole playoff the next day.
Palmer's driver and putter deserted him down the stretch in the fourth round, as he made five bogeys on the back nine and actually needed an up-and-down par from the rough on No. 18 to force the playoff against Casper.
In the playoff, Palmer had a two-shot lead at the turn and collapsed again, making three bogeys and a double-bogey 7 on the par-5 16th to lose to Casper by four shots. Good thing the golf media didn't use the word "choke" back then.
1987: Simpson surges to beat Watson
It was the great Tom Watson's turn to be victimized by Olympic Club's bias against superstars, as Scott Simpson birdied three of the final five holes to beat Watson by a stroke.
Watson took a one-shot lead into the final round and still led by one going into the back nine, but Simpson passed him with his third consecutive birdie on No. 16.
On No. 17, Simpson rolled in a 6-foot par putt after a stellar 20-yard bunker shot and held on to win when Watson's 35-foot birdie putt on No. 18 narrowly missed the cup.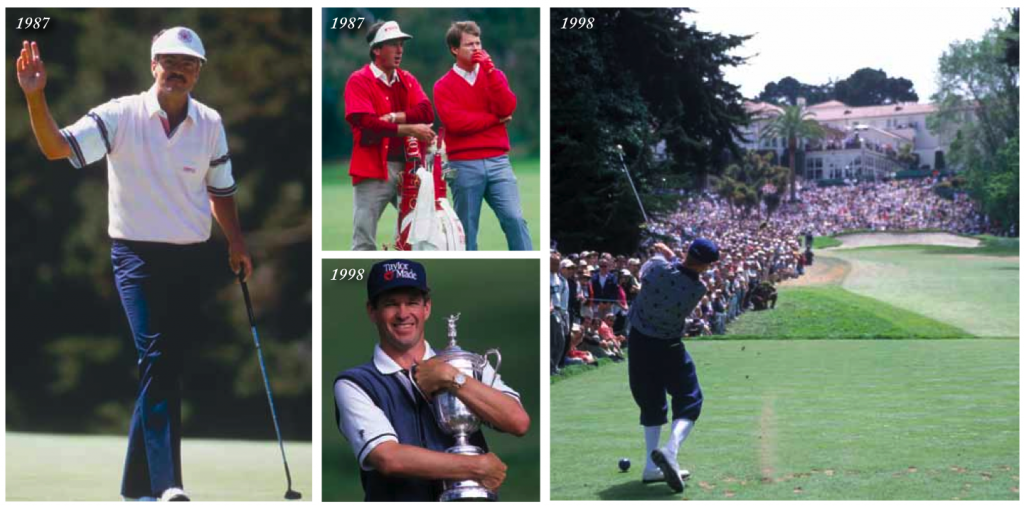 1998: Janzen's gift from the golf gods
Payne Stewart, the 1991 U. S. Open champion, led after each of the first three rounds and was the only player under par going into the final round. He shot 74 and lost to Lee Janzen by one shot.
Janzen, who trailed by five shots entering the final round and by as many as seven shots Sunday, pulled off the comeback thanks to a gift from the golf gods.
After his tee shot on the par-4 fifth hole stuck in the branches of a tree, Janzen was walking dejectedly back to the tee box to play a second ball when his original ball fell from the tree into the rough. He laid up with his second shot, missed the green with his third – and then chipped in for a fortuitous par.
Hours later, when Stewart's 25-foot birdie putt on the 72nd hole missed by inches, Janzen celebrated.
– By Randy Youngman
Rory McIlroy leads the way as the U.S. Open returns to historic Olympic Club