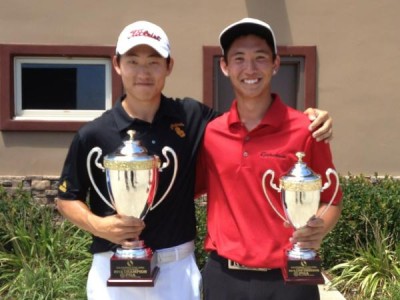 Hyunseok Lim of La Palma shot a final-round 70 on Thursday to win the California State Open at the Morongo Golf Club at Tukwet Canyon in Beaumont by one stroke over Yorba Linda's Derek Sipe.
Lim finished the four-round tournament at 16-under-par 272 (65-69-68-70). Sipe closed with a 67 and finished at 15-under par (74-65-67-67–273).
Another shot back in a four-way tie for third place were Drew Scott of Henderson, Nev., David Lipsky of Glendale, Berry Henson of La Quinta, and defending champion John Ellis of San Jose.
Junior World champion Rico Hoey finished at 12-under to claim low amateur honors.
Click here for complete scoring: http://scpga.bluegolf.com/bluegolf/scpga12/event/scpga12162/contest/1/leaderboard.htm.