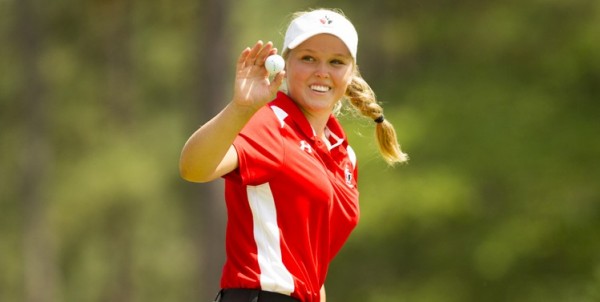 Brooke Henderson, the 17-year-old Canadian sensation, put herself in solid position to claim her first LPGA Tour victory by carding a 7-under-par 65 to take a five-stroke lead over Morgan Pressel after three rounds of the Cambia Portland Classic at Columbia Edgewater Country Club in Portland, Ore.
Henderson's 18-under 198 total equaled the 54-hole record for the tournament, which was first played in Portland in 1972.
"I got some lucky breaks out there today, and I think that was due to a lot of positive energy," said Henderson, who captured the Four Winds Invitational on the Symetra Tour and tied for fifth in the U.S. Women's Open, one of her three top-10 finishes on the LPGA Tour this year. "Even after my mis-hit shots, I try to stay away from any negative energy.
"I'm hitting the ball really well and in a great position. Get a good night's rest and keep doing what I'm doing. I had a lot of fun out there today."
Pressel also made a big move in the third round, shooting a 65 that included five birdies on the back nine and was alone in second.
Sandra Gal of Germany matched Pressel's 65 and was another shot back in a tie for third with Caroline Masson, also of Germany, who began the day one shot behind the lead of Henderson and posted a 70.
Candie Kung of Fountain Valley and USC shot 70 and was seven strokes behind in a tie for fifth with Ha Na Jang of South Korea, who collected seven birdies in a 67.
Alison Lee of Valencia and UCLA posted a 69 despite two late bogeys and was another shot back in a tie for seventh with Jenny Shin of South Korea, who birdied the last hole for a 71.
Mo Martin of Pasadena and UCLA recorded a 71 and was nine strokes down in a tie for ninth with Cristie Kerr (69), Jaye Marie Green (63), Min Lee (68) of South Korea, Azahara Munoz (69) of Spain, Pornanong Phatlum (69) of Thailand, Alena Sharp (70) of Canada and Julieta Granada (72) of Paraguay.