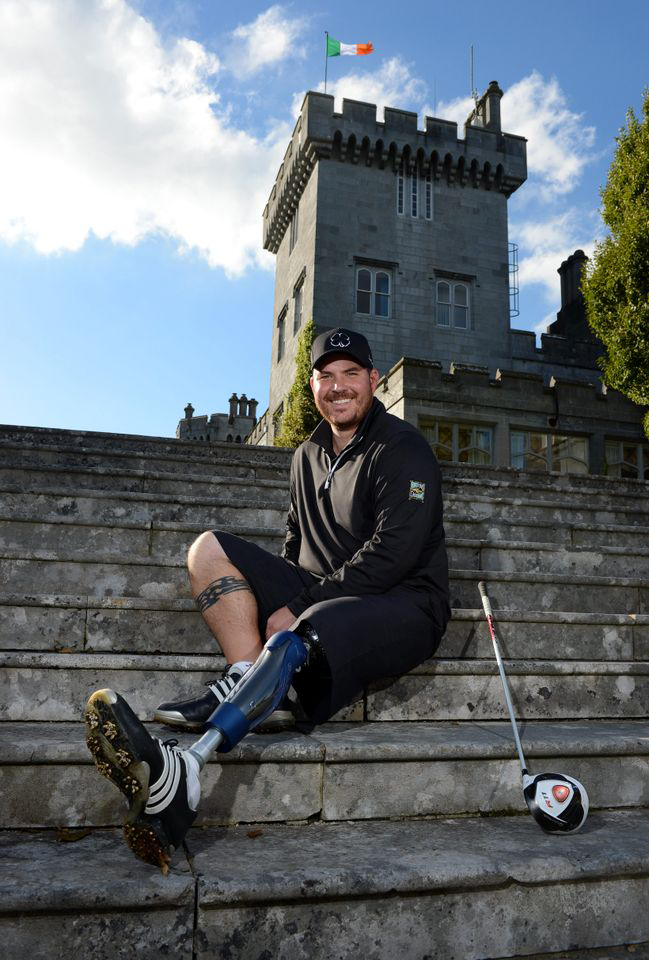 This is not your usual golf story. Sure, it involves a dream trip to Ireland and some of the world's greatest courses, but this particular tale is about more than that. It's about dealing with what life throws at you, about overcoming adversity, about looking ahead and about mankind's incredible capacity for generosity. It's the story of a group of people who had their lives turned upside down, about those who had to help and about how golf can play a big part in saving lives and building futures.
When you hear about a once-in-a-lifetime golf trip, all expenses paid, you'd be forgiven for being jealous. But after what the 11 men and women who met on a plane en route to Ireland have been through, no one deserves it more. It's difficult to imagine what they've suffered or what their families have had to endure.
Life and death combat, roadside bombs and post-traumatic stress are things that no person should have to experience. But what's remarkable about those who have is how positive and focused they can be in spite of the hardship and distress.
Take Sergeant Chad Pfeifer of Goodyear, Ariz., who lost his left leg to an improvised explosive device while on patrol. Despite having had an above the knee amputation, Pfeifer fell in love with golf during his recovery and has been playing ever since. He's a plus-2 handicap now who has won the Warrior Open twice and is working on becoming a PGA professional.
"I found golf while I was going through my physical therapy and rehab at Brooke Army Medical Center at Fort Sam Houston in San Antonio, Texas," said Pfeifer, who played college baseball for four years before enlisting. "I was introduced to golf partly by my sister and brother-in-law [Amanda and Mark McGee] and then by Christian Bagge, who was one of the guys I met at BAMC. Christian was a bi-lateral amputee who had one leg missing below the knee and one above the knee and he came to visit me while I was still in the hospital. The first weekend I got fit for my prosthetic, Christian invited me out to hit golf balls. Once I started playing, I immediately fell in love with it and haven't put the clubs down since.
Getting a chance to swing them in Ireland was almost like a dream come true.
"The trip to Ireland was absolutely amazing and I can't thank everyone who helped put it together enough for letting me be a part of it," Pfeifer said. "The staff from Golf Digest Ireland, and all of the people of Ireland for that matter, treated the soldiers and their loved ones with such great respect and with the most welcoming hospitality anyone could ask for. The golf courses were everything and then some from what I expected, and even when we had bad weather I couldn't help but walk off the course with a huge grin on my face. Ireland truly has some of the best courses in the world and it's quite possibly the only time I will ever smile after making a double or triple bogey because the views, the company, the courses, and the Ireland golf experience is worth far more than any score."
Talking to these guys and seeing how much it meant to them to be in Ireland and play the courses, it was easy to forget the harrowing journeys they'd been on before boarding the plane. Physical and mental pain, depression and problems with readjusting to normalcy are just some of the things they've endured.
"The trip meant a lot to me personally," Pfeifer said, "because not only did I get to golf some of the greatest golf courses in the world but I got to do it with some of the most amazing people I know. These other soldiers give me tons of inspiration and I only hope that I can be as inspirational to other people and soldiers as these guys have been to me.  In any branch of service you form special bonds with the people you fight next to and when you are taken out of those brotherhoods … it's tough to build those again. A trip like this allows us to link back up with each other and continue those bonds that we miss from being in the service."
Golf also has given Pfeifer a chance to rekindle his athletic ambitions.
"One of the biggest things that attracted me to the game of golf was that it was outside and it was a sport," he said. "It offered me an alternative to being cooped up in my barracks room. And the more I played it the more I realized the positives that I was getting from it. Now I hope that I can continue to get better at golf and compete at the highest level possible; for me, that means the PGA Tour. I know I have a lot of work in front of me but anything is possible."
While trying to reach his goals as a player, Pfeifer also hopes to inspire other wounded soldiers or anyone with a disability to take up either golf or any other sport or activity that will challenge them while providing a sense of accomplishment and joy.
"Golf has given me that and I hope I can be a great example for other people to see that sports can be relaxing and rehabilitative and if they want to take it to the next level, there shouldn't be anything or anyone to hold them back," he said.
That message has definitely caught on with the men and women who were on the trip to Ireland. Golf has become an integral part of their lives because it provides an outlet for their frustrations and a physical regime to help them come to terms with their injuries. It also provides an outlet for competition and a way for them to feel accepted in a social setting, because few can understand the sacrifices they've made.
What goes through the mind of a Marine like Timothy Lang, who lost his right leg, suffered a brain injury and broke his back in four places because of a roadside bomb? Or Army specialist Daniele Green-Byrd, who got hit by a rocket propelled grenade and lost her arm, only to find out that her fellow soldiers had risked their own lives to find the severed limb and retrieve her wedding ring? Or any of the other brave men and women who sacrificed so much to fight for their nation?
You'd need a book to tell all the stories and to respectfully represent the incredible journeys that brought these 11 heroes from the war-torn streets of Iraq and Afghanistan to the picturesque fairways of Ireland. And you know what? There still wouldn't be time to talk about the golf we played.
– By Colin O'Brien, Managing Editor, Golf Digest Ireland
HELPING HANDS
Supporting wounded military personnel and their families through funds and academic scholarships is the primary focus of the Folds of Honor Foundation. The group's vice president, Major Ed Pulido, joined us on the trip and his support and wit were appreciated by everyone. With men like him around to see them through the tough times, the wounded are in good hands.
——————————
Not many people work harder to help the wounded find a new life with golf than Jim Estes, a PGA professional who established the Salute Military Golf Association that provides golf tuition and support to soldiers injured after 9/11.
——————————-
Bringing wounded U.S. veterans on a trip to Ireland might not seem like an obvious move for an Irish magazine editor, but Golf Digest Ireland's Linton Walsh was able to do so because of his affiliation with Golf Digest Irish Tours, a company that provides tailor-made, luxury trips to the country. After talking to Pulido and hearing what these soldiers had been through, Walsh quickly got to work and lined up the transportation, golf and lodging that were provided free of charge through the generosity of all the partners along the way. It's a gesture of friendship that won't soon be forgotten.