Walking your round has become more popular with lots of people using an electric caddy or push cart. Here are some we like and can recommend.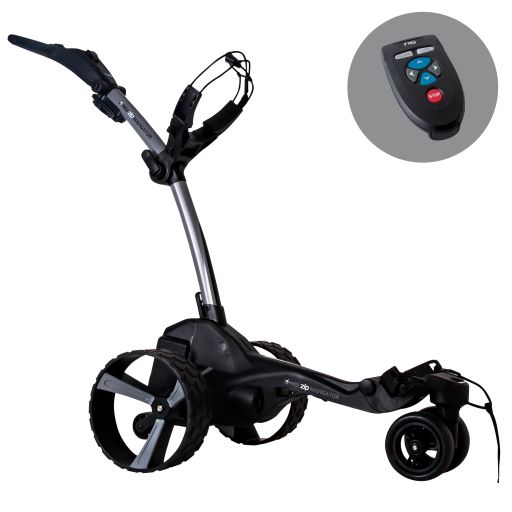 MGI Zip Navigator Electric Caddy

The three-wheel Zip Navigator is controlled by a remote so its speed may be matched to player's walking pace and downhill speed is automatically slowed plus there's a foldable rear fourth wheel for stability on rough ground. Power comes from two 230-watt motors and a lithium 24-volt battery. Weight with the battery installed is 35 lbs. and the unit folds for transport to 27.5" x 18.5" x 16.5 ". Black or Titanium Grey $1,495.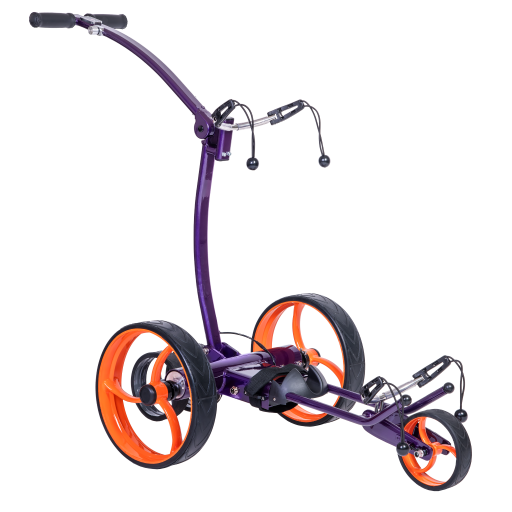 BatCaddy X3R Electric Golf Caddy
This moderately priced electric caddy has two 200W motors and the remote controls nine forward and reverse speeds plus there's a downhill auto-speed. There is battery level indicator and a freewheel mode when the power is off plus braking uses a safe electronic system. The X3R folds down for transport to 24" x 12" x 35" and weighs 23 lbs. Choose from thee colors. A lithium battery is optional at added cost. $850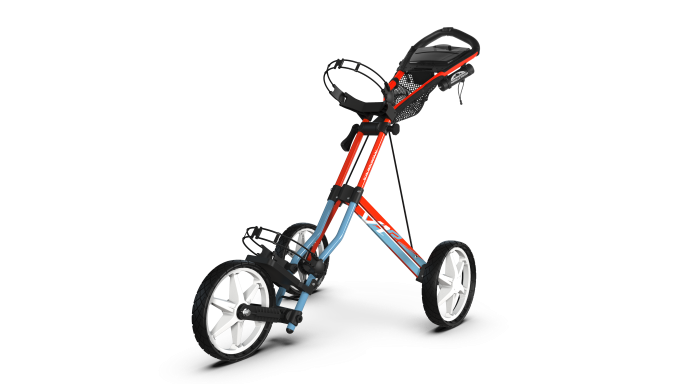 Sun Mountain Golf Speed Cart V1R

When the three-wheel Speed Cart came on the market in 1999 it was a sensation. It's continued to improve with each subsequent version and the 2022 V1R model is the newest. The V1R still uses Sun Mountain's efficient twostep folding and is light at just 17.95 lbs. Folded size of 37" by 16" by 13" makes it easy to get in and out of a car trunk. The handle and mesh tray have also been updated. Ten color choices. $270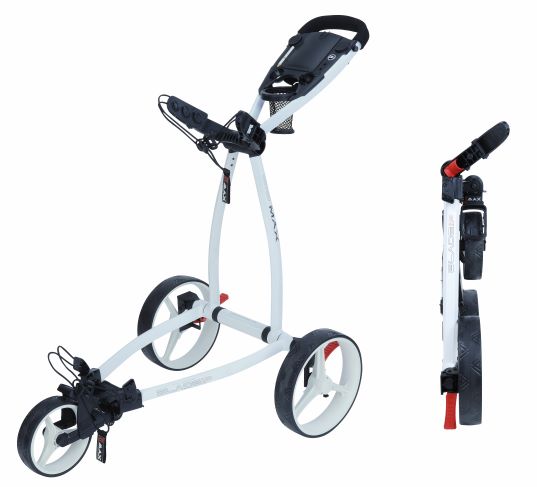 Big Max Blade IP Golf Trolley

The Blade IP is a very slim design three-wheeler weighing 14.33 lbs. For transport it goes down into one of the smallest and flattest sizes around in a simple one-fold step. The upper bracket accepts any size bag, and the lower bracket takes either a stand or carry bag or tour-size bag. The foot-activated brake locks both rear wheels so stopping on a slope never is a problem. Organizer panel on handle. Priced at $350.