Madrid could well become the Spanish capital of Golf
Madrid is a lot of things … it's the capital of Spain for one but it's also vibrant, it's colourful, it's busy, it's bustling with joy. It has fabulous gastronomy, plenty of bars, many restaurants, entertainment and shopping. It's both the commercial as the political capital of Spain. It's of course known for football with Real and Atletico and has one of Europe's most successful basketball teams.
What it is not known for … yet … is golf. Yes, they have had the Spanish Open for a number of years but does that really relate to the golfer abroad whose first point of call remains the sunny beaches of the Costa Del Sol?
This is about to change as the Madrid Golf Association together with the Madrid Tourism Authorities sees merit in diverting some of that golf tourism money to the capital itself.
Let's face it, golf tourists bring their hard-earned cash with them and when on site, they spend and that's where the interest lies.
It is also a fact that Madrid has plenty of golf to choose from. With close to 20 golf courses all within 30 min from the city centre, from the ultra-exclusive Golf Santander and La Moraleja to the home of Spanish Golf, the Centro Nacional, golf tourists are spoiled for choice.
GOLF AND HISTORY COMBINED.
We started our journey at Real Club de Golf La Herreria, a traditional tree-lined layout dating back to 1966 and overlooked by the impressive El Escorial monastery. Give or take an hour northwest of Madrid, this is an undulating course where precision is the main requirement. Pay attention as you will see deer crossing the fairways and with many raised greens, it offers a delightful round of golf on a course that has matured over more than 50 years.
The 4* Hotel Exe Victoria Palace in the nearby town of El Escorial provides honest accommodation all within walking distance of several lively bars and restaurants.
Onto the next day when we moved closer towards Madrid and played the La Dehesa Club. A family operation with country club aspirations where families have a choice of activities with golf being the main attraction. The front 9 is the more open while the back 9 is laid out inside a nature reserve next to the local river. Famous Spanish professional Manuel Pinero was in charge of creating a competitive layout with tight fairways and big greens. There are some very challenging holes on this course where nothing but perfect shots will give you the desired stableford points.
NIGHT FEVER, NIGHT FEVER, NIGHT FEVER…
Madrid, as does Spain in general, really comes to life at night with plenty of bars and restaurants to choose from.
It is an unbelievably vibrant city. Venture out on any night and the streets are full of people, families with kids, groups of girls and boys, and older people enjoying the tapas. The whole atmosphere draws you in its slipstream and you suddenly feel good about things. We headed to the 'Mercado de San Miguel' for some food and drink and it didn't disappoint. One can eat and drink almost anything you wish for and the place is loud and … well, Spanish.
It's next to the 'Plaza Major', the main square for some sightseeing and where you can find small bars within the confines of the walkways.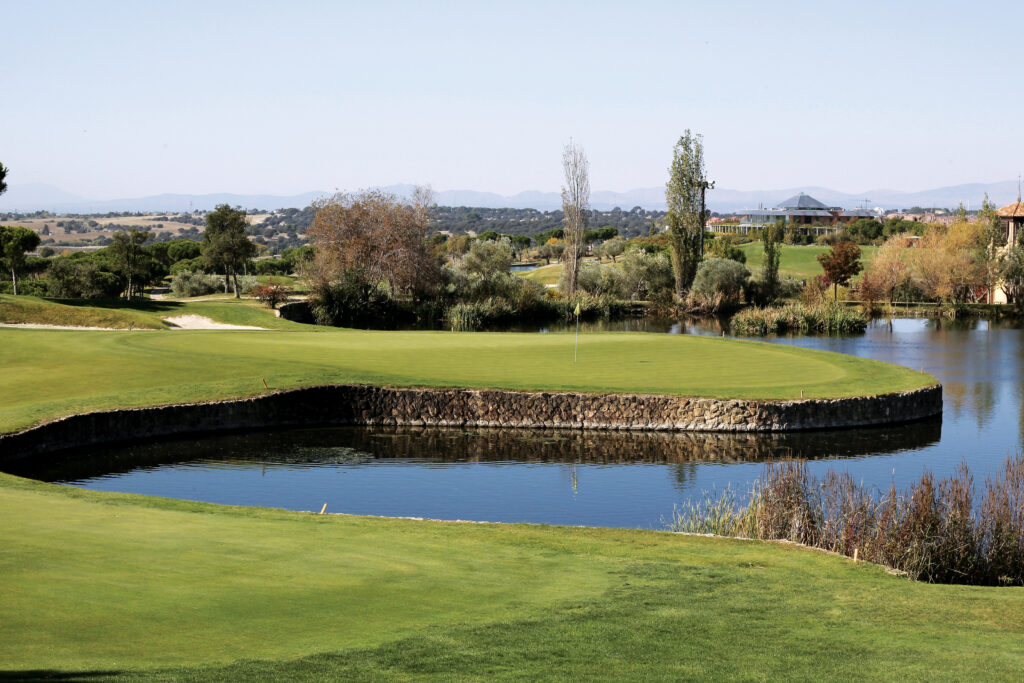 BANCO (GOLF) SANTANDER
I've never played golf inside a commercial headquarters before. The bank was founded in 1857 and really thrived under the leadership of Emilio Botin. The bank moved to its new headquarters just outside of Madrid back in 2004. A keen golfer, Mr Botin. decided to engage Rees Jones to design a US Style golf course just outside his office, because … well, because he wanted to and he could. Following Mr Botin's death, the course became somewhat of a white elephant and the bank has now opened it for green fee play to offset some of the expense.
One has to present ID before entering the premises but once there, the course is truly magnificent. It's an 'out and in' layout with several lakes and can be stretched to just over 7,500 yards. Choose the more playable tees and you're in for a treat.
The course is always impeccably conditioned and has entered into the top 10 I've played. I would go back in a heartbeat.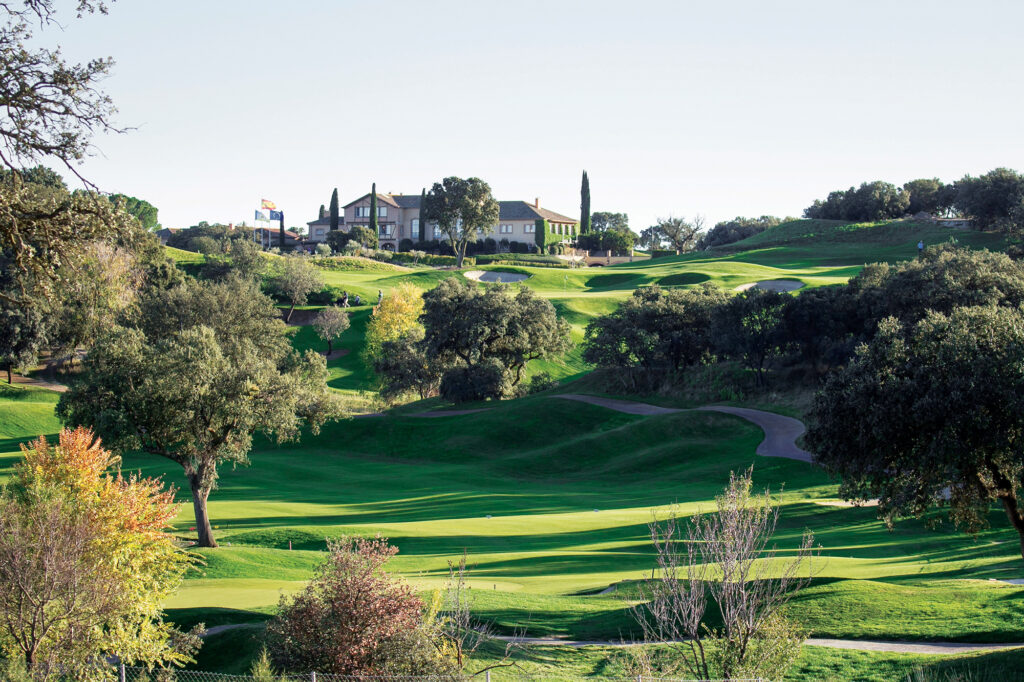 GOLF IN MADRID.
Madrid was really never a destination associated with golf. Spain has plenty of those but from what I've seen, the combination of the city and the variety of courses dotted around the outskirts makes this a compelling alternative.
We went to Europe's biggest member club, Real Club La Moraleja, which offers its 6,000 members four Jack Nicklaus-designed courses, a serious pedigree. We played Campo 4 and together with Campo 3 (A Nicklaus Signature), a 36-hole complex that soon will be completed with a massive clubhouse overlooking the 4 holes that finish every 9-hole loop. It's not easy to get a tee time at La Moraleja but try and you get rewarded with some of the finest golf in Europe. Campo 1 was the first Nicklaus-designed course in Europe back in 1975.
The afternoon round was on the JM Olazabal-designed Retamares Golf. Host to a number of professional tournaments (LET and Challenge), the course is laid out next to the Sierra de Madrid, the higher plains outside the city. It's tricky in places and there is a certain benefit to having played it before. The front 9 plays around a hill and offers fabulous views of the surrounding countryside. The final stretch is extremely challenging in order to keep a score going.
5-STAR BOUTIQUE LUXURY
There are more than enough hotels in Madrid but not many are better than the Hotel & Spa Urso Madrid. A proper modern 5-star, built inside the renowned 'Papelera Española' which showcases the royal character of the bourgeois architecture of Madrid. You immediately get sucked into the Madrid nightlife when you walk outside the hotel.
Visit www.hotelurso.com/en for more information.
JOHN RAHM AND CO.
The final course of the week was the 'Centro Nacional'. The course owned and managed by the Spanish Golf Federation was designed by Dave Thomas and formed part of an urbanisation project on the outskirts of Madrid. Built on, what previously was a garbage dump, the design is very links-like. It embodies the whole ethos of making golf an accessible sport with a massive driving range packed with technology and with people of all ages, gender and ability playing or learning golf. It does highlight why Spain consistently produces major winning golfers.
Jon Rahm grew up playing the course and was victorious when the Spanish Open was held here back in 2018. You can spray it a bit and in places, which can be dangerous for other people on the course. Fabulous greens and the views of the Madrid high rise make this a great course.
Madrid is easily accessible from many of the US Airports and with the airport on the North side of the city … aka the golf side, you will very quickly be teeing it up after landing. Everything is within easy reach and the city is pretty much walkable.For more information about golf in Madrid, where to go and play, and possibly putting a trip together, contact the association of golf courses in Madrid via [email protected] and look at their website
asociacioncamposgolfmadrid.com/es