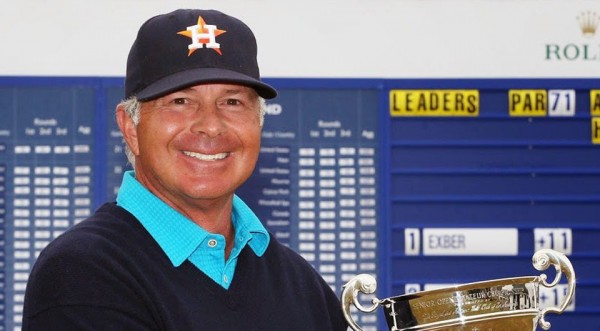 Brady Exber of Las Vegas captured the Stocker Cup for the second consecutive year, winning by three strokes over Gene Elliott of West Des Moines, Iowa, and Brad Wilder of Fort Wright, Ky., at The Preserve Golf Club in Carmel–traditional home course of the tournament.
The 59-year-old Exber, who has won the Southern Nevada Golf Association Player of the Year award seven times, posted a score of 71-68-70–209, 7-under-par.
"Winning last year at Sonoma (Golf Club) was great, and I had a great year," said Exber, who won the British Senior Amateur and three other titles in 2014. "But there's an asterisk when you win at a different course.
"For me to win a mid-am event (for players aged 25 and older) with the great players here. … It's a huge thrill."
Exber, who won last year at Sonoma in a playoff over Herbie Aikens of Kingston, Mass., became the first back-to-back winner of the Stocker Cup since Kevin Marsh, also of Las Vegas, in 2009-10.
Elliott finished at 75-66-71–212, while Wilder totaled 68-72-72–212, and Jerry Ledzinksi of Carmel shot 69-70-75–214 to tie for fourth with Jason Anthony of Fairfield, who came in at 72-68-74–214.
Tyler Crawford of Rancho Mirage was seventh at 72-67-76–215, while Nick Wood of Reno finished at 74-70-73–217 to tie for eighth with Craig Doell of Canada, who wound up at 71-71-75–217.
Brian Harris of Kokomo, Ind., was ninth at 72-71-75–218, while Joe Sanders of La Quinta carded a score of 75-70-75–220 to tie for 10th with Mike McCoy of West Des Moines, Iowa, who shot 72-74-74–220.