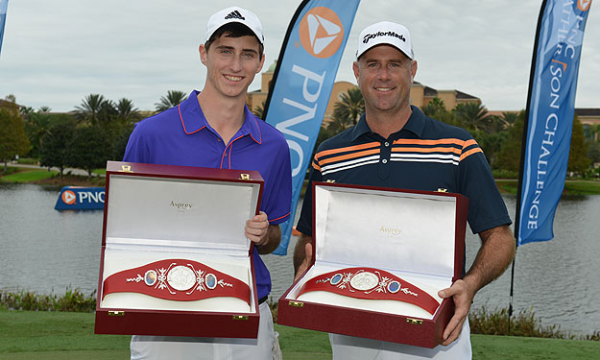 Stewart and Connor Cink carded two eagles in their last five holes to shoot 11-under-par 61 in the scramble format and win the PNC Father/Son Challenge by three strokes at the Ritz-Carlton Golf Club in Orlando, Fla.
Connor Cink, a freshman at Clemson, holed a 30-foot eagle putt that put the Cinks ahead to stay on the 14th hole. His dad capped the round with 20-foot eagle putt at No. 18, the last of their nine consecutive 3s in a back nine of 27.
"We just hit our stride out there," said Stewart Cink, who captured the 2009 Open Championship at Turnberry in a playoff with Tom Watson. "That back nine was just a blur.
"I think it's pretty monumental. Connor doesn't play golf. We're not talking about a kid who plays in college or has played on various tours. He hasn't played 30 rounds since he was 14 years old. He doesn't play golf, but he's very talented in a lot of his sports."
Said Connor: "After this week, I might try to hit the links a little bit more often."
The Cinks finished at 61-61–122, 22-under-par.
Steve and Sam Elkington shot 62-63–125 and tied for second with Vijay and Qass Singh, who finished at 64-61–125.
Davis and Dru Love were fourth at 64-61–125, and Jack and Gary Nicklaus totaled 63-65–128 to tie for fifth with Curtis and Thomas Strange, who wound up at 65-63–128.