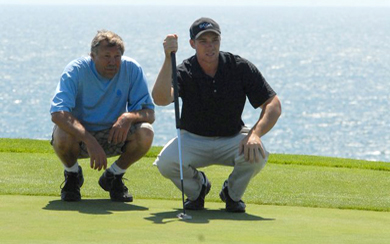 SANTA BARBARA, Calif. (Aug. 11, 2010) — Nick Delio of Valencia, the No. 6 seed, defended his title at the the 3rd SCGA Match Play Championship, defeating Santa Barbara's Jack Perry 3 and 2 for the event title.
"I played great all week; this course fits my eye," Delio said after his win. "I'm really happy to defend and confident in my game right now."
Delio, 20, a senior at Cal State Northridge and the 2008 California State Amateur champion, carded an eagle-3 on the first hole of the final round, taking a 1-up lead and never falling behind through the 16 holes of play. He'd go on to birdie five holes in the round and shoot 6 under par.
Perry, the No. 12 seed and youngest player in the field (at 18) who's bound for Northwestern University in the fall, has seen his fair share of second-place finishes this summer. A member of Santa Barbara High School's State CIF championship team, he lost a playoff for the individual title to finish second. He also placed second at the SCGA Amateur Championship at nearby La Cumbre CC. Perry put up a fight in the final round, however, with a 2-under-par round that consisted of four birdies and two bogeys.
"I'm disappointed at another second-place finish, but I didn't give it to him; he won it with how well he played," Perry said afterward. "I look forward to coming back and playing again next year."
Delio, who won the 2010 NCAA Southwest Regional Championship, dominated the field the entire event and didn't even reach the 15th hole until his morning semifinal match. He defeated Los Angeles' Tony Behrstock in the Round of 32, 6 and 4, before dismissing John Adams of San Clemente (5 and 3) and Sam Yi of Northridge (6 and 4).
Delio's most challenging match would come at the hands of veteran player Kevin Marsh of Henderson, Nev., a two-time SCGA Amateur winner and U.S. Mid-Amateur champion. Marsh lead the entire semifinal match, as much as 2 up on the 16th hole, before Delio birdied the par-4 16th, then the par-3 18th, to square the match. Delio won on the 21st hole with a birdie-3.
Perry's matches proved to be a bit more work. He defeated San Bernardino's Scott Clayton (19 holes), Tustin's Doug Fortner (1 up), Sherman Oaks' Greg Moss (1 up) and Riverside's Kevin Fitzgerald, the California State Amateur co-medalist (1 up) to reach the finals.
Both Delio and Perry will practice their games for the duration of the summer before heading off to school in the fall.
* * *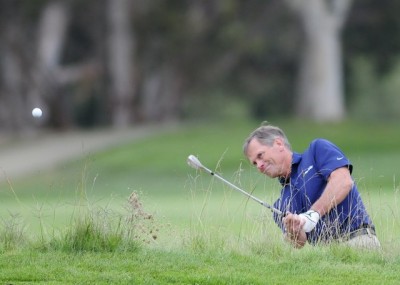 Brad Larsen of Oceanside, the current SCGA Senior Amateur champion, defeated Greg Hetzer of San Pedro 4 and 3 to win the SCGA Senior Match Play Championship at Sandpiper Golf Club.
Larsen becomes the second consecutive senior player to win both the SCGA Senior Amateur and Match Play championships in the same year, a feat first accomplished last year by past champion Howie Knodt.
In the final match, Hetzer birdied the par-5 first hole at Sandpiper and held a 1 up lead until the fifth hole, when Larsen birdied the par 5 to square the match. He'd begin a string of stellar holes that included birdies on 9, 10 and 13, while Hetzer struggled on the back with a bogey-4 on the signature 11th hole and two double bogeys on 13 and 14. Bogey-6s from both players on the 15th hole gave Larsen the victory.
Earlier this year, Larsen became the first player to win both the SCGA Senior Amateur and SCGA Mid-Amateur, of which he claimed the title in 1995. The 1977 UC Santa Barbara alum and former aspiring Tour pro took a 15-year break from golf competition after that win, and now a regional sales manager for Best Buy Mobile and member of Shadowridge Country Club in Vista, has two major victories under his belt.
In his wake, Larsen defeated Warren Caves 3 and 1; multiple SCGA Senior champion Robert Carver 2 and 1; and Steve Yavorsky 4 and 3 to reach the finals. Hetzer defeated Chris Veich in 19 holes; Don Baker 3 and 1; and 2007 SCGA Senior Amateur champion Rich Tolly 1 up.
Larsen is at the top of the SCGA Senior Player of the Year Points List, just 40 points ahead of Knodt.