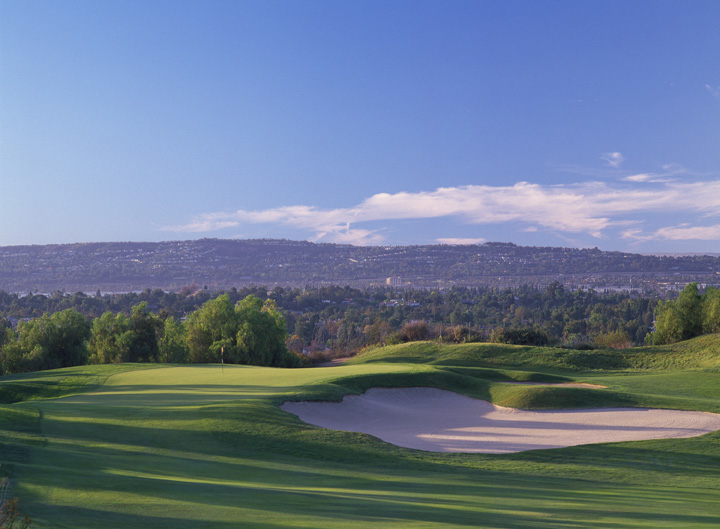 All who wander are not lost, and indeed golfers who travel to the foothills of Yorba Linda to play Black Gold Golf Club might feel they've arrived at their home course. From its homey clubhouse to its challenging layout rife with elevation changes, Black Gold offers endless possibilities for enjoying the golf lifestyle and rewarding patient players with low scores.
Visitors likely will feel the urge to stake their flag when driving past several neighborhoods of elegant homes surrounding the centerpiece course. The feeling of home grows stronger upon stepping into the 20,000-square-foot clubhouse. Despite its massive size, the vibe is cozy.
The main hall welcomes with deep-seated armchairs and dark-wood furniture. The bar-grill encourages lounging with its massive stone fireplace, marble-topped bar with wood surround, three wide-screen TVs, floor-to-ceiling windows and large leather club chairs. The new wood-slat cover for the patio that overlooks the pretty stream and waterfall bordering the 18th green is sure to invite more diners to venture outside for an alfresco lunch on Yorba Linda's warmest days.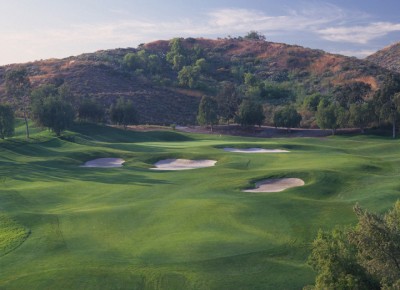 Our advice: Arrive early and treat yourself to one of the many tasty dishes on the menu, like the light-yet-satisfying Chinese chicken salad with super-fresh Napa cabbage or delectable seared Ahi tuna sandwich accented with wasabi sauce. A glance around the Park View Grill dining room shows Black Gold attracts regulars, families and couples. On our visit, a men's foursome was finishing their 19th hole fare when they were joined by their young offspring. Two mother-daughter duos shared lunch and laughs nearby. A young man and woman looked over menus with a wedding planner at another table.
After lunch, gird your loins to take on Arthur Hills' challenging layout. You'll need accuracy, perseverance and great putting for a chance to score low, particularly from the back tees that make the course 6,756 yards long (yet longer when the breezes kick up most afternoons in the foothills). Four other sets of tees let players of various skill levels enjoy the course to the best of their abilities. You'll find information and diagrams on the ProLink GPS-equipped golf cart to be a lifeline on many holes.
Precious few holes like the par-5 fourth invite the player to grip it and rip it. The reachable, downhill hole lets golfers get aggressive. The smart player will lay up their approach shot from the right to avoid the deep hollow and bunkers guarding the green on the left.
Many holes are more in keeping with the par-4 No. 5 (rated the toughest hole on the course). The player faces a slightly uphill fairway flanked by bunkers that climbs further to a narrow green. Trouble lies right with a tree-filled wash, as well as left where a too-long ball will be lost on a scrub-filled hill. Stay left but short for the best approach to the pin.
Even the pretty-as-a-picture signature 18th hole with its bubbling pond and waterfall can spell trouble, despite a wide-open fairway. The mindful player will lay up on the left to avoid the pond. Going for the green in two requires spot-on distance and accuracy.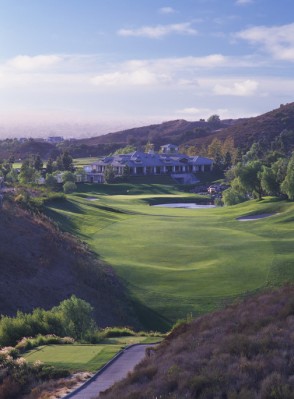 Players with a strong fairway game still may be doomed if their putters fail them because Black Gold's greens intimidate with their undulations, speed and severity. Many will tell you that all putts break toward Disneyland, about 10 miles away. Just as many will tell you all putts break toward Yorba Linda's Prado Dam.
Spectacular views will set your spirit soaring even if your game lags. The most breath-taking views can be had on the 10th, 11th, and 12th holes. On a clear day you can see as far as the Long Beach skyline, the Pacific Ocean, and Catalina Island. Pay attention and you'll enjoy wondrous sightings of flora and fauna on the course, from roadrunners to quail to hawks to monarch butterflies. Despite the buildup of homes over the past decade, many canyon areas remain natural and thrive with wildlife, so take the rattlesnake warning signs seriously.
The Kemper Sports management team behind Black Gold has come up with plenty of programs to encourage return play and business. The multi-tiered Black Gold Players Club provides generously discounted rounds for the cardholder and one guest for an annual fee. Built into membership are advance tee time privileges, complimentary rounds, and discounts for the pro shop, the range and instruction with a PGA teaching professional.
Each month offers a slew of golf and social events, such as the popular wine dinner featuring select wines and special menu by chef Luis Merida. Typically, a seasonal event is scheduled as well, such as this month's Octoberfest shotgun-start tournament sponsored by a local independent brewery. Weekly mainstay events are Taco Tuesday and the Sunday Breakfast Bar. Plus, this year saw the institution of a Bocce Ball League at Black Gold. What more could the wandering golfer want?
– BY MICHELLE FLORES
For more information or to book a tee time, call (714) 961-0060 or visit www.blackgoldgolf.com.