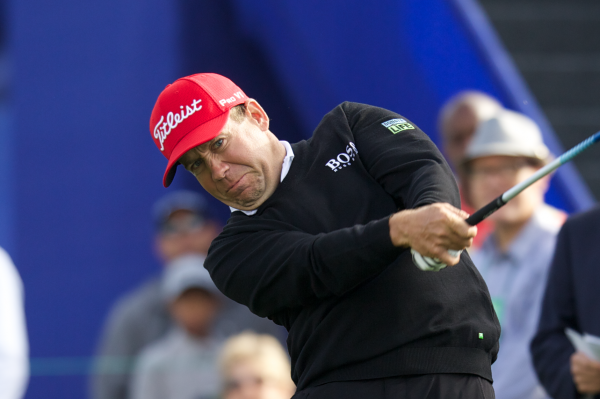 Erik Compton birdied four of six holes before the horn sounded to end play in the third round on Saturday and was tied for the lead with Jason Day of Australia in the rain-plagued Zurich Classic of New Orleans at TPC Louisiana in Avondale, La.
The players will return at 7:30 a.m. CDT Sunday to finish round three and tournament officials were confident that the weather would allow all four rounds to be played.
The 35-year-old Compton, a double transplant recipient who has never won on the PGA Tour, started with rounds of 66-69 and was at 13-under-par for the tournament.
"It's going to be a low-scoring tournament so I was fortunate to get off to a decent start, a good start (in the third round)," said Compton, whose best finish on the PGA Tour was a tie for second behind Martin Kaymer in the U.S. Open last year at Pinehurst No. 2.
"And (Sunday) is a long day. It's a lot of golf so you have to reach a number. You just have to put your foot down and just try to hit that number."
Day, who took one-stroke lead by making two birdies on the last four holes of the second round early Saturday to shoot 7-under 65 after opening with a 67, made one birdie in the three holes he finished in the third round. He waited 13 hours after ending round two before teeing off again because of heavy rain.
"It was a very patient day," said Day, who captured the Farmers Insurance Open earlier this year for his third PGA Tour victory. "I've had days like this before, but not with the lead. You just can't get frustrated.
"The greens are still great despite all the rain and how much foot traffic we've had. The course is still pretty good, although we are getting some plugged lies, but the club superintendent and his staff are doing a fantastic job considering how much ran we have had.
"It's target golf and I just want to stay patient and go as low as I can tomorrow."
Justin Rose of England, who started with 69-66, made birdies the first three holes of the third round and was one stoke back after six holes in a tie for third with Blayne Barber (67-70), who was five-under for his round through 11 holes, David Hearn (65-70) of Canada, who was three-under through seven, and Jerry Kelly (70-64), who was two-under through five.
Brendon De Jonge (64-70) of Zimbabwe, who shared the first-round lead, was another shot behind at 12-under for the tournament in a tie for seventh with rookie Justin Thomas (68-66), Hudson Swafford and Chris Stroud (67-66).