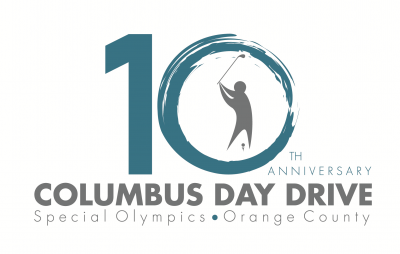 COLUMBUS DAY DRIVE FOR SPECIAL OLYMPICS

Led by a desire to serve his community and engage special athletes in Orange County, Steve Walters hosts the 10th Annual Columbus Day Drive for Special Olympics on Monday, Oct. 14 at Marbella Country Club in San Juan Capistrano.
Walters, founder and chair of the event, is marking his first decade of leading the support for such inspiring competitors. Initiated as the first-of-its-kind event in Orange County, the Columbus Day Drive for Special Olympics has raised an estimated $475,000 since its inception, assisting more than 1,700 Special Olympics athletes in the Orange County area.
Walters, the President of Meridian Real Estate Group and a resident of Dana Point, was a starting pitcher at Cornell University, and later tried out for the Pittsburgh Pirates. Appreciating the commitment to succeed in sports, Walters was moved by the athletes of Special Olympics, and chose to create an annual event that would exclusively support their passions.
Bill Shumard, Special Olympics Southern California President/CEO remarks, "Steve has been the perfect leader for the Columbus Day Tournament over the past decade. He is a leader who is results-driven, and the clear recipients are the athletes of Special Olympics, who have benefited greatly through this financial support. Steve leads strongly by example. He sets a very high standard, and I believe that is why the tournament has achieved such great success over the years."
Recognizing others' generosity and dedication to their community, Special Olympics Orange County is garnering support from local partners that have committed to make a difference to truly special athletes. They include Platinum Sponsors Ira Hermann and Nancy & Rich Swanson; Gold Sponsor Wells Fargo Bank; Silver Sponsors The Dubia Foundation (Chris Dubia), Meridian Real Estate Group, The Seegmiller Law Firm and Titus Properties (Mike Moore); Bronze Sponsor Steve & Marilyn Dickson; Lunch Sponsors Brio Tuscany Grille and In-N-Out Burger; Entertainment Sponsor Corine Couwenberg; Golf Cart Sponsor John Bishop; and In-Kind Sponsor C&M Communiqué.
To reserve space at next month's Columbus Day Drive for Special Olympics or for sponsorship details, visit ColumbusDayDrive.com.
GREENHORN CREEK HOSTS WINE BARREL OPEN NOV. 21 
A barrel full of wine bottles will be the grand prize for the winner of the inaugural Wine Barrel Open, November 21, 2013, at Greenhorn Creek Resort in Angels Camp.
The winning team of this four-person scramble event will be popping corks from 32 bottles of locally produced wine, including award-winning Zins, Barberas, Syrahs and other varietals from fifteen Calaveras County wineries, all Vintner Members of Greenhorn Creek Resort. Other prizes include golf and lodging in The Caddy Shack and a vacation for four at Greenhorn Creek Resort.
"Golf, wine and food are integral to our lifestyle at Greenhorn Creek and the Wine Barrel Open represents all three," says Mike Kristoff, General Manager at Greenhorn Creek. "With our location in the middle of Calaveras wine country, this will be a fun event to showcase the 15 local wineries that are club members."
With a Robert Trent Jones, Jr. redesigned golf course, outstanding cuisine at CAMPS Restaurant, and proximity to 32 wineries, Greenhorn Creek is the premier resort in the Calaveras County wine country, referred to by Sunset Magazine as "The New Napa."
The public is invited to participate at a fee of $150, which includes golf, welcome gifts (including a bottle of wine), tasting and appetizers at a reception hosted by the 15 Vintner Members, plus a three-course dinner paired with wine. Guests are welcome to attend the reception and dinner for $60, tax and tip included.
A portion of the proceeds from the event and raffle will be donated to Santa's Express in Calaveras County and food banks in Amador and Tuolumne counties.
Space is limited. Lodging is available for overnight guests. For more information, call (209) 729-8111 or visit www.greenhorncreek.com

BEACHCOMBER GOLF EXPO OCT. 21 AT MONARCH BEACH
The first annual Beachcomber Golf Expo takes place Oct. 19 from 9 a.m. to 2 p.m. at Monarch Beach Golf Links in Dana Point.
The event is presented by the PGA Southern California Foundation, the Toyota Neighborhood Golf program, and Monarch Beach Golf Links. The Toyota Neighborhood Golf program offers free individual lessons from PGA Professionals, and games and contests with prizes. Each Toyota Neighborhood Golf event averages 400 free lessons. Participants receive PGA Professional Bounce Back coupons to encourage a visit to their local golf course.
The Beachcomber Golf Expo also features demonstrations, games, golf vendors and more. Featured activities include interactive booths, inflatable hitting targets and skills challenges. Prizes will be given away throughout the day.
Admission is $5 for adults; children admitted free.