Stanford's Maverick McNealy combines immense talent with humility and perspective
By Jim Dover
If I had to wager who was the smartest collegiate golfer, I think I would quickly choose Maverick McNealy . Given his obvious Stanford academic credentials and impressive Management Science Engineering major, there's just something about the way Maverick thinks that gives you the sense you aren't just talking to a regular college student-athlete.
But, the beauty of Maverick is he's completely convinced that he is a regular college student-athlete, when, in fact, he just happens to be one of the nation's top-ranked collegiate golfers. Coach Conrad Ray may have said it best when he described Maverick simply as "a phenomenal kid."
We agree. We spoke with Maverick recently in an exclusive interview where he talked about his spring schedule, his love of Stanford, the Cardinal's quest for the 2016 NCAA National Championship the last week of May, and his very bright future.
You were really destined to go to Stanford and play for the Cardinal. Can you talk a little about your ties to the school and what it means to you?
Both my parents went to Stanford. I grew up 15 minutes from campus and played the Stanford golf course as a kid. I wanted to go to Stanford from day one. When Coach Ray offered me the opportunity during my sophomore year in high school, that was it for me.
Now your brother (Dakota) will be following in your footsteps. Are you excited to play alongside him?
I can't wait to play with Dakota. I got a chance to play with him one year on the high school golf team at Harker. By the way, currently there are three McNealys (Dakota, Colt and Scout ) on the Harker golf team. Like me, (Dakota will) have a steep learning curve in the beginning, but there's no better place than Stanford to get better at golf.
You're a little rare in that you didn't focus only on golf after a certain age. How do you think that is helped you and why do you think other athletes don't adapt this philosophy?
I definitely think that playing ice hockey, which I did for seven months out of the year until my junior year in high school, allowed me to raise the ceiling on my potential. It might have held me back on my results during my junior career, but I think it is a big reason on how I have been able to improve so quickly. I think specialization early can potentially make you more injury prone and burnt out. For me, burning out on golf shouldn't be an issue any time soon.
The U.S. Amateur always was the pinnacle of success for an amateur golfer. Now with many college stars turning pro early, they don't get as many chances to win prestigious amateur events. Do the big amateur tournaments still hold the same draw for younger golfers?
For me, the biggest draw is getting an education while playing golf. I've taken far too many exams to not get my degree at this point. I definitely feel that getting a top-notch education at Stanford is really keeping me from turning professional. Plus, I absolutely love playing college golf with my teammates and coaches at Stanford.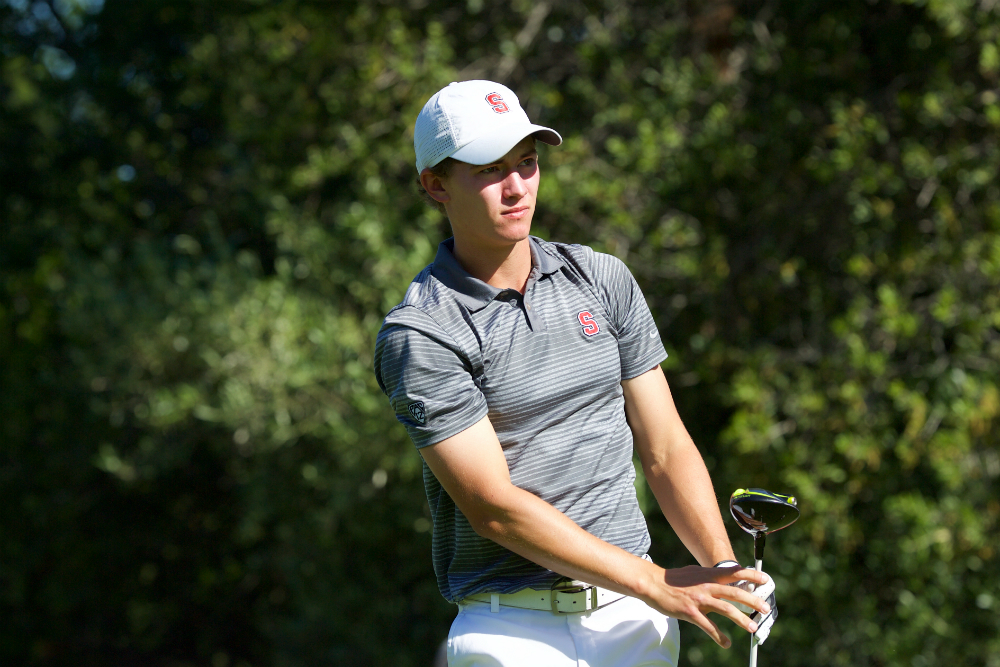 Your scholastic achievements are just as impressive as your golf. What excites you in your studies this year?
I'm a Management Science Engineering (MSE) major and this year I'm knocking out most of my MSE requirements and engineering fundamentals. I've taken a lot of classes recently around optimization, probability theory, stats, simulation, and interactive management science. I'm currently taking an electrical engineering class and it's really cool how all of my previous courses intertwine and build off each other.
If you choose a professional golf career, how do you think you can incorporate your Engineering degree into your playing schedule?
I think the one thing I would take most into a professional career in golf would be the fact that my MSE major is a very broad subject and covers many disciplines and therefore there are many aspects that you're not very good at. Because of that, it really teaches you many different ways to think through a problem. The decision analysis I think will be my greatest takeaway.
How important is it for you to win a national championship for Stanford?
Every day I'm here at Stanford I'm focused on winning a national championship. That's the only goal and that's what I'm here for.
When you visualize winning the NCAA Championship, what is the scenario?
It's at Eugene Country Club (this year), and it's crossed my mind a number of times. Whether it's me making the winning putt or one of my teammates, I'll take any of those to win an NCAA Championship.
You're currently ranked second in the college rankings behind another California junior standout, Beau Hossler of the University of Texas. Do you have camaraderie with Beau at all, and if so, what do you like about his game?
I have played a bunch of golf with Beau. We've competed against each other as well as with each other on a Palmer Cup and Walker Cup team. He's a great guy and one of the funnier guys on the college circuit. He is definitely one of the best putters I've seen and when he starts striking it, he doesn't miss a shot. He has a very unique way of going about the game.
What aspect of your game are you currently working on?
I'm currently chipping away at every bit of my game. I think that I've worked on my weaknesses to a point that on any given week, any part of my game can be a strength. I'm mainly working on how I can consistently better prepare for each tournament so that each part of my game is as strong as possible.
Not every "gym rat" becomes a top-notch athlete. What are your thoughts on natural athletic ability versus learned or repetition skill?
I would say that the most important thing about being good at something is loving it. Obviously, there are some natural athletic abilities that you're given, but I think the vast majority of success is hard work and it's difficult to work hard at something that you don't like. So I really think the most important thing is to really enjoy it.
What keeps you excited about playing golf?
The opportunity to improve. That's what I love about the game and am very passionate about. There's very little in life that's more exciting than getting better at something. I love the game of golf, but the improvement aspect and getting better is what drives me.
Who on the PGA Tour is someone you admire or would like to meet?
My philosophy going into Stanford was that I could pick up on little bits and pieces of my teammates' games that I could use to improve my own game. I think the same could be said about the PGA Tour and everyone on the Tour does at least something better than I do, and everyone I meet will help me learn something different that I can hopefully get better at.
Other than your scholastic achievements, what would surprise most people about you off the golf course?
People would be surprised that I never watch TV other than an occasional PGA Tour event or San Jose Sharks game. I don't play video games and my brothers and I slept in the same room growing up.