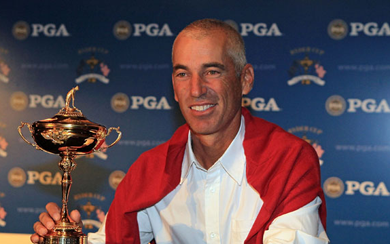 Originally published at PGA.com
John Byrwa, Managing Editor
NEW YORK – Ending months of speculation, Team USA Captain Corey Pavin completed his 12-man Ryder Cup team on Tuesday by selecting Tiger Woods, Stewart Cink, Zach Johnson and Rickie Fowler with his four captain's picks.
Pavin, seated between three of his four assistant captains — Tom Lehman, Davis Love III, Paul Goydos (Jeff Sluman was unable to attend) – and PGA of America President Jim Remy, made the announcement at the New York Stock Exchange, where he will also ring the closing bell Tuesday afternoon.
"I am very pleased to add these four to Team USA," Pavin said. "I think our team is very good. I think these four players complement those eight very well. That was the goal of these four players.
"I'm very proud to have Team USA completely assembled now, and I'm looking forward to the matches in three weeks."
Pavin's four captain's picks join the eight automatic qualifiers who were announced following the 92nd PGA Championship last month at Whistling Straits in Kohler, Wis.: reigning Masters champion Phil Mickelson, Hunter Mahan, Bubba Watson, Jim Furyk, Steve Stricker, Dustin Johnson, Jeff Overton and Matt Kuchar.
In selecting Woods, Cink and Johnson, Pavin adds proven Ryder Cup experience to his relatively young squad. Woods has competed in five Ryder Cups, Cink four and Johnson one. Fowler, a PGA Tour rookie who has made 16 of 24 cuts, including five top-10 finishes, this season, will be making his Ryder Cup debut. He finished 20th in the U.S. Ryder Cup Points Standings.
Though there had been some who debated whether Pavin would – or should – pick Woods, the world No. 1 who has not won in a year and who just recently started to show flashes of his former self on the course, Pavin said Tiger's recent form made his decision much easier.
"I asked (Tiger) last night if he … I would like to have him on the team, and he said absolutely, and said, whatever you would like me to do, I will do, just tell me what you would like, which is exactly what a captain likes to hear from any player on the team," Pavin said of his conversation with Woods.
"So obviously I was happy that he was very excited about playing, and he wants to be on a winning team, just like the other 12 guys, as well."
Said Woods, "It's great to be a part of this team. I'm honored to be selected and head over to Wales to represent the United States in The Ryder Cup. I've been to Wales previously in the Walker Cup and looking forward to going back and having a great time with the team and hopefully bring the Cup back."

Cink's selection marks the third time he has been a captain's pick. "I'm starting to probably be close to being a record there," joked Cink, who owns a 4-7-4 career record in 15 Ryder Cup matches. "I guess all that means is I'm not very good in qualifying in the Top 10, I don't know. I'll be excited and pumped up to play and representing the U.S."
Johnson, who qualified for the 2006 team that traveled to The K Club in Ireland, said he is "thrilled and excited to be on the team."
"Team play, team sports in general, it's really something that drives me as a competitor and when you incorporate a team element and chemistry into golf, it makes it just that much more special," said Johnson, who went 1-2-1 in his Ryder Cup debut.
"Having your nation's flag on your sleeve and being led by Captain Pavin and his associates, just, you know, makes it that much more special."
Fowler, known for his trademark orange outfits on the course and long hair, said he is looking forward to the experience and hopes to bring some energy along with him.
"I have to thank Corey for giving me the opportunity to go over there," the 21-year-old Fowler said. "Being a young player, it's a pretty special opportunity and the last time I played overseas on a team event was for the Walker Cup, so hopefully I can take a little bit of knowledge that I learned there and help the team."
Pavin said he just had "a gut feeling" about picking Fowler, and never once considered his lack of experience a factor.
"I think, obviously, he's deserving," Pavin said. "There's a lot of guys deserving to be on the team. Like I said, there were a lot of people in the mix. I've said that before, and it's absolutely true.
"We talked a lot about it last night, the three of us here, and as I said, I spoke to Jeff Sluman on the phone, as well. It just came down to feelings. I had a gut feeling about Rickie. He has a good Walker Cup record, 7 1. He's a very good player. There are a lot of very good players that I had to look at, but that's the way I went."
Mickelson will be making his ninth consecutive Ryder Cup appearance, while Furyk makes his seventh consecutive, and Mahan and Stricker their second straight. Watson, who finished second in the 92nd PGA Championship at Whistling Straits in August following a three-hole playoff, Johnson, Kuchar and Overton will be making their debuts in the Ryder Cup.
Looking to capture consecutive Ryder Cups for the first time since 1993, Team USA heads to the Twenty Ten Course at The Celtic Manor in Newport, Wales, hoping to continue the success it enjoyed two years ago while upsetting the heavily favored Team Europe at Valhalla Golf Club in Louisville, Ky.
Powered by the inspired play of six Ryder Cup rookies — Mahan, Stricker, Boo Weekley, J.B. Holmes, Anthony Kim and Ben Curtis – and the leadership of captain Paul Azinger, the Americans shocked the Europeans 16 ½-11 ½ to snap a three-match losing streak.
Team Europe, led by captain Colin Montgomerie, will again be favored over the Americans when the teams meet in a little more than three weeks. Ryder Cup veterans Lee Westwood, three-time major champion Padraig Harrington, Luke Donald, Ian Poulter and Miguel Angel Jimenez will be joined by reigning PGA Champion Martin Kaymer, reigning U.S. Open champion Graeme McDowell, Rory McIlroy, Ross Fisher, Peter Hanson and brothers Francesco Molinari and Edoardo Molinari or Italy.
Begun in 1927, the Ryder Cup is among the last great professional sporting events where winning, not prize money, is the ultimate reward. The United States owns a 25-10-2 overall advantage in the biennial competition, but Europe has won five of the last seven Ryder Cups.