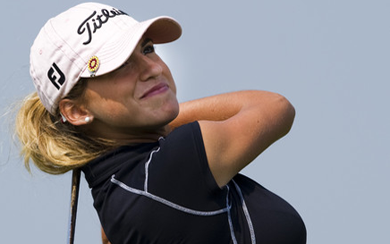 By Tom LaMarre
As usual, there were tears of joy and sadness on the final day of the LPGA Tour Qualifying Tournament.
For Belen Mozo of USC, it was a delayed reaction after she became one of 20 players who earned full playing privileges for the 2011 season on the Champions Course at LPGA International Golf Club in Daytona Beach, Fla.
"I knew that I was going to be in, being even par on the front nine with the toughest weather and playing as well as I was playing," said Mozo, a native of Spain. "I just didn't know (for sure) until my boyfriend called and I just didn't cry until he called."
Aree Song of South Korea regained her LPGA Tour card by posting a score of 67-72-71-71-73–354, six-under par, to earn medalist honors in windy and rainy conditions to collect $5,000.
Song was followed by Jessica Korda, a 17-year-old amateur from Bradenton, Fla., who wound up at 72-72-66-69-77–356, followed by Jimin Jeong of South Korea at 69-69-73-75-71–357.
"Any time you enter a competition and come out on top, you feel pretty good," said Song, who makes her home right down the road in Orlando, Fla. "(With this weather), I couldn't hit it as close as the I did in the last four days, but I still hit it well."
Dewi-Claire Schreefel of USC and the Netherlands, the 2006 NCAA individual champion tied for fourth at 70-74-71-69-74–358, Mozo tied for eighth at 68-72-72-73-74–359 and Jennie Lee of Huntington Beach and Duke totaled 77-73-70-68-74–362 to finish in a tie for 14th with Sara Brown of Tucson and Michigan State, who came in at  72-73-72-71 -74–362.
Brown, who starred on the Big Break: Dominican Republic, posted this on her Facebook page: MERRY CHRISTMAS too me. YAY I made the LPGA tour!!! I am so blessed and happy right now … stuck it out in howling winds and rain today to make it on the number!!!! WOOHOO!!!"
Earlier, she wasn't feeling quite as chipper.
"I told my boyfriend, my caddie (Derek Radley), on the 17th hole, I was like, 'I'm either gonna puke or I'm gonna cry,'" Brown said.
Leading those who earned partial status were Paola Moreno of USC and Colombia, who was 21st at 72-74-71-69 -77–363, while Tiffany Joh of San Diego and UCLA tied for 22nd at 73-75-71-74-71–364, and Alison Walshe of the University of Arizona and Westford, Mass., tied for 33rd at 71-78-72-71-74–366.
Coming up one stroke short was Ayaka Kaneko of Pepperdine and Honolulu, who tied for 38th at 69-78-70-73-78–368.
Tanya Dergal of USC and Mexico shot 72-77-75-71-74–369 to tie for 44th with Jennifer Johnson of Carlsbad and Arizona State, who finished at 71-74-76-71-77–369, and Lisa Ferrero of Lodi and the University of Texas, who wound up at 74-70-76-70-79– 369.
Mo Martin of Altadena and UCLA totaled 74-73-74-76-73–370 and tied for 52nd with
Jane Rah of Torrance and Oklahoma State, who came in at 74-74-72-73-77–370.
Kim Welch of Sacramento and Washington State tied for 59th at 77-73-71-73-78–372,
Sydnee Michaels of Temecula and UCLA tied for 63rd at 74-76-75-72-77–374, and Sophia Sheridan of Cal and Mexico totaled 71-78-73-75-78–375 to tie for 66th with Eileen Vargas of Pepperdine and Colombia, who finished at 75-74-72-75-79–375.
Hannah Jun of San Diego and UCLA tied for 71st at 74-74-77-71-81–377 and Seema Sadekar of Las Vegas and UNLV was 73rd at 77-73-74-72-82–378.